Dateline – June 2020. Because this section is the first to open when you access our site we want to use it to make an announcement. It's about the "feedback" section of the site. For some reason better known to the internet gremlins it doesn't work! So – if you want to chat to us to make suggestions (polite please!) or to comment on something we've said – or maybe not said – then please use this email address – cherry.grove667@gmail.com
We're hoping to hear from you. Thanks – Brian Harvey
++++++++++++++++++++++++++++++++++++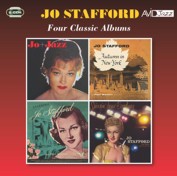 AVID Jazz continues with its Four Classic Album series with a re-mastered 2CD release from Jo Stafford, complete with original artwork, liner notes and personnel details. The LPs these two CDs are taken from are – "Starring Jo Stafford"; "Autumn In New York"; "Swingin' Down Broadway" and "Jo + Jazz'". This release ref is AMSC1372.
Avid's in house sleeve note writer comments  "is she easy listening or was she jazz? In the days when our latest recruit to the AVID Jazz vocalist hall of fame was singing, genres didn't seem quite so important. She was just a great singer! We think our lady could sing even the proverbial telephone directory and it would sound wonderful. For this release, however, we have chosen four of Jo Stafford's more jazz/big band influenced albums to highlight her prodigious talents. Our selection will take you on a journey from the lush arrangements and orchestrations by husband Paul Weston from the 1950s with "Starring" and "Autumn In New York" to the Broadway hits of "Swingin' Down Broadway" (these days difficult to find on CD) and on to the truly jazz inflected and under-rated and under-appreciated at the time, "Jo + Jazz" set from 1960. Just a look at some of the fine jazz musicians on board for this recording will tell you that Jo Stafford was considered a seriously great singer by the jazz world. On Jo + Jazz you will hear the likes of Ben Webster, Johnny Hodges, Harry Carney, Conte Candoli, Ray Nance, Russ Freeman, Mel Lewis and Shelly Manne as well as the fine arrangements and orchestrations of Johnny Mandel. BH writes – on occasion Stafford could sing in a jazzy style but by no means was she a jazz singer – swing yes – hot pop yes. She was excellent as evidenced here and that makes thedse two CDs fine easy swinging listening.
+++++++++++++++++++++++++++++++++++++++++++++++++++++++++++++++
AVID Country continues with its Five Classic Album series with a re-mastered 2CD release featuring country legend Hank Thompson, complete with original artwork, liner notes and personnel details.
"Songs Of The Brazos Valley"; "Dance Ranch"; "Songs For Rounders" "Most Of All" and "An Old Love Affair". Avid ref AMSC1371
Avid's in-house writer says of this album "Maybe the reason Hank Thompson isn't thought of in the same breath as that other famous country music Hank, Hank Williams, is that possibly he continued playing into his eighties long after his musical heyday in the fifties and sixties. He didn't die young? He was, however, a huge country music star inducted into the Country Music Hall of Fame in 1989 and the Nashville Songwriters Hall of Fame in 1997. His band, The Brazos Valley Boys were the top country 'n' western band on Billboard for 14 years straight! Developing his style on a lighter version of Bob Wills' western swing with more emphasis on melody and arrangements, Hank had a ton of hits in the 1950s and 1960s. Perhaps his most famous being "Wild Side Of Life" which spent three months at Number 1 in the charts and gave rise to a response record from Kitty Wells called "It Wasn't God Who Made Honky Tonk Angels" which sold a million records and made her the first million selling female country artist. Check her albums out on AMSC1328. Our five fine selections include two acknowledged country masterpieces in "Dance Ranch" and "Songs For Rounders" where Hank puts together well thought out albums with proper themes rather than just a collection of hit singles. BH comments – "this is a fine double CD set of classic sounding Country and Western material with a few classics dotted here and there to keep the party going in comfortable  home-town style. Personally I find Thompson's over-stylised diction hard to not squirm to but I guess it goes down a treat in Nashville.
+++++++++++++++++++++++++++++++++++++++++++++++++++++++++++++++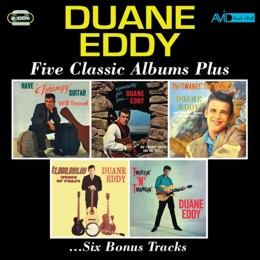 Duane Eddy: Five Classic Albums Plus (Have Twangy Guitar Will Travel / Especially For You / The Twang's The Thang / $1,000,000 Worth Of Twang Vol II / Twistin' N' Twangin') (2CD) Avid Ref: AMSC1370
Two fine CDs of superbly remastered classic pop LPs make up the sixty-six belting tracks included here. They're distinguished first by Eddy's unique "twangy" guitar sound which he produced by using bass guitar strings as his leads – the second distinguishing feature here is the raucous-toned Earl Bostic style tenor sax variously supplied by Steve Kreisman, Plas Johnson (creator of the Pink Panther theme) and Steve Horn. Add in the brilliantly propulsive but sensitive rhythm sections and it all adds up to a toe-tapping (or dancing) rock-a-billy riot. Great party music. BH May 2020.
Avid's "house" writer adds – Duane Eddy was the real deal who went on to sell 12 million records by 1963 alone! Legendary session musicians who played with his band include Steve Douglas, Jim Horn and Larry Knechtel who themselves would go on to play with Phil Spector and his Wall of Sound, as well as with Bob Dylan. The Stones and Bread to name just a few. He was arguably even more popular in the UK where he won World Musical Personality of the Year in 1960 knocking the mighty Elvis from his perch. Duane Eddy is still out there today playing, recording and touring at age 81….the Twang really is the Thang!
++++++++++++++++++++++++++++++++++++++++++++++++++++++++++++++
Bobby Rydell: Four Classic Albums Plus – (We Got Love / Bobby Sings – Bobby Swings / Salutes The Great Ones / All The Hits) (2CD) Ref: AMSC1365.
In the 1960s Bobby Rydell was a major pop music idol with enormous world-wide rock and roll hits like"Wild One" and "We Got Love". The four LPs transcribed to CDs here cover his career really well but note that – true to the era – none of them was much over two and a half minutes long. It's all good dance party stuff though so why not get down and boogie? BH May 2020.
++++++++++++++++++++++++++++++++++++++++++++++++++++++++++++++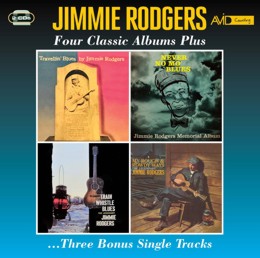 Jimmie Rodgers: Four Classic Albums Plus (Travellin' Blues / Never No Mo' Blues / Train Whistle Blues / My Rough And Rowdy Ways) – double CD – Ref: AMSC1362.
Here are Avid's own notes about this remarkably good set – "Rodgers was the first "country superstar", selling millions of 78 rpm records long before the LP or even the 7″ 45 were even thought of. The four LPs featured in this release were all originally released between 1955 and 1960, long after Rodgers had died. His recording career lasted barely six years (1927 to 1933) and was cut short by his death from TB at the age of just thirty-five. In addition to the forty-eight tracks from the LPs, the two songs that made up his first 78 release and the overdubbed version of "In The Jailhouse Now No. 2" which Chet Atkins and members of Hank Snow's band, the Rainbow Ranch Boys, recorded and made the American country charts with in 1955 are included as bonus tracks. Over eighty years after his death, Jimmie Rodgers remains a much-loved member of the country music family and an acknowledged influence on many artists that followed him".
Avid are right to be enthusiastic about this remarkable two CD set which contains 51 superbly remastered tracks that are so clear and of such fidelity you would think they were recorded yesterday. I'm (that's BH) not usually a fan of country music but this set is so captientertaining listening.Give it a try – it's great value.
+++++++++++++++++++++++++++++++++++++++++++++++++++++++++++++++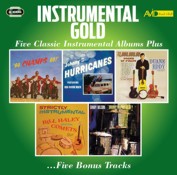 Various Artists including Duane Eddy, The Champs, Johnny and the Hurricanes, Bill Haley and the Comets and Sandy Nelson: "Instrumental Gold" – Five Classic Instrumental Albums Plus (Go Champs Go! / Johnny And The Hurricanes / $1,000,000 Dollars Worth Of Twang / Strictly Instrumental / Drums Are My Beat!) (2CD). Avid ref  AMSC 1360. 
This is a superb value double CD with 64 tracks of great rock and roll guitar. It's perfect for late-night parties and beach barbecues – all time memorable stuff with some classic guitar work on display by guys we now know were all-time greats. Great value too – rock-on Avid we love you…… Let the good times roll……
++++++++++++++++++++++++++++++++++++++++++++++++++++++++++++++
Billy Fury: Three Classic Albums Plus (The Sound Of Fury / Billy Fury / Halfway To Paradise) – a two CD album ref AMSC1343
We're being cheeky here and have borrowed some of Avid Records own notes – thus – Born in Liverpool as plain Ron Wycherley, Our latest UK Rock 'n' Roll hero was another one of the many young hopeful musical recipients of a new "cool" name bestowed upon him by legendary musical impresario Larry Parnes. Other recipients being, of course, the likes of Marty Wilde, Vince Eager and Adam Faith. Larry knew how to pick 'em!! Billy would go on to find great acclaim during the pre (and briefly post) Beatles era of British rock n roll glory appearing regularly on the legendary TV shows 6.05 Special, Oh Boy!, Thank Your Lucky Stars and Top Of The Pops, alongside such other great Brit rockers as Cliff Richard, Marty Wilde, Adam Faith and Joe Brown. Without any doubt however, the massive difference between Billy and many others was that he had genuine talent, both as a singer and a songwriter, not to mention a huge dose of that intangible pop star thing, Charisma! In the Rock n Roll Hall of Fame  which is getting pretty crowded these days, Billy Fury is still high up there among British rock'n members. BH
++++++++++++++++++++++++++++++++++++++++++++++++++++++++++++++++
Jean Shepard: Five Classic Albums Plus  (Songs Of A Love Affair / Lonesome Love / This Is Jean Shepard / Got You On My Mind / Heartaches And Tears) Avid double CD set ref  AMSC1355 
Avid's sleeve writer says – "Discovered by country legend Hank Thompson, Jean Shepard followed in the footsteps of Kitty Wells to become one of the greatest female country singers of all time and held the record for the longest serving female member of the Grand Ole Opry at 60 consecutive years! Perhaps not as well known as Patsy Cline or Kitty Wells, Jean Shepard certainly deserves h chart)er place in the Country Music Hall of Fame."
We say – Miz Shepard has a strong voice with good range and  puts a lot of feeling into the mainly lost love type of lyrics here – in particular "Got you on my mind" which was a million  seller "cross over" hit (from C&W to pop charts). She had many C&W chart hits and a goodly number of them are gathered here. That factor alone – apart from the superb accompaniments on show – make these albums fine easy listening. And – Avid's price for them is a bargain. BH 9/19
 ++++++++++++++++++++++++++++++++++++++++++++++++++++++++++++++++
Conway Twitty:  Four Classic Albums Plus  (Conway Twitty Sings / Lonely Blue Boy / The Rock And Roll Story / Portrait Of A Fool) (2CD) Avid double CD set ref  AMSC1347
This is a fine set of  48 remastered Country and Western cum rockabilly tracks from Avid. And dating from the late 1950s and to the Early 1960s. It's odd hearing these tracks now after all the time that has passed since their initial release – I (BH) should admit to hearing them new as a cub pop newspaper reporter – the thing is they sound just as fresh.  Perhaps each is a little short at around two minutes by today's standards but they feel new and vibrant. Twitty was of Welsh extraction and has a fine voice but strains just a little at times. Never mind that – here are over  two hours of great nostalgia.
===============================================================
Dinah Shore: Five Classic Albums (Yes Indeed! / Dinah, Down Home / Somebody Loves Me / Dinah Sings, Previn Plays / Dinah Sings Some Blues With Red) – five LPs remastered onto two CDs  ref AMSC1345
These two CDs are excellent and within the 53 tracks are probably the finest, most sensitive that Shore ever recorded. She was never a "pop" singer aiming for top ten success – more a cabaret and theatre performer with a style far removed from "pop". This lady had style, sensitivity, understanding of lyrics and mood well beyond the norm of the period. The first album included here "Yes Indeed" sees her accompanied by a very fine Nelson Riddle led orchestra in really classic performances of songs like "I'm Old Fashioned" and "Taking a Chance on Love". I'd buy this set just for those tracks but there's more. The second set sees Shore with a Jack Marshall led orchestra which is fine but somewhat anodyne when compared to the Riddle tracks. The second CD though is a joy because here we find Miss Shore obviously having the musical time of her life with Andre Previn on piano and leading various groups and an orchestra. Classics like "April in Paris" and "My Funny Valentine" are alone worth the purchase price of this set.
I have to confess – before receiving these CDs I'd never even given Dinah Shore a minute's consideration. What a mistake that was – she's up there with Ella and Billie – a star and different. BH-7-19.
 ++++++++++++++++++++
Slim Whitman: Five Classic Albums – Favourites / Sings Country Hits / Sings / Just Call Me Lonesome / Once In A Lifetime) – all on two CDs – Ref: AMSC1346 
Slim Whitman was a giant among Country and Western singers, majoring on singing in a high-near falsetto yodelling voice that once heard you never forgot. He had a whole host of hits and was – believe it or not – a major influence on Elvis and even George Harrison.  On these two superbly  remastered CDs of tracks from Whitman's many LPs are many of his successes. Here's what Avid themselves say about this release –
AVID Country continues with its Five Classic Albums series with a re-mastered 2CD release featuring Slim Whitman, complete with original artwork, liner notes and personnel details.
The epitome of easy listening, love and romance country, Slim Whitman's career seemed to have lasted forever, wherever you went, you could not seem to escape the high-pitched yodelling country troubadour who once had Elvis opening for him in the 1950s and sold over 120 million records. He was certainly a unique phenomenon, huge in the states but even bigger in the UK where in 1955 his massive hit "Rose Marie" (featured on our "Favourites" album), stayed in the charts for an astonishing 11 weeks, only finally to be overtaken a mere 36 years later in 1991 by Bryan Adams. Our five fab selections find Slim at the beginning of career that would last into the new millennium. BH 7-2019.
+++++++++++++++++++++
Bill Hayley – Five Classic Albums (Rock Around The Clock / Rock With Bill Haley / Rock N Roll Stage Show / Rockin' Around The World / Bill Haley's Chicks) (2CD) – Avid double CD ref AMSC1338
Avid give us superb value here – 60 tracks of the greatest rock and roll recordings of all time. These really are the classics and played by Hayley's all-star group that over time became recognised as the definitive rock band. This is some of the most infectious party dance music of all time although many Beatles tracks are just as infectious. Super stuff.
Now here's what Avid themselves say of this release……BH May 2019.
 
 

 

  AVID Rock N Roll continues with its Classic Albums series with a re-mastered    2CD release starring Bill Haley, complete with original artwork, liner notes and personnel details.
"Rock Around The Clock"; "Rock With Bill Haley"; "Rock n Roll Stage Show;" "Rock Around The World" and "Bill Haley's Chicks"
Well, we finally got there! We've done Elvis (a lot!) (AVC929, AMSC931, AMSC1257, AMSC1299), Chuck (AMSC1238), Buddy (AMSC1217), Fats (AMSC1272), Jerry Lee (AMSC1235), The Big O (AMSC1232), Little Richard (AMSC1286), Gene Vincent (AMSC1314), Don & Phil (AMSC1277). Hey we've even thrown in some great compilations too…. 5 x Classic Rock "n" Roll Albums (AMSC1331), The Essential Doo Wop Collection (AVC971) and The Essential Skiffle Collection (AVC951). So who had we missed? How could we not have remembered the chubby guy with the kiss curl and the crazy Comets? Okay relax, all is now right with the Rock n Roll world at AVID. Mr Bill Haley & His Comets are now finally and of course very much deservedly in the AVID Rock n Roll Hall Of Fame. Now, who else have we forgotten……?

 
 
++++++++++++++++++++++++++++++++++++++++++++++++++++++++++++++++
Chet Atkins – LP Albums Plus (At Home / Teensville / Chet Atkins' Workshop / Down Home / Caribbean Guitar) condensed on to two CDs – Ref: AMSC1335
I'm a jazz enthusiast and historian (BH that is) and although I worked in the popular music world for years, still don't feel 100% competent to review collections like this. OK – It's nice twangy melodic guitar stuff and very easy listening but I'd rather let Avid's  own experts tell you what they think –
As the producer of such legends as Hank Snow, Porter Wagoner, Dolly Parton, Dottie West, Waylon Jennings, Jerry Reed……not to mention Elvis, The Everly Brothers, Eddy Arnold and Jim Reeves, you may be forgiven for overlooking the fact that our featured artist, internationally known as Mr. Guitar, A.K.A. Chet Atkins was indeed a superbly influential and innovative guitarist in his own right. Here we feature 5 of his late 1950s to early 1960s albums plus bonus tracks which will give you a flavour of the range of Chet's musicianship and a man who won the Country Instrumentalist of the Year award no fewer than 9 times between 1967-1988.
+++++++++++++++++++++
Judy Garland: Four Classic Albums Plus – (Judy In Love / Judy Garland At The Grove / That's Entertainment / The Garland Touch) (2CD) – Ref: Avid – AMSC1336
There's superb stuff within some of the tracks here – those recorded when Judy was comfortable in her own skin and not wracked – as was so often the case – with depression and self-doubt. If you like Judy's work then the four LPs converted to two CDs here are a near perfect memento of her giant talent and you should buy this bargain-priced set. But also be aware that on some of the tracks her inner torment leaks through. Here's what Avid themselves say of these CDs  ………
These notes are by Lawrence Schulman – AVID remastering engineer Nick Dellow and I have worked closely on this CD set to make sure all the songs on it sound as good as they can possibly be. The remastering process included declicking and denoising transfers taken from mint original sources, such as the ultra-rare British 78 rpm record of It's Lovely To Be Back In London. Dellow has also skillfully re-equalized many tracks and discretely reduced excessive reverb where necessary, all the time respecting the skills of the recording engineers that Capitol employed across these recording sessions. It should also be noted that a number of tracks were found to be sharp and these have now been adjusted so that they are correctly pitched, in many cases for the first time. Judy Garland was naturally musical and her speaking voice and singing voice were seamless and synergistic; as a result, she could switch from one to the other effortlessly. And this natural quality has been the guiding light that ensures these half-century plus recordings retain a vibrancy when remastered that is worthy of 21st century ears. The tracks heard here are among Garland's greatest: Judy In Love (1958) was her fourth LP for Capitol Records and includes love songs as only she could sing them; Judy Garland At The Grove (1959), Garland's fifth LP, was her first live album, and the insitu stereo recording quality is particularly remarkable for the era; That's Entertainment! (1960), Garland's seventh album, is considered by many as her best in that it was recorded when she was in particularly good voice; finally, the compilation The Garland Touch (1962), which includes tracks from various Capitol sessions, was Garland's very last studio album released in her lifetime. As two of the recordings on The Garland Touch also appear on the album Judy In Love, these have been removed to avoid duplication. A positive aspect of this necessary deletion is that it has allowed more space for bonus tracks. The only mono recordings on this CD set are among the bonus tracks. In addition to the above-mentioned British 78 rpm single of It's Lovely To Be Back In London, the mono take of Zing! Went The Strings Of My Heart from Judy In Love is also included. The only notable musical difference compared to the stereo version is the improvised tenor sax solo; Judy Garland's vocal, which was recorded on a separate tape to the band, is identical. The remaining bonus tracks are stereo and come from the animated feature, Gay Purr-ee (1962), for which Yip Harburg and Harold Arlen, composers of The Wizard Of Oz (1939), wrote the words and music, and for which Garland is in resplendent voice. Lawrence Schulman is an award-winning music producer, critic and translator, and a widely acknowledged expert on Judy Garland. In addition to being a consultant on this AVID release, he has compiled a number of notable CD sets devoted to Judy Garland, including the recently issued "Judy Garland: Lost Tracks 2 1936-1967." (JSP Records).
Check out:- Judy Garland (AMSC1228), Eartha Kitt (AMSC970), Julie Andrews (AMSC1007), Frances Day (AMSC926), Nat King Cole (AMSC1303) and Frances Faye (AMSC1177).
++++++++++++++++++++
Rock 'N Roll – five classic albums plus – featuring Carl Perkins, Frankie Ford, Johnny Preston, Eddie Cochran and the Big Bopper. Avid Rock 'N Roll ref AMSC1331.
This is a fabulous album of classic rock 'n roll tracks like the Big Bopper's amazing "Chantilly Lace", Carl Perkins wonderful "Blue Suede Shoes", Johnny Preston's "Running Bear", Eddie Cochran's "C'mon Everybody" and many more. There are sixty six tracks here on the two CDs – great value and superb for a party – the first CD lasts 78 minutes and the second one 73 minutes. Get in there…….
+++++++++++++++++++++++++++++++++++++++++
AVID Pop continues with its Classic Pop Albums series with a re-mastered 2CD release by Adam Faith, complete with original artwork, liner notes and personnel details.The contents here include – "Adam"; "Adam Faith" ,"From Adam With Love", plus three EP's "Adam's Hit Parade Volumes 1, 2 and 3", plus two tracks from the film "Beat Girl", plus sixteen bonus 7″ singles.
When America gave us Elvis, we gave them Cliff, when they gave us Eddie we gave them Marty and when they gave us Buddy we gave them Adam. Hmmm.. They were our boys and we loved 'em. Here Avid feature Adam Faith in all his early sixties glory. The release is packed full of the best of Adam's long players, extended plays and fab singles. What do you want if you don't want Adam?? Maybe Marty Wild next time!!
+++++++++++++++++++++
Gene Vincent – Five Classic Albums – "Bluejean Bop", "Gene Vincent Rocks and the Blue Caps Roll", "A Gene Vincent Record Date", "Sounds Like Gene Vincent", "Crazy Times" – Avid AMSC1314.
Gene Vincent was probably the original "one hit wonder". The reason I say that is that he spent his whole active career (1956 – 1971)  trying to find hits to follow up his self-penned blockbuster "Be Bop a Lula". He still hadn't when he died prematurely in 1971 – he was born in 1935. But he had worked steadily both in the USA and UK and – as you can see from the albums detailed here – he'd recorded prolifically too.  The tracks here are pretty standard rockabilly – a style he actually originated – and are good dancing music. These albums are a superb reminder of a bygone era. ­Fun stuff.
++++++++++++++++++++
Patsy Cline – The Classic Albums plus two 7" Eps – Avid Country double CD album ref AMSC1313.  "Patsy Cline"; "Showcase"; "Sentimentally Yours" plus 2 EP's "Patsy Cline" and "Songs By Patsy Cline" and 12 Bonus Singles.
Avid's own wrote-up of these excellent tracks does them full justice. They are excellent and mark one of the original "cross-overs" from pure country music to the pop of the day – late 1940s and into the 950s. She has a first class strong voice with good tone and sings with not just quality but great conviction. Here now is what avid say of this fine double album.
"In many ways Patsy Cline is as much defined by her tragic death as she was by her music. In this respect she joins the likes of Buddy Holly, Hank Williams and Jim Reeves in the "what could have been" game. In pure musical terms, however, Patsy Cline was already a huge star when she died in that awful plane crash in 1963. Unlike Hank Williams, who was pure country, "The Cline" had taken a similar route to Jim Reeves into the pop crossover market. In fact most of her greatest hits were in that category, from "Crazy" to "I Fall To Pieces" to "Walking After Midnight". In the rare footage of her she cuts a tragic figure probably because we know what would happened to her but in fact her life was largely happy and successful. She was married twice and had two children. She was certainly a feminist pioneer, in all respects from her strength of character, her clothes, her attitude, her support for other female singers such as Loretta Lynn and Dottie West. Her famous "no dough no show" contract with promoters meant she had control over her own career, quite remarkable in those days. But of course all this is forgotten when you drop the needle and listen to that voice. Which it is now time to do, so settle back "Hoss", and enjoy the show, oh, and I assume you have paid your dough??!! BH 09-08-18.
+++++++++++++++++++++
Elvis Presley –  Four Classic Albums plus….. -"King Creole"; "G.I. Blues"; "Blue Hawaii", "Girls, Girls, Girls" and as a special bonus the 7 " EP "Jailhouse Rock". Avid "Rock' n Roll" double CD ref AMSC.
Way back I had to review several of these movies for the pop newspaper "Record Mirror" where I worked at that time. That wasn't an easy task because for me the movies were weak on story, Elvis over-worked in an attempt to make them a success and the result – for me – was that they were rubbish. He sang well in his usual formulaic style but his forced enthusiasm and all the vocal tricks were far too artificial for the end effect to be anything but awful. Here though is what Avid – the releasing company of these CDs say about this release…….
We could have called our second Elvis set, "Elvis At The Movies", or "Elvis Goes to the Movies", or "A Movie Date With Elvis" or "Movies Right Along With Elvis"….err, perhaps not that last one…..but, well, you get the picture!! It's time to forget what you may have read about the string of movies that the King made in the late '50s and '60s regarding the questionable quality of some of them. This release is about the music, and after all is said and done, that is what made Elvis, the King in the first place! So leave your celluloid prejudices at the door and step inside the auditorium and take a listen to some great music from Elvis Presley. After all, you are going to hear some of these fine Elvis classics, King Creole, Jailhouse Rock, Wooden Heart, Blue Suede Shoes, Return To Sender, You're So Square alongside some classic songs you may have forgotten you loved all along! Maybe your eyes were elsewhere while you watched the movies way back when!! Can't imagine where?
+++++++++++++++++++++
Jim Reeves – Four Classic Albums – "Songs to Warm the Heart", The Intimate Jim Reeves", "Talkin' tp Your Heart", A Touch of Velvet". Avid Country ref AMSC1294.
Four classic C&W albums have here been condensed onto two excellent CDs. Reeves gentle tenor voice has a warmth and intimacy that makes it and the mainly love songs here perfect partners for a night by a roaring log fire.  This is classic country music – great easy listening at a bargain price. It's worth mentioning that the backings – by stars in their own right like Chet Atkins and Floyd Cramer are brilliant.
++++++++++++++++++++
AVID R&B continues with its Five Classic Album series with a re-mastered 2CD release from Bo Diddley, complete with original artwork, liner notes and personnel details "Bo Diddley"; "Go Bo Diddley"; "Have Guitar Will Travel"; "Bo Diddley Is A Gunslinger" and "Bo Diddley Is A Lover'". Avid ref AMSC1296
Bo Diddley has one of the most unique sounds in R&B – and a unique rhythm pattern that was all his own and much copied. He had an enormous influence on rhythm and blues in the UK but vanished from popular sight as R&B also slipped from pop music's front line. Here's what Avid themselves have to say about this fine double CD.
"Musically, Ellas Otha Bates, better known as Bo Diddley, came up through the blues and gospel and R&B world being inspired by the likes of John Lee Hooker, Louis Jordan and Muddy Waters to name only a few. Unbelievably his first instrument was the trombone and next, even more bizarrely the violin on which he played in an orchestra until the age of 18!? We at AVID have a hard time imagining a guy the size of Bo Diddley playing the violin? Anyway, he was soon to discover the driving rhythm of the guitar which immediately became his instrument of choice. All you really need to do to appreciate the incredible sound of Bo Diddley is pop this CD into your car stereo and drive down the open road with the volume at full tilt! That's it! You will then understand how this guy became such an influence on many of the great rock stars of the 1960s and 1970s and beyond, and we're talking Beatles, Stones, Clapton, Page and Plant, Dylan, Petty and all points north south east and west."
++++++++++++++++++++
The Sounds of Detroit – 5 Classic Motortown Albums on 2 CDs – The Miracles – Marvin Gaye – The Marvelettes – The Supremes – The Contours. Avid Pop AMSC1289.
Avid say of this set – "Early Motown doesn't come much better than these five classic pop albums. To pinch a quote from the fabulous Contours liner notes… "included in this album are some of the swingiest and most together songs you'll hear in a long time, all new and each one with the potential to be a hit all by itself". It's Motown, need we say more!"
We say that despite the songs being swinging and "together" there's a distinct shortage of hits here – apart from the Marvelettes "Please Mr. Postman" that is. But it's all good happy party dancing stuff so get the drinks in, turn down the lights and put this set in the machine and let Motown take care of the rest.
https://youtu.be/logwrwJMlBU
+++++++++++++++++++++
Little Richard – Four Classic Albums on two CDs – "Here's Little Richard", "Little Richard 1", "Little Richard 2", "The Fabulous Little Richard". Avid Rock 'n Roll ref AMSC 1286.
Born Richard Penniman in 1935 Richard was in his early years the runt of his large family but – time moved on – he grew and became the largest of the bunch!  But the name stuck through his young years and into his move from black church gospel music to rhythm and blues based rock 'n roll. And boy did that move pay off?  In no time, and often with his own compositions like "Tutti Frutti" and "Long Tall Sally", Richard was a box office sensation – one of the biggest names ever in Rock 'n Roll who recorded a multitude of time-defying hits. Like his "Whole Lotta Shakin' Goin' On" many are still big today and always guaranteed to fill the dance floor at vintage music hops. Great stuff – historic Rock 'n Roll. (BH 6/3/!8)
++++++++++++++++++++
Marty Robbins – Four Classic albums remastered onto two CDs. "Marty Robbins", "Gunfighter Ballads and Trail Songs", "More Gunfighter Ballads and Trail Songs", "Just a Little Sentimental". Avid Country AMSC1281.
Robbins – 1925 – 1982 – was one of the most popular and successful Country and Western singer songwriters of all time. His sales broke all records and his biggest hit "El Paso" rivalled the more popular genre "hits" of the day. His best-selling album "Gunfighter Ballads and Trail Songs" is included here in its entirety as are three other excellent sets. Robbins has a  fine voice and is accompanied here by some of the great C&W instrumentalists like Grady Martin, Hillous Butrum and Jack Pruett on guitars and Floyd Cramer the pianist who of course had a fine solo career. This is a fine set of the very best Country music of the late 1950s and early 1960s. Oh and by the way – Robbins was also a very fine race car driver and took part successfully in races on the high-banked ovals of the 200mph NASCAR series in the USA. Classic stuff. BH – 1/02/18
+++++++++++++++++++++
 Ray Charles Second Set – Four Classic Albums – "Yes indeed!", "What'd I Say", "Ray Charles", "Ray Charles – The Great". Avid Jazz ref AMSC1276.
This is the second set of transcribed Ray Charles vinyl LPs on the Avid label and it's just as good as the brilliant first. A pioneer of soul music he virtually created history by being among the first – if not the first – to combine blues with gospel and rhythm and blues. The result is toe tapping heartfelt stuff like his famous "Get On the Right Track Baby" which is on the first CD here – or "What'd I Say" which is also included. And then there's the "I Want A Little Girl" and even a great version of Horace Silver's jazz hit "Doodlin'". There you have it then – forty six great swinging soul tracks from the master and at a bargain price too.
++++++++++++++++++++
The Everly Brothers – Four Classic Albums – "It's Everly Time", "Fabulous Style of the Everly Brothers", "A Date With the Everly Bothers" and "Instant Party". Avid "Pops" double CD ref AMSC1277.
The Everly Brothers were the sons of country and Western singer Ike Everly who before being urged by friends to take up singing full-time worked in coal mines!  Ike and his wife Margaret had a local radio show and it was natural therefore that once the boys were old enough they should appear on the show. They did and the rest is history – their close harmony singing and wise choice of material soon earned them a keen local and then national audience. The four LPs transcribed onto the two CDs include much of the brothers best known material – songs like their "All I Have To Do Is Dream" which was a huge hit in its day. The collection here is a mainly a happy up-tempo set that makes for easy listening.
++++++++++++++++++++
Fats Domino – Five Classic Albums – "The Fabulous Mr. D", "Swings", "Let's Play FATS Domino", "A Lot of Dominos", "Let the Four Winds Blow". Avid Rock 'N Roll ref AMSC1272.
Knowing that Fats Domino hailed from New Orleans I once booked concert tickets to see him at London's Royal Albert Hall and was right royally disappointed. Each song was very short, each one sounded much like the one before and the man only played for about forty five minutes – or so it seemed at the time. This double CD set, whilst superbly produced, lays the plot bare. I think all the tracks here were originally recorded and released as 7" singles – you remember – those little black records that the juke boxes used!  And therein lies the problem. Many tracks play for about two minutes (the usual juke box playing time) and some not even for that brief length of time. In other words it's all very brief and insubstantial which is sad because Domino can sing and play very well. It would have been nice to hear him play more substantial material at length. But never mind, these are great tracks for having a bop to so why not get down with Fats? Go on – roll back the carpet – turn the volume up and enjoy.
https://youtu.be/2pklNtDvkgw
++++++++++++++++++++
Etta James – Five Classic Albums – "Miss Etta James", "Etta James At Last", "Second Time Around", "Etta James", "Etta James Sings For Lovers". Avid double CD ref AMSC1264.
Etta James (1938-2012) was one of the better R&B singers who was just as adept in other fields – pop, blues, jazz, rock and roll and gospel. She had a difficult upbringing and several singing tutors mistreated her from the start often punching her in the chest to deepen her voice – hard to believe isn't it? But she made it with popular blues-ish songs like "Something's Got A Hold On Me" and "Tell Mama". Sadly she had a lifelong battle with addiction and physical abuse but somehow managed to carve a reasonably successful musical career. The five albums here cover the breadth of her career and capture wonderfully her ability to turn quite mundane songs into soul vehicles. Etta was a super singer and these albums are a fitting memorial. 
+++++++++++++++++++++
Ruth Brown – Four Classic Albums – "Rock AND Roll", "Miss Rhythm", "Late Date with Ruth Brown", "Along Comes Ruth". Avid double CD ref AMSC1265.
"Ruth Alston Brown (1928 –2006) was an American singer-songwriter and actress. She Was often known as the "Queen of R&B" but her work was far more "poppy" than with the genuine R&B singers. She had minor hits with songs like "Mama He Treats Your Daughter Mean" and "So Long" but never reached the heights of popularity. There were two reasons – first that her interpretations of lyrics lacked individual character and second that the material her record labels chose for her to record similarly lacked style and individuality. So – sadly although these four albums on two CDs are finely recorded they only come to minor life when the songs are classics like Duke Ellington's "I'm Beginning To See the Light" and Cole Porter's "You'd Be So Nice To Come Home To". Easy listening but not much more.
++++++++++++++++++++
Hank Williams – Five Classic Albums – "Hank Williams Sings", "Moanin' the Blues", "Memorial Album", "Honky Tonkin", "Ramblin Man". Avid double CD ref AMSC1267.
Hiram "Hank" Williams (1923-1953) was one of the most popular and successful of all country and western singers. Despite crippling physical disabilities he enjoyed a high profile career and wrote several monster hits. These included "Your Cheatin' Heart", "Hey Good Lookin" and "I'm So Lonesome I could Cry". Prescription drugs and alcohol bugged his career but he stayed at the top of his game throughout and his excellent music stands the test of time still making for excellent easy listening today. It can in fact be said that Williams music as demonstrated here set the C&W style for all time. It doesn't date.
++++++++++++++++++++
Bobby Vee – Four Classic Albums on Avid double CD – thr albums titles are – "Bobby Vee Sings Your Favourites", "Bobby Vee", "Take Goopd Care Of My Baby" and "A Bobby Vee Recording Session" – Avid Pop ref AMSC1262.
Bobby Vee – born Robert Thomas Velline in 1943 (died 2016) – was a typical clean cut, crew cut all-American boy of the bobby sox era. He ad numerous hits¸ some big like "Rubber Ball" and many not so memorable. But he was good and the songs here are pleasing and make for good uncomplicated easy listening – good to party dance to as well.
Statistically he had thirty eight Hot 100 chart successes and of these ten reached the top 20. Additionally he had six gold singles during his excellent career.
++++++++++++++++++++
Elvis Presley – Four Classic Albums – "A Date With Elvis", "Elvis is Back", "Something for Everyone", "Pot Luck". Avid Rock 'n Roll series double CD ref AMSC 257.
Whilst three of the LPs from which this double CD is compiled contain unremarkable stuff, the first section is sensational. The reason is that it contains seven tracks from the dawn of Elvis' career recorded by Sam Phillips for his Sun label in Memphis in 1954. These are the tracks – some of them – that started the rock and roll revolution. That's not to say that the rest of this set isn't good – it is but its' those first tracks that are music history.
++++++++++++++++++++ 
Johnny Cash – Four Classic Albums – "…With His Hot and Blue Guitar", "…..Sings the Songs That Made Him Famous", "The Fabulous Johnny Cash", Now – There Was a Song". Avid double CD ref AMSC 1252.
There are forty-eight tracks here from four LPs and there's hardly a weak song among them. That makes this set great easy listening party music. We all remember Cash's classics like "I Walk the Line". "Folsom Prison Blues", "Rock Island line", "The Wreck of the old 97",  "My Shoes Keep Walking Back to You" and "I'm So Lonesome I could Cry" –  they're all here plus a  load of less familiar but equally pleasing Western songs mostly penned by country and Western royalty like Jimmy Rogers, Hank Williams, Chet Atkins and of course the man himself – Mr Cash!  Good stuff and great value.
++++++++++++++++++++
Andy Williams – Four Classic Albums. "Andy Williams", "Lonely Street", "Moon River & other Great Movie Themes", "Warm & Willing". Avid Pop double CD ref AMSC1247.
A finely recorded and restored double set by the middle of the road ballad singer. Included are many of his most popular tracks like – Canadian Sunset, Moon River, Love is Here to Stay and Three Coins in the Fountain. It's good late night schmoozy stuff although in the first selection are several songs that don't fully suit Williams laid-back style. But, of the four LPs transcribed to make this set, the other three (see list above) are great with standouts like "Three Coins In The Fountain" and "Never on Sunday" being typical inclusions. This is very listenable stuff and will appeal strongly to older relatives. That makes it an ideal gift choice. As Williams sold more than 100 million records in his lifetime we're probably on the money with that opinion!
++++++++++++++++++++
Chuck Berry – Avid Rock 'n Roll – Four Classic Albums – "After School Session", "One Dozen Berrys", "Chuck Berry is on Top", "Rockin' at the Hops" – Avid Rock 'n Roll ref AMSC1238.
So – here you have it – the virtual birth of rock 'n roll on one double album set. There's no doubt that Chuck Berry was the main man who took rhythm and blues and almost by accident and with not too subtle use of electric guitar  created rock and roll. All the classics that did it – changed the shape of popular music – are here. Tracks like "Sweet Little Sixteen", "Rock and Roll Music", "Johnny B. Goode" and "Maybelline". These two CDs are an instant party. Roll up the carpet, put the first CD in the player and turn up the volume, you've got it. Brilliant – well done Avid.
++++++++++++++++++++
Jerry Lee Lewis – Three Classic Albums Plus – "Jerry Lee Lewis", "Jerry Lee Lewis and his Pumping Piano", "Jerry Lee's Greatest" – plus sixteen tracks from singles releases. Avid ref AMSC1235.
There are 49 tracks of classic Rock'n Roll here – superbly remastered and sounding as fresh and vital as they did when we first heard them. All Jerry Lee's best-remembered classics are included – "Great Balls of Fire", "Don't be Cruel", "Matchbox", "Whole Lotta Shakin Goin' On" – and more of course.  Great party music.
++++++++++++++++++++
Judy Garland – Four Classic Albums plus – "A Star is Born", "Miss Show Business", "Judy", "Judy Garland -Alone". Avid Easy ref AMSC1228. Judy has always been one of my singing heroines. The emotion, the conviction  and the drama of her best work like "You Made me Love You", "Some of these Days" and the inevitable "Somewhere over the Rainbow" have similar feelings of sincerity as do the songs of the great blues singers. There's an honesty here that's rare and very loveable. Judy was a true great and these tracks are part of the proof of that. Thank-you Avid.
Frank Sinatra – the Nelson Riddle Years – The Essential Collection –Classic Albums including "Songs for Young Lovers", "Swing Easy" and "Songs for Swingin' Lovers". Avid AVC902.
Of all the Sinatra albums on offer this is the greatest. The team of Nelson Riddle, an orchestra packed with hand-picked jazzmen like Harry Edison on trumpet who played those wonderful muted obligatos behind so many Sinatra vocals. And there were more key men – Juan Tizol and Milt Bernhart on trombones, Bill Miller on piano – he was Sinatra's personal keyboard man, Bill Divito on drums. And there was a great string section too who added great lush moods where they were needed. These are the albums from which such standards as "You Make Me Feel so Young", "A Foggy Day", "I've Got the World on a String" and "Too Marvelous for Words" came from – unforgettable tracks that for many were their aural wallpaper way back. Classic stuff and here offered in wonderful restored quality and at a great price. Yes.
Frank Sinatra – digitally remastered albums with nelson Riddle – "Close to you", "A Swingin' Affair", "In the Wee Small Hours" plus tracks from singles. Avid Easy  AMSC936.
Another classic of 48 tracks which include the unforgettable "Lean Baby", "In the Wee Small Hours of the Morning"and "You'd Be So Nice to Come Home To". Wonderful stuff – absolutely classic.