Webb Pierce: Four Classic Albums Plus (Webb Pierce / The Wondering Boy / Just Imagination / Webb!) – all on two Avid label CDs ref AMSC1378
These are a fine release of the tracks of four albums plus by one of the almost "greats" of Country and Western music. It's all fine stuff – very bland by today's standards but excellent. Here's what Avid's own C&W experts says – "
 



AVID Country continues with its Four Classic Albums series with a re-mastered 2CD release featuring Webb Pierce, complete with original artwork, liner notes and personnel details. "Webb Pierce"; "The Wondering Boy"; "Just Imagination" and "Webb!" plus 10 bonus tracks.
Amongst one of the greatest names in country music Webb Pierce was a truly legendary showman who had more number 1 hits during his heyday in the 1950s than any other country singer. You will find many of his greatest hits in the grooves of our four chosen albums including Slowly, Love, Love, Love, There Stands the Glass, I Don't Care, More and More, Wondering, and of course his greatest hit from 1955, spending 37 weeks in the charts, 21 of them at number 1, In The Jailhouse Now. Born in Louisiana it was not surprising that alongside Western Swing and the music of Jimmie Rodgers, Webb was also influenced by the sound of Cajun music from the nearby bayous. At 15 years old he already had his own 15 minute radio show Songs By Webb Pierce! He cut an amazing figure in his flamboyant Nudie suits driving his silver dollar lined convertibles, building his guitar shaped swimming pool and performing in an emotionally drenched whisky soaked tenor. He became the epitome of the excess of country music in the 1950s, his home even becoming a tourist attraction with 3,000 visiting each week! However we must not forget what Webb was most famous for and on these albums we concentrate on the music and the musicians and Webb Pierce was certainly a fine musician, singer and entertainer. Take a look at the list of supporting musicians and you will see how well he was regarded by the country music elite. On these albums you will here the likes of Floyd Cramer, Chet Atkins, Owen Bradley, Grady Marsh, Faron Young, Hank Garland, Tommy Jackson, The Wilburn Brothers and Mel Tillis all lending their musical support. Our bonus tracks again show how well he was regarded with duets with Kitty Wells, Mel Tillis and Red Sovine. So for a couple of hours or so, forget the nudie suits, the convertible and the guitar shaped swimming pool (if you can get that image out of your mind!) and enjoy the honky-tonk music of Mr. Webb Pierce. 

++++++++++++++++++++++++++++++++++++++++++++++++++++++++++++++
Various Artists: Classic Swing USA: The Essential Collection (2CD) Avid Ref: AVC868
This release is a superb two CD collection of classic swing from the late 1930s and into the 1940s.  Including classic tracks by bands like Tommy Dorsey, Artie Shaw, Woody Herman, Benny Goodman, Glenn Miller, Gene Krupa and many more this set really is a gem – great value- great classic recordings. They're all here – like Glenn Miller's "In the mood",  Duke Ellington's "Cotton Tail", "Skyliner" by Charlie Barnet's band and many more. This set should be in every collection.  BH 11-08-2020
++++++++++++++++++++++++++++++++++++++++++++++++++++++++++++++++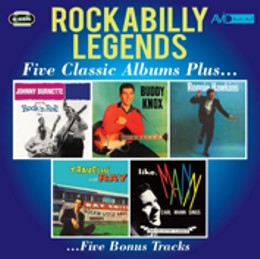 Various Artists: Rockabilly Legends – Five Classic Albums Plus (Johnny Burnette And The Rock N Roll Trio / Buddy Knox / Ronnie Hawkins / Ray Smith – Travellin' With Ray / Carl Mann – Like Mann) – (2CD) – Avid ref AMSC137
This is a fine value double CD collection of  rocking music that's a cross between twangy country songs and pure rock. This type of rock never really made it onto LP albums but existed instead as an almost purely jukebox singles genre. There are sixty four classic tracks here – all very danceable and perfect for a time-warp party.  Here's what Avid's in-house writer thinks of these tracks – 
"AVID Rock N Roll continues with its Five Classic Albums plus series with a re-mastered 2CD Various Artists set complete with original artwork, liner notes and personnel details   Johnny Burnette And The Rock N Roll Trio"; "Buddy Knox: Buddy Knox"; "Ronnie Hawkins: Ronnie Hawkins"; "Ray Smith: Travellin' With Ray" & "Carl Man: Like Mann" plus five bonus tracks.
AVID are rightly proud of our extensive catalogue of Classic music released over the last 20 years or so. We have covered most genres on our musical journey, from classical to nostalgia and easy listening, blues to R N B, folk to country and the world of dance bands, swing bands and of course jazz. We've even been involved in Films, Shows, Childrens tunes and Sound Effects! And yet there are still some areas of music, some genres that we haven't quite reached yet. So for this release we are featuring a musical genre that sits somewhere between country, rock n roll and maybe a little pop, ROCKABILLY! Not many of the great rockabilly artists got to make albums back in the heyday of rockabilly. It was primarily a singles driven movement. However the five classic artists featured here all were lucky enough to make an album, some even made more and went on to have pretty good careers after the music had moved on. Of our featured rockabilly artists, arguably the most famous was Johnny Burnette (brother of Dorsey), who indeed did go on to make quite a few albums before tragically dying in a boating accident at 30 years of age in 1964. Ronnie Hawkins was another singer to have a lengthy career and in fact is still active today at the age of 85! Hawkins of course, later became better known as the leader who found and nurtured the guys who would become the legendary rock outfit The Band, famed as Bob Dylan's backing band in the mid sixties and in their own right as one of the best and most influential American bands ever. Rounding off our classic album set we feature lone albums by Carl Mann and Buddy Knox and a taste of the great Ray Smith who would also go on to have a lengthy musical career. We hope you enjoy our first journey into the exciting world of Rockabilly , and we haven't even touched on Jack Scott yet!  BH – August 2020 

++++++++++++++++++++++++++++++++++++++++++++++++++++++++++++++
Whilst editing this section recently I (BH) managed to delete all the older reviews!  So, as Connie Francis new compilation was the most recent of those "lost" gems of prose, we're going to use Avid's own comments about that fine album by way of introducing a few older gems worthy of your attention.
Connie Francis: Five Classic Albums (Who's Sorry Now / The Exciting / Rock N Roll Million Sellers / Country & Western Golden Hits / Connie's Greatest Hits) (2CD)  Avid ref  – AMSC1374
AVID Pop continues with its Five Classic Album series with a re-mastered 2CD release from Connie Francis, complete with original artwork, liner notes and personnel details; the albums are – "Who's Sorry Now"; "The Exciting"; 'Rock N Roll Million Sellers"; "Country & Western Golden Hits" and "Connie's Greatest Hits'"
Here's a quote from the liner notes of one of our fine selections "The Exciting Connie Francis" – "There are many adjectives which apply to talented Connie Francis – vivacious, moody, winsome, evocative, charming, nostalgic, sparking, intense – and lots of more. But, one certainly does the trick in the summing-up. Above all, Connie is "exciting"! The petite young songstress radiates charm in all she sings, all she does……". Well, what was it she does (and still does at a magnificent 82 years of age), we ask ourselves? Was she pop, was she easy listening or was she country or was she rock n roll? In the days when our latest recruit to the AVID Pop vocalist hall of fame was singing, genres didn't seem quite so important. She was just a great singer! Part of the answer of course lies in the titles of our five fine selections, take another look above. In fact, Connie Francis was a fabulously versatile singer who happened to come along during an exciting and fast moving time in the world of musical entertainment. She was easy listening to begin with certainly (Who's Sorry Now), but as the 50s moved along she caught the rock n roll train, and thanks to her pals The Everly Brothers also joined the country and western hootenanny. As rock n roll waned and became sanitised losing Elvis, Chuck, Little Richard, and Jerry Lee, her sound was perfect for the pop world of Fabian and Ricky Nelson etc. So, Connie moved across many musical genres, but what stood out in all of them was her remarkable voice, "exciting" indeed. She doesn't rival Madonna as the biggest selling female singer of all time for nothing!
Also please check out::- Patsy Cline (AMSC1313); Jean Shepard (AMSC1355); Jeri Southern (AMSC1291); Chris Connor (AMSC1089); Kitty Wells (AMSC1328); Bobby Darin (AMSC1205); Ann Richards (AMSC1239); Dinah Shore (AMSC1345); Brenda Lee (AMSC1211); Ricky Nelson (AMSC1206); Bobby Rydell (AMSC1365); Peggy Lee (AMSC1290); Bobby Vee (AMSC 1262); Helen Merrill (AMSC1337); Judy Garland (AMSC1228 & 1336); June Christy (AMSC1305); The Everly Brothers (AMSC1277).