Classic Blues Masters – Four Classic Albums (The Best Of Little Walter / The Best Of Muddy Waters /Sonny Boy Williamson – Down And Out Blues / Howlin' Wolf Sings The Blues) (2CD) Avid Blues Ref: AMSC1368

These two CDs offer wonderful value. Culled from four classic blues LPs – the forty-nine tracks are some of the most down-home dirty electric guitar era blues I've heard – absolutely superb. Little Walter- he got his nickname when as a child he played his harp (harmonica) on street corners – people would say "why there look at Little Walter (Jacobs) – is quite brilliant and original. Muddy Waters is classic and has the benefit of Little Walter and pianist Otis Spann in his band – among his tracks are the epic "I Just Want To Make Love To You", "Honey Bee" and "Hoochie Coochie". Sonny Boy Williamson II – the first died in 1948 – upholds the tradition well with superb rockers like "Keep It To Yourself". Aided by backers like Muddy Waters (Yes!) Otis Spann and Willie Dixon he could hardly go wrong – and doesn't. This is down home gutsy stuff. Howlin' Wolf's twelve tracks are equally gripping and with superbly atmospheric backing by men like Ike Turner (yes that Ike Turner!) on really driving piano he could hardly fail. A gold value superb album.BH May 2018

+++++++++++++++++++++++++++++++++++++++++++++++++++++++++++++

Lightnin' Hopkins: Four Classic Albums (The Rooster Crowed In England / Lightnin' (The Blues Of Lightnin' Hopkins) / Last Night Blues / Lightnin' Strikes) (2CD) – Ref: AMSC1363  

AVID Roots continues with its Four Classic Roots Album, series with a re-mastered 2CD third release from Sam "Lightnin'" Hopkins, complete with original artwork, liner notes and personnel details. BH writes – I had the shock of my life listening to the first track on the first CD here – because "Lightnin' Hopkins was singing to me! I should explain. In the  early 1950s working in Dobells Jazz record shop in London I started a record label for the shop – called "77 Records" – the address of the shop was 77 Charing Cross Road. On the first track here Hopkins announces that he's singing and being recorded by "77 Records" in England i.e. – me – BH – and "hopes that everyone there likes him". The idea apparently was – way back then – that if he could get someone in the UK to release records by him then maybe he could tour in the UK.  It worked – he did and we loved him. This release is classic urban blues all the way. Finely recorded – completely honest – exciting classic folk blues – don't pass it up.

Avid's own writers say of this two CD set – One of the absolute delights to witness as we have grown our blues catalogue has been the success of all the titles we have released so far. It's been very exciting and rewarding to know that there are still music lovers out there who continue to honour and enjoy the music of a bygone era, whether it be blues, jazz. folk or country. We believe it's because this music is timeless, but above all else it is just great music. Music that still needs to be heard as we move into the 21st century digital age. Music that is becoming harder and more expensive to find in its original format of vinyl and later even on CD. Maybe as we advance into this new digital age we will begin to long for the true sound of music coming at us not in some compressed digital form? We will long for the honesty and simplicity of what has gone before……before it is gone forever. The blues has been with us now for well over a century, it has influenced and changed popular music in so many ways it's hard to keep count. But at its core it is still about life and love and the struggle of the human condition and the chance to have a damn good time on a saturday night. Our first two Lightnin' Hopkins releases have both been gratifyingly successful to date. We hadn't planned on a third release just yet, but when we got the chance to feature a very rare, expensive and hard to find Hopkins album, we felt we just had to fit that third set in. This set opens with the album in question "The Rooster Crowed In England", recorded in 1959 with a couple of tracks from 1954. Our liner notes indicate we could not find the original composers of the songs so we have listed them as unknown, we think there's a fair chance they are all by the great man himself. We believe this is the first time this album has appeared on CD.

96=50s
 
Sonny Terry & Brownie McGhee: Four Classic Albums (Sing / Down Home Blues / Folk Songs Of Sonny Terry & Brownie McGhee / At Sugar Hill) (2CD) Avid ref: AMSC1361
BH writes – I was closely involved with the first British tour by Sonny Terry and Brownie McGhee and apart from being captivated by their music was also fascinated by the fact that despite their rough (by my white middle class British standards) background the two were perfect gentlemen and very good company. I was a naive blues neophyte of course whereas friends like Charles Fox and Alex Korner – men well versed in the blues world – knew that many blues performers were sophisticated polished "men of the world". Sonny Terry and Brownie McGhee were superb – classic bluesmen happy to talk about their music and its origins – good company. Now here are Avid's notes for this excellent double CD release – 
"AVID Roots continues with its Four Classic Albums series with a re-mastered 2CD release from folk musicians/singers Sonny Terry & Brownie McGhee, complete with original artwork, liner notes and personnel details.
The legendary blues duo that is Saunders Terrell or Teddell(?) & Walter Brown McGhee, better known as Sonny Terry & Brownie McGhee. This pair of Piedmont blues artists were probably the most well-known names in blues to many non-blues music lovers. They were arguably one of the most recorded artists in the blues catalogue, due both to their undoubted popularity and their long careers which stretched for the 1930s to the 1980-90s. Sonny Terry born in 1911 had gone blind by age 16 and turned to music as a blues harmonica player to make a living. Famously he had accompanied the legendary Piedmont blues singer Blind Boy Fuller and also performed at the 1938 Carnegie Hall From Spirituals to Swing Concert where Robert Johnson had been sought to play but had died some months earlier. Following the death of Blind Boy Fuller in 1941, Sonny travelled to New York where, in 1942, he hooked up with Brownie McGhee who he had met while also working with Fuller. Brownie McGhee born in 1915 began his musical career playing in gospel harmony groups. At a young age he contracted polio which incapacitated him until surgery enabled him to walk once again. He also worked with Blind Boy Fuller and on his death in 1941, briefly became known as Blind Boy Fuller 2. The long career of Sonny Terry & Brownie McGhee really took off with the folk/blues revival in the US during the late 1950s and 1960s. They were much in demand at folk/blues festivals like Newport and Ann Arbor and other shows and festivals around the world. They visited the UK on more than one occasion during the blues boom of the 1960s. They had also both been theatre, film and TV performers. Not a bad career for a couple of itinerant blues singers! Sit back and enjoy." BH1/20

+++++++++++++++++++++++++++++++++++++++++++++++++++++++++++++++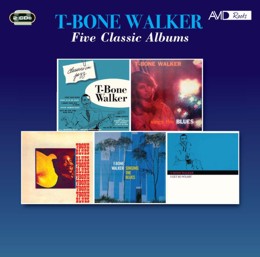 T-Bone Walker: Five Classic Albums (Classics In Jazz / Sings The Blues / T-Bone Blues / Singing The Blues / I Get So Weary) (2CD) – Avid Records ref AMSC1359
Fifty five tracks of stirring 1950s period blues and rhythm and blues from one of the "kings" of the genre. Most of the tracks are soulful and moody but here and there you get a real rip-snorter of a stomp – fantastic!  This is a classic set of the sort of tracks that fed the early Rolling Stones, Beatles, The Pretty Things and many other groups. It still makes for great late night listening with a glass or three…….. enjoy. BH 1/20
++++++++++++++++++++++++++++++++++++++++++++++++++++++++++++++
Jesse Fuller & Josh White: Four Classic Albums  – (Jazz, Folk Songs, Spirituals & Ballads / The Lone Cat / Sings Ballads-Blues / Empty Bed Blues) – two remastered CDs of four LPs. Ref: AMSC1344
BH writes – whilst enjoying the music of these two high quality CDs I find myself confused. I'm a raw blues enthusiast and although the two guys here are both excellent bluesmen neither is raw – or earthy which to me is something of a put–off. Fuller is the earthier of the two but limited in scope. White is a sophisticated urban or city bluesman, very polished, very professional and an excellent all-round entertainer. But don't take my word for it – hear what Avid's own expert writes about these albums…..
Following the incredible success of our AVID Roots series which includes such classic blues names as Muddy Waters, Howlin' Wolf, Lightnin' Hopkins, Jimmy Reed and B.B King, we thought it was time to add another couple of names to our Roots roster – Jesse Fuller and Josh White. Our first bluesman, Jesse Fuller, did not quite follow the traditional blues musicians path in that he did not start playing and earning money as a blues singer until he was in his fifties, hell, he didn't even record his first album until he was 62! Although he was an accomplished guitarist he had always earned a living the more traditional way by working on railroads, shining shoes or wherever he could to make a buck. Following a meeting with Douglas Fairbanks while operating a hot dog stand in southern California he had even appeared in a couple of Hollywood movies! Not knowing or trusting any other musicians, Jesse decided to create his own one man band, playing a variety of instruments including guitar, kazoo, harmonica and fordella (a unique percussion device!). The results can be heard on our two wonderful albums. To do justice to the life and achievements of Josh White would take an entire book. His was an extraordinary story of a man who travelled from being a shoeless child street entertainer to being a central character in the early civil rights movement, to performing in the White House for the Roosevelts, to the HUAC hearings where he was blacklisted as communist, he then relocated to the UK and performed all over Europe. And that's not to mention his acting career and his life as a family man and oh yeah his fantastic career as a blues singer and guitarist. Featuring only two of his extensive recordings hardly scratches the surface of his many musical styles but we hope our selections will give you a flavour of the man and his talent. We at AVID have a strong suspicion that we will be re-visiting his catalogue for a full Four Classic Album set in the very near future. As they say, watch this space.
Check out:- Muddy Waters/Howlin' Wolf (AMSC1162); Lightnin' Hopkins (AMSC1225 & 1254); Jimmy Reed (AMSC1214); John Lee Hooker (AMSC1234); B.B. King (AMSC1203); Lonnie Johnson (AMSC1207; Rev. Gary Davis (AMSC1271); Rural Blues: The Essential Collection (AVC942).
+++++++++++++++++++++
Sam Cooke – Four Classic Albums – "Sam Cooke", "Cooke's Tour", "Hits of the 50s", "Twistin' the Night Away". Avid AMSC1304.
Sam Cooke – 1932-1964 – was one of the most influential singers during the birth and early years of what we now call "soul" music. He began as a child singer and his emotional soulful style was first developed through church music. In an early commercial soul career he had hits with songs like "Chain Gang", "Bring It On Home To Me" and "Twistin' the Night away". His work and stylistic influence is thought to have been helpful to the careers of Otis Redding, James Brown and Aretha Franklin and he had many hit singles. But his life was cut short when he was shot dead in an altercation at a motel in 1964 aged only 33. He had however some great records – many of them still popular today. The pick are here transcribed from four of his best LPs. BH 2-7-18.
.
.++++++++++++++++++++
National Down Home Blues Festival Volume One – Southland SCD – 21
National Down Home Blues Festival Volume Two – Southland SCD – 22.
It's always been an ambition of mine to access the sources of the music I'm
passionate about – the better to understand it. It was therefore with great
enthusiasm that I discovered these two amazing CDs packed full of
unsophisticated mainly amateur performances. They bristle and boil, they're
far from smooth and professional but boy oh boy – do they stir the emotions
and get the feet tapping. Here recorded at the Georgia Folklore Society meet
in the Moonshadow Saloon in 1984 are some of the most authentic and
original blues singers and instrumentalists you will ever hear. These are the
artists whose driving force is to entertain their neighbours, family and friends
mainly in their homes but occasionally in saloons and even concert halls.
They are predominantly amateur or semi-professional and it's plain that in
their work is the origins of pure folk blues and ragtime-jazz. It's virtually
unchanged in almost a century – a time capsule if you like. Wonderful pure
music. I'm not going to list all the artists – there are too many – but here's just
a sample. You can look for them on You-Tube  – but be warned you may stare
at your screen for hours – this is addictive seductive stuff. So here's a partial
list of artists from these two sensational CDs available from Jazzology in New
Orleans – Piano Red, Homesick James, Albert Macon, Robert Thomas,
Hezekiah and the House Rockers, Booker T. Laury,  Lonnie Pitchford,
Precious Bryant, Jessie Mae Hemphill, Sunnyland Slim, Junior Kimbrough
and many more. Remember this is amateur (mainly!) music from the
roots……. (BH June 2018)
+++++++++++++++++++++
Box set – American Folk Blues Train – Alan Lomax' Field and Studio Recordings – three CDs of 51 tracks. Castle Music CMETD-648
Alan Lomax (an ethnomusicologist) and his father John were pioneer American folklorists – they painstakingly researched and collected both written and recorded American music folklore. They did this the hard way by travelling the backroads of America interviewing and recording both surviving pioneers and their descendants. With a disc cutter in the back of their car they would visit plantations down south, coal mines, lumber camps and prisons – anywhere original material was to be found, hopefully before it became adulterated by modern society. Their back catalogue of wonderful original material now stretches (in the Smithsonian library) into many hundreds of CDs – far too many for me to either absorb or afford!  But here's a set of three CDs with a selection of the best from their archive – and this I have been able to  afford!  The three are titled "Blues in the Mississippi night", "Murderer's Home" and "American Song Train" and on each one you get super hand-picked atmospheric examples of the type of stuff the Lomaxes collected. It's quite superb stuff covering everything from unidentified groups of railway and field labourers to raw unsophisticated stuff by men like Sonny Boy Williamson and Leadbelly who later became famous. Then there are convict groups and various "unidentified groups". If you – like me – like to get as close as you can to the often raw sources of our music then this is the a set you really should invest in. At £20 it's a bargain.
++++++++++++++++++++++
Trouble So Hard – double CD of blues – NOT2CD ref 543
This is a quite amazing collection of forty tracks a majority of which are "field" recordings – i.e. recordings made on location in fields, prisons etc. And they date back a fair way with the earliest tracks being from 1920. There are many from the 1940s also before these ethnic blues were bastardised and used by the R & B and rock fields. This is a great collection for both enjoyment and study because of the purity of many of the tracks like those recorded by chain gangs of prisoners working out in the open. It's raw stuff and very helpful if you like me (BH) are keen on hearing blues source material. Here also are more sophisticated songs by men like Leadbelly, Vera Hall, Blind Willie Johnson, Josh White and Big Bill Broonzy, but it is the earth and passion of the prisoner's songs that stick in the memory. Great stuff.
++++++++++++++++++++
Jug Band Blues – a Rough Guide To……  "25 Tracks of Jug Bands reborn and remastered". RGNET1358CD.
One of the first records I – as a teenager new to jazz – was advised to buy was by blues singer Ma Rainey's Tub Jug and washboard band.  I hated it and couldn't see the connection to jazz. Over the years the connection has become more obvious but never more so than now with this brilliant new collection of folk-jazz tracks by bands using the jug as an instrument in a vari
ety of ways. The jug was first used in the early days of the last century partially as a rhythm instrum
ent but also to provide bass tones. These sounds were produce by either blowing across the top of the glass or ceramic jug or making sounds into it. On the superb tracks of this collection you can hear both methods. And the tracks represent every type of group from pure folk to near jazz – from the obscure and to the most famous and popular like Cannon's Jug Stompers, the Dixieland Jug Blowers, Tampa Red's Hokum Jug Band and Bill Johnson's Louisiana Jug Band. It's all fascinating stuff and gives us a unique and highly entertaining insight into an often forgotten aspect of both blues and early jazz. Fun.
+++++++++++++++++++

Here are details of four handsomely produced CDs on the Blues Quest label.
I acquired them as part of my ongoing search to get nearer to the real sources of the blues. They have been a big help……
Blind Lemon Jefferson – the first country blues superstar – "Black Snake Moan" – SBLUESCD ref 013.
Lemon was born blind or partially sighted into a family of dirt poor sharecroppers in Coutchman Texas in or about 1894. Unable to work because of his disability he took up the guitar at an early age and playing at field parties and on street corners rapidly developed a unique style. His high-pitched voice coupled with his unique guitar runs and ability to change time during a song marked him out as a talent on the side. Soon he had guides – men who would guide him from town to town – and it's said that these included fellow guitarist singers Albert Collins, Huddie Leadbetter (Leadbelly) and Lightnin' Hopkins. Lemon picked up good money playing from town to town eventually settling in Dallas, becoming a married man and even hiring a chauffeur to drive his newly acquired car. He could afford that through money earned both from singing in public and from the excellent sales of his first records for Paramount. Despite that company's poor standard of recording and the rubbish material they pressed their records from Lemon became a star. Leadbelly even recorded Lemon's "Matchbox blues" (the Beatles made a hit of it too!) and his unique song "See that my grave is kept clean" is still a big hit with modern folk groups. This CD is an excellent record of some of Lemon's best work – despite the crackle and hiss from the surface of those Paramount 78s – it's obvious that here indeed are the voice and songs of he first country blues superstar. Classic stuff.
Son House – Delta Blues – "King of the Delta blues" – SBLUESCD ref 002. 
Born in Riverton, Mississippi in 1902 Eddie James House Jr fell out of love with Plantation life in his teens but spent a good deal of time preaching the gospel.  Seduced – it is said – by whiskey – he strummed an abandoned guitar at a party and to his surprise later found money in his pocket. One thing led to another, he made his way to Lula where he settled playing on the streets and in juke joints. He took up with Paramount Records star Charley Patton who had been asked by Paramount to scout new blues talent to help fill the gap left by the death of their best-selling singer Blind Lemon Jefferson. Patton was asked to bring new talent to a recording session set to take place in Grafton, Wisconsin. He took Son House along and the resulting tracks were electric. Son was dynamic, raw, vital and very different. Those tracks from May 1930 are the first on this CD made from the restored 78s together with sides from sessions in 1941 and 1942. They're classic raw unsophisticated Delta blues – and in his singing it is said you can "feel" the battle between the blues and God – its tortured stuff – quite amazing.
Bukka White (Booker T Washington White) – The last great delta blues singer – "Fixin' to Die" Complete Blues ref SBLUECD022.
Born in Houston Mississippi in 1909 Booker (the Bukka tag arose  through  a missprint) was given a guitar for his ninth birthday and developed a fondness for train sounds and songs together with religious material. By the age of thirteen he had moved to Chicago and was more into the blues and met and was influenced by Charley Patton. He made money as a sportsman in baseball and as a boxer. In 1930 he was recorded by Victor but they only released four of the fourteen tracks he recorded. In 1937 Booker met Big Bill Broonzy who persuaded him to record for Vocalion. Booker didn't tell anyone he was on the run for a shooting incident – the police hearing he was in town burst into the session and arrested him. One track from that session "Shake 'em on down" became a success whilst he was in Parchman Farm Penitentiary. His next sides were recorded in that prison by the legendary folklorist John Lomax and are of course on this CD!  Released from prison in 1940 Melrose again recorded Bukka and in a music world now much more sophisticated than that in which White had developed his style, these later sessions stand out as probably the last great original Delta blues tracks. As the liner note with this CD states – "tight and loose, mournful and joyous and always engaging, these recordings represent the end of a line that began with Charley Patton and Son House, took in Tommy Johnson along the way and from which sprang the talents of Robert Johnson and muddy Waters". These tracks are some of the all-time greats.
PS – the last review in this section is of a superb Eric Bibb CD titled "Booker's Guitar" – read in conjunction with this article you'll have a better idea of the stature of Bukka White – better still – buy the CD.
Charley Patton – The godfather of the Delta Blues – "Hang it on the wall" – Complete Blues ref SBLUECD005.
Elsewhere in this section you will find a review of a Charley Patton boxed set which includes a superb DVD. The 20 tracks on this CD are all also included with that boxed set – but if you want a more modest package and less expensive set of Patton's raw blues then this release fills the bill. See the other review for more details.
++++++++++++++++++++
See Avid double album releases section for a new classic Lightnin' Hopkins release……. don't miss it – it's a classic.
And see – https://youtu.be/keQR4_7DBnM 
++++++++++++++++++++
The Definitive Charley Patton – 3 x CDs of Patton originals remastered together with tracks of blues artists inspired by Patton. Plus – A DVD titled "Talking Charley Patton" telling his story with Luther Brown, Bob Brozman, Charlie Musselwhite, Tony Russell, Charles Shear Murray and Nigel Williamson together with snippets of Patton songs. Proper Records – Properbox ref 151.
Here is Proper Records description of this remarkable set – "This year marks the 75th anniversary of the 'Father of the Delta Blues', Charley Patton. Patton was not the first Mississippi Bluesmen to record but he was without doubt the most important. Through his songbook and performances the Blues in the Delta became a major movement and many of the greatest artists from that region owe a great debt to Charley Patton. Son House, Robert Johnson, Tommy Johnson, Howlin' Wolf and just about any other Delta Blues artist from the first half of the last century all have Patton to thank for his groundbreaking work.
Although he was definitely a pioneer Patton himself had influences and on this set we not only look at those artists that followed in his wake but also his contemporaries and those that came before him. Patton borrowed music or lyrics from many artists including Ma Rainey, Bessie Smith, Blind Lemon Jefferson, the Mississippi Sheiks, Blind Willie Johnson, Jim Jackson and many more.
This 60 track set contains many of Patton's best known songs as well as the sources for those songs and covers or variants by those artists that came after him. Also included is the DVD, 'Talkin' Patton', that contains interviews with musicians, musicologists, blues scholars and Delta historians and contains brand new footage of Dockery's, the legendary plantation where Patton was raised and where many people believe the Delta Blues truly blossomed as an art form."
Despite this being a brilliant set the problem of deciphering the words of Patton's songs remains. I have found however that by following the printed lyrics here – www.songlyrics.com/charley-patton-lyrics – these tracks come to vibrant life. For me (BH) the beauty of the recordings is in his tone and the dynamics of his performances. He was a style setter and no doubt a true founder of the delta blues style and all that it gave birth to both in the blues and in rock music. In summary – this is a great set.
++++++++++++++++++++
Reverend Gary Davis – Hesitation Blues – Le Chant Du Monde records double CD album ref – 274 1508 09.
This quite remarkable double album of 45 tracks recorded between 1935 and 1961 is one of the finest blues-gospel albums yet. Superbly recorded it's an excellent document of an art form at the peak of its flowering. Davis' 12 string guitar work alone is an object lesson in economy whilst giving each song the accompaniment it demands. And you can clearly hear the words of the songs – so unlike many other so called blues "classic" albums. A majority are religious or at least preach Baptist fundamentals – Davis became a Baptist priest and his songs – all but two traditional ones – here make for great listening. Davis was a man of very strong character and never sold his soul for commercial gain. It's easy to understand here why his work has over the years become recognised as among the finest and most important in the gospel-blues field. Indeed it's often used as a base for teaching newcomers the art. There can be no higher accolade and these two albums should be required listening for all aspiring folk-blues and indeed rock musicians. David timing alone is epic.
++++++++++++++++++++
Blind Willie McTell – Statesboro Blues – Le Chant Du Monde records.
This double CD set contains the finest blues recordings I have heard for a very long time. The fifty-five tracks were originally recorded between 1927 and 1956 by a variety of companies ranging from Okeh and Victor to Bluesville and Atlantic. Now brilliantly restored and presented by the French label "Le Chant Du Monde", they restore faith in the ability of record companies to give historic artists the respect they merit. The sound quality throughout really is stunning – you can hear every word clearly and really appreciate the great skill of McTell not only as an original lyric-storyteller but also as an excellent twelve string guitarist. He has a quite high tenor voice and is able to "bend" notes and give his mainly original lyrics fine drama and emotion. This is a classic blues set – do seek it out if you can. Oh – and by the way – there's a great booklet with the CDs that tells McTell's story in great detail and it's in both English and French. And yes – the excellent English folk troubadour Ralph McTell did take his name from Blind Willie.
++++++++++++++++++
The Legendary Charley Patton – "Down the dirt road" – 1929-1934 Wisconsin and New York recordings. souljamrecords.com
Patton is rated by many musicologists to be one of the finest blues-urban folk singers of all time. They must have more finely-tuned ears than mine! There are fifty tracks on these two beautifully produced CDs which come with a quite superb booklet of background material. But hearing as much as I could take through all the crackle and distortion of the Paramount and Gennett transcribed 78rpm originals – I was (am) very disappointed. Only occasionally could I make out the words of any of the lyrics here although it was clear that Patton was an original blues stylists from whom many of today's blues singers and guitar stars have learned a good deal. His original rhythms too – often beaten out on the body of his guitar – were original and inspired – they also provided ideas. His vocal and guitar dynamics taken together were at the time of these recordings totally original and exciting. But much of what is probably great has to my ears been lost in distortion here. Perhaps one day it may be possible that the transfers and restorations from the originals could be undertaken in a different manner, then we might be able to hear the true Charley Patton. This was done successfully in the past with many other primitive recordings like those of the King Oliver Band – also on the Gennett label. We can but live in hope. The great restoration expert John R.T. Davies with who I worked in the 1950s, told me that restorations from old recordings should be reprocessed every ten years. We were discussing his work on the King Oliver originals – his results were superb. Now however another label (Archeophone) has improved on even John's work. Maybe they could also look at the recordings of Charley Patton.
+++++++++++++++++
Rocket 88 – The Alexis Korner band. In the heat of the summer in central London during May 1962 the movers and shakers in the emerging London blues and rhythm 'n blues scene were frantically band forming. Groups would start one day and split a few days later unable to agree on what style theirs would be. Some wanted to follow the black American urban blues of men like Elmore James whilst others preferred the seemingly non-commercial strictly folk idiom of men like Charlie Patton and Blind Willie McTell. Keen and talented boogie and blues pianist Ian Stewart advertised in the newspaper Jazz News (of which I was Editor just prior to these events) on 2nd May that he was looking for musicians to form a rhythm and blues group. First to respond was guitarist and harmonica player Brian Jones, newly arrived from Cheltenham. Brian had been haunting the nearby offices of the weekly newspaper Record Mirror (where I – BH – was now also installed!) – where he hoped to make contact with likely band members. In what seemed like no time at all he and Stewart met and recruited Mick Jagger and Keith Richards and the Stones were formed. Bill Wyman and Charlie Watts joined the following January. Things moved apace, but highly eccentric band manager Andrew Loog Oldham didn't like the idea of a pianist on stage with "his" band, and the slightly middle-aged looking Ian Stewart was consigned to the sidelines, allowed to appear on records and be the band's road manager – a proposition he agreed to.
Out of all this maelstrom of activity there had been spin offs – John Mayall's long-lived Blues Breakers were one. Guitarist Alexis Korner who I'd recorded for the "77" label – frustrated by the inability of others to form stable new groups – started another under the name "Rocket 88" – the title of a rhythm and blues record from Memphis. The band continued off and on for some years. The personnel was rarely stable – the only constant was the powerful urge to play and to be true to the band member's musical ideals. You can get an idea of the turbulence from the CD I'm attempting to write about here – titled "Rocket 88" its contents were taped during a live show in the Rotation club, Hanover, Germany in November 1979 and its dynamite. Present were – Alexis Korner vocals and guitar, Ian Stewart played piano on one track, Jack Bruce played bass and sang on one, Charlie Watts was on drums, Colin Smith – trumpet, John Picard – trombone, Hal Singer and Don Weller – tenor saxes, and Bob Hall and George Green – piano. There may have been others but they're not documented. It's a great concert, very exciting, full of surprises like the point at which Jack Bruce and John Picard suddenly play free form jazz for a couple of choruses. Like Alex' vocals in which he gets so excited that in the end he loses his voice!  But it's not all madness here – there's some great blues and jazz and its well worth hearing. The original CD is out of print – or you could pay around £75 for a used copy!  But you can download a digital copy from Amazon and put it on CD yourself for £6.99.
Later in this column I'll write more about pianist Ian Stewart and a CD that pays tribute to his brilliant piano work.
++++++++++++++++++
Ben Waters – Boogie 4 Stu – a tribute to Ian Stewart – Eagle Records – available as a download or CD.
Recorded in London some time ago (except one track) this superb all-star session is a tribute to the fabulous blues and boogie pianist Ian Stewart – the late "6th Stone" as he was known. Although banned from the stage by early manager Andrew Loog Oldham in the band's formative months, Stewart played on all the band's albums except for  Their Satanic Majesties Request, Beggars Banquet, and Some Girls. According to his Wikipedia entry Stewart favoured blues and country rockers, and remained dedicated to boogie-woogie and early rhythm & blues. He refused to play in minor keys, saying: "When I'm on stage with the Stones and a minor chord comes along, I lift my hands in protest." In 1976, Stewart stated, "You can squawk about money, but the money the Stones have made hasn't done them much good". He never succumbed to the excesses of some members of the group and when booking hotels for them would invariably choose those with golf courses where he could often be found.
This album then is a tribute the Stewart as a man and pianist (a reminder – he co-founded the Stones and Rocket 88) and just about everyone who was or even is a figure on the scene is involved – not on every track maybe – but they're here. Included are Ben Waters – taking Stu's role of course of course – plus Jules Holland, Richard Hymas, Keith Richards, Bill Wyman, Charlie Watts, Ronnie Wood, Don Weller, PJ Harvey, Dave Green, Henry Taylor, John Picard and many more. And the final track after the studio stuff is a live one by Rocket 88 recorded at the Montreux Jazz Festival in 1984 – with Stu live on piano of course. Every track here is exciting and a couple are poignant – it's a great one to add to the collection.
My thanks to Declan Connolly for his help with these two CDs.
++++++++++++++++++
Elmore James – Blues After Hours – Ace records. In the hectic days of the early 1960s many minor label singles were being imported by enthusiasts. Guy Stevens was one of the pioneers who shared them around with friends like guitarist Brian Jones and journalists like Norman Jopling (it's that hotbed of early R & B – the offices of record Mirror again!). These guys spread the word about new artists and small labels like Crown, Chess, Flair, Trumpet and Checker. Among the names new to us then was that of the amazing slide guitar man Elmore James. Born in 1918 in rural Mississippi he showed early musical talent and interest and aged 12 creating a one-string guitar – a "diddley bow" or jitterbug – and then as a teen playing at dances under the names Cleanhead and Joe Willie James. Influenced by Robert Johnson and Tampa Red among others he inherited two of Tampa Red's backing group one of whom may have composed his early hit record "Dust My Broom". His work became popular despite some of his records being made with three guitarists plugged into one puny amplifier! – and after war service – he took part in the invasion of Guam – he recorded for many labels first as a sideman to one of the several Sonny Boy Williamsons (!) and played lead guitar on Joe Turner's 1954 top 10 R&B hit "TV Mama". This CD is an amalgam of the Crown label "Blues After Hours" LP tracks and eight others recorded – mostly as singles – for various labels including Flair, Kent, Modern and Ace. They are all great blues – and early pure rhythm and blues. James sings well with great conviction and passion and his guitar work is superb – highly atmospheric. Hearing  these tracks again after all the years that have passed it's easy to see how on hearing them as singles they inspired not just the journos at Record Mirror but bands like the Stones, Animals, Pretty Things, Rocket 88 and many others. Great stuff – very nostalgic. My thanks to the online encyclopaedia Wikipedia for some of this info.
++++++++++++++++++
Keb' Mo' – Live – That Hot Pink Blues Album – Kind of Blue Music double CD.
Shortly after starting this web "blog" I was introduced to Keb' Mo' and his near ethnic-urban blues album simply titled "Keb' Mo" and recorded in 1994.  In that superb album he demonstrated his closeness to the raw street blues of men like Robert Johnson and Charley Patton and in my innocence I somehow expected this – his brand new – live double album to be not far removed from that earlier album. I should have known better! This is a man who has moved on – he now gets invited to the White House to play – to appear in stellar company at Eric Clapton's annual "Crossroads guitar festival – he's become a star. His style is postmodern blues-soul which swings beautifully and has touches of gospel. At times he's a little like Otis Redding but more bluesey. He has a great backing group, some fine singers and on some tracks even uses "Lendell Black and the Nashville Recording Orchestra" for backing – and fine they are too. I'm really enjoying this warm bluesy album which as Keb' Mo' says "was captured on my 2015 tour. It is a mix of my song catalogue from the past 21 years recorded in big venues, small venues, lively clubs, symphony halls and outdoor festivals. People often ask me what my favourite venue is and to that I say, "the one I'm playing in". Right now this is my favourite album.
++++++++++++++++++
Bob Dylan wins Nobel prize for literature – see below Eric Bibb feature
+++++++++++++++++++++++++
An introduction to CDs by bluesman Eric Bibb.
When – in the late 1950s – I (BH) was deeply involved in the music business – my work involved me working at close quarters with Mississippi bluesmen Sonny Terry and Brownie McGhee, Big Bill Broonzy and Sonny Boy Williamson. And I was also fortunate to spend time with folklorist Alan Lomax – the man who recorded Leadbelly (Huddie Ledbetter) and Jelly Roll Morton for the Library of Congress. Blues historian Charles Fox also helped educate my taste.  I'd already set up an LP recording session with British blues guitarist Alexis Korner and felt very much at home within the blues idiom. The appreciation of the idiom that I acquired sadly also caused me to develop an apathy towards European attempts to play and sing blues. That feeling has persisted and is only occasionally mollified when I hear people like Joe Cocker, but very few others have absorbed the Southern blues feeling to the point of authenticity as have men like Cocker, Derek Trucks, Eric Clapton and Albert Lee. There are more – but few. And all that preamble is in aid of me introducing CDs by Eric Bibb and Keb' Mo' – two contemporary American bluesmen who live and breathe the blues tradition. My heart and ears tell me that they are not copyists – they're the genuine article – the real thing – and a great joy to discover.
Eric Bibb – Live at FIP Radio France. This is a brilliant warm hearted set that explores and contrasts traditional folk- blues like "Stagolee" and "Goin' Down Slow" with Bibb's own more contemporary material like "Shingle by Shingle" and "In My Father's House". It's gentle, soulful stuff beautifully performed and the whole thing benefits from having been recorded "live".
Eric Bibb and J J Milteau "Lead Belly's Gold" mainly recorded live at the Sunset. On this CD Bibb and blind harmonica man JJ Milteau together with drummer Larry Crockett, explore the wonderful legacy of songs originally put on record by the great Leadbelly. It's a warm, often humorous session that gives new life to sometimes hackneyed old songs like "Skewball" and "Rock Island Line". I really enjoyed this set from the get go – it's respectful of the tradition but these new versions stand on their own feet as great listening. Leadbelly would have loved this – like me he'd have been singing along and patting his foot.
Eric Bibb – "Blues People"  – This is a more bluesy album which features not just Bibb but also a while phalanx of co-stars helping him celebrate the genre. There's JJ Milteau again, the Blind Boys if Alabama, Taj Mahal, Guy Davis, Ruthie Foster, Glen Scott, Big Daddy Wilson and lots more. Not all the tracks are traditional blues, some are quite mellow contemporary cries from the soul, but all are very personal taking us on Bibb's blues journey. Great stuff – very original.
++++++++++++++++++++++++++++++++++++++
Bob Dylan – Tempest and The Collection – two important CDs
 We're including these two CDs here in the light of Bob's new honour – in case you don't have one of his CDs in your collection – and the fact that we think either would (will?) help you commemorate this remarkable event. "The Collection" CD includes tracks like Blowin' In The Wind, Mr. Tambourine Man, Lay Lady Lay, Like A Rolling Stone and several more highly worthwhile and memorable compositions. The very striking Tempest collection includes the amazing title track – a 14 minute 45 verse telling of the drama of the night the Titanic sank. That in itself is an epic piece of dramatic poetry and its joined here by several more equally striking songs of which "Duquesne Whistle" is one of the most striking. "Narrow Way" also deserves a mention. This album maybe one of the finest ever by the man – give it a hearing.
++++++++++++++++++
God Don't Never Change – the songs of Blind Willie Johnson – Alligator Records.
  The idea of this eleven track collection is to pay tribute to the songs of the legendary brilliant black preacher-folk singer Blind Willie Johnson. He wandered, sang and preached from the late 1920s into the 1930s and recorded 29 spine quivering songs for Columbia. They and the man himself are the inspiration for this collection of many of his most memorable songs by blues savvy performers of today. Blind Willie died in 1945 but his work has inspired artists as diverse as Led Zeppelin, Bob Dylan and the Stones and it's quite right that an all-star album should be created giving new life to many of the songs he sang on street corners and in the leaky wooden chapels of the day. Hear we find for example the passion of Tom Waits, Derek Trucks and Susan Tedeschi, the Blind Boys of Alabama, Sinead O'Connor, Lucinda Williams and many more. Just hear "God Don't Never Change" sung by Lucinda Williams – you'll never forget it. And Tom Waits "John the Revelator" is a shaker – quite amazing. A great CD that if you like folk-blues you really should own. You won't regret it.
++++++++++++++++++
  Joan Baez 75th Birthday Celebration 2 x CD and concert DVD –Razor & Tie 
Avid Records recent double CD release of vintage Baez tracks is reviewed elsewhere and showcases her emerging talent during the late 1950s superbly. The DVD and CDs reviewed here by way of contrast are of her 75th birthday concert held on a winter New York freezing night in January this (2016) year. With a group of star friends she sings twenty-one songs from her repertoire showing the maturity and intelligence that has made her name a byword for classic folk song interpretation. It's a wonderful concert full of the warmth and personality that make just the listening – let alone viewing – an intense almost personal experience. Her guests – all friends – include Paul Simon, Dave Bromberg, Emmylou Harris, Mary Chapin Carpenter, Mavis Staples and Richard Thompson and the whole show is a great success. The DVD is of the concert of course and lasts 1 hour 43 minutes whilst the two CDs in the set are of the concert.  A brilliant concert – brilliant scintillating recordings – very enjoyable.
++++++++++++++++++
Jesse Cook – Icon – Universal Music
A guitarist of towering talent Cook is here heard in a variety of settings from soloing at the Montreal Jazz Festival to studio work with variety of backings that although the notes with this album don't irritatingly explain, seem once or twice to include both small groups and an orchestra. Whatever – it's a stunning set of quite superb tracks by one of today's finest guitarists in the jazz-flamenco-gypsy idioms. He says of his style – "and then I studied jazz. So there are three musical and guitar traditions in my background. And one of the forms I use, rumba flamenco, is itself a hybrid created in the 1800s when sailors were coming back to Spain from Cuba, having heard these Cuban rhythms. And here I am, 150 years later My strange way of playing guitar is a hybrid of styles. I was a classical guitarist as a kid, and I studied flamenco, taking it and mixing it back with modern music and seeing where it takes me. Music is a constantly evolving thing." For me (BH) it is quite wonderful stuff and I'll be looking for more albums by this guy – he's quite a discovery for me.
++++++++++++++++++

Keb' Mo'
Recorded as long ago as 1994 this – Keb' Mo's first album under his own name (Kevin Roosevelt Moore) – won almost immediate acclaim – for example the W.C Handy Award for the best Recorded Country/Acoustic Blues Album of the year 1995.  If he's new to you – as he is to me! – then I better tell you that Keb is a Southern USA blues singer in the same idiom and style as the legendary Robert Johnson. He's almost totally convincing in the urban idiom and a fine guitar and harmonica man to boot appearing in a number of shows and films. It's wonderful that we have a relatively new name singing and playing in the traditional manner. I'm going to search out more recent albums by this fine man and hope he's stuck to the old style even if it is sanitised when compared with men like Blind Willie Johnson whose CD "Soul of a man" we'll review later. Verdict – spine chillingly superb. Thanks to Declan Connolly for introducing me to this fine talent.
++++++++++++++++++
Jesse Cook – One World – eOne
Canadian free-thinking flamenco-jazz-rumba guitarist Cook here blends many styles to produce an esoteric almost all instrumental album in which he merges new age, flamenco, Indian influences, jazz and easy listening into wonderful sound-scapes. The album could be used as great background but also bears study for listening without distractions. Several of the titles might give you an idea of Cook's inspirations – "Taxi Brazil", "Bombay Slam" and Steampunk Rickshaw". It's five star throughout – superb stuff.
++++++++++++++++++

Blind Willie Johnson – The Soul of a Man – Charly Records
Earlier in this section we reviewed the wonderful album of folk singer-preacher Blind Willie Johnson's songs which featured people like Tom Waits, Lucinda Williams, Sinead O'Connor and the Blind Boys of Alabama. Hearing those eleven songs made me (BH) search out an album of Johnson's own work and on the Charly reissue label I found a twenty song collection of his original recordings. They're staggeringly good – spine tingling even. They date from the 1920s and early 1930s and are the most earthy-ethnic-urban folk religious recordings I have heard. They're gritty – so uncommercial and so powered with genuine fervour that it's almost impossible to remain unmoved whist hearing his powerful work. As early as the age of four he made a guitar box guitar and talked of being a preacher. Blinded in a domestic incident – it's said his stepmother threw lye in his eyes because she found his father cheating with another woman – singing and playing became his own means of making a living. He spent the rest of his life preaching-singing on streets and in churches and was recorded regularly by Columbia Records. That's when they could find him because he wandered far and wide. His records sold well and he became important to the record company. So here you have some of the most genuine folk blues recordings made. They're important and make for great listening.
++++++++++++++++++
Eric Bibb – Booker's Guitar – Telarc – Another brilliant album by the guy who – were it not for modern recording techniques – you'd believe was a 1920's wandering street musician who'd been pulled in by an enterprising freelance recording engineer.  Here – whilst on tour in the UK – he's offered the opportunity to play the metal National guitar once owned by one of his idols the legendary bluesman Booker White. He'd been looking for that type of inspiration as he'd long admired Booker's songwriting, playing and singing and on the first track here he plays that legend's guitar. Most of the tracks are Bibb originals and he sounds and feels for all the world like a singer of old that we used to listen to on 78rpm discs. This is a great blues album and may win awards – it's that good. A bonus on several tracks is the atmospheric harmonica of Grant Dermody – spine tingling. Bravo.
++++++++++++++++++