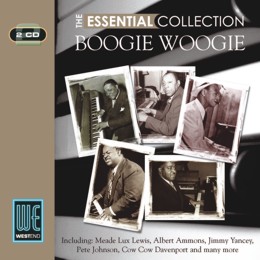 Various Artists: Boogie Woogie – The Essential Collection (2CD)
Ref: Avid – AVC943 – double CD album.   


This great release in AVID's Essential Collection series introduces you to the many faces of Boogie Woogie.
This superbly re-mastered 2CD set covers all the bases from Cow Cow Davenports "Cow Cow Blues" from 1928 to Montana Taylor captured in 1929 with "Detroit Rocks" and "Indiana Avenue Stomp" through to 1930 and Pinetop Smiths "Pinetop's Boogie Woogie".
Bringing us to the edge of the forties we encounter Albert Ammons, Meade Lux Lewis and Pete Johnson performing as The Boogie Woogie Trio alongside Harry James in 1939.
Taking in other great names such as Louis Jordan, Will Bradley, Benny Carter, Earl Hines. Lionel Hampton and Sidney Bechet and concluding with a track specially recorded for the CD by Johnny Parker as a tribute to Cow Cow Davenport "In Cow Cow's Footsteps", this set certainly does present the many faces of Boogie Woogie. It's a very fine release of classic jazz that should be in every collection.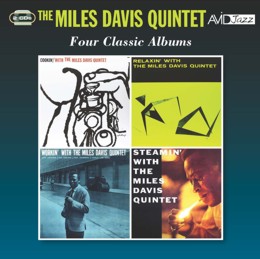 The Miles Davis Quintet  – Four Classic Albums on two CDs – Avid Jazz ref  AMSC1376
I thought of starting this review by reminding Avid that Christmas normally happens in December because when I opened up the parcel to discover this compilation, I really felt that Christmas had come early. But then I looked at the recording dates to find that all the LP's were made in 1956, so a reference to fine wines and good vintage year came to mind. Take your choice.
I guess most readers will already know of these fine records, indeed the Penguin Guide to Jazz makes it very clear that all four should be in every serious collection, and I'm talking about Cookin'; Relaxin'; Workin' and Steamin' – all with The Miles Davis Quintet.
The recordings were all made on two individual dates, one in May and the other in October of 1956, and in a sense it is possible to look at the compilation as being one long recording session. Davis is joined by John Coltrane on tenor, Red Garland, piano, with Philly Joe Jones and Paul Chambers on drums and bass. Coltrane had begun his association with the trumpeter just a year before, and these records show the two musicians working out their intense musical relationship that was to continue on and off for the next five years. The material is varied, both in pace and melodic content, and includes compositions by Monk, Brubeck, Rollins, Gillespie as well as Davis and Coltrane. A veritable feast of material from the great and good of the decade. Davis's mostly muted trumpet famously contrasts with Coltrane's muscular and forceful tenor, yet both somehow complement each other perfectly and this just adds to the variety and sheer delight of the jazz. Between tracks you'll be able to pick up comments made between Davis and recording engineer Rudy van Gelder and producer Bob Weinstock and these add a nice touch of historical authenticity.
I've no particular favourites here, as there is so much to both enjoy and contemplate. Whilst Davis is obviously the main man, John Coltrane features strongly on most of the tracks, whilst Red Garland is given plenty of room to solo on a number of tracks. Mention should also be made of the copious liner notes taken from all four original records. You don't find those sort of erudite musings on today's releases.
All in all, this is another bargain from Avid. Whether you'd prefer an early Christmas gift (maybe for that grandchild who needs to know where the best of modern jazz came from) or else a glass or two of the finest jazz claret, this is the place to go. Enjoy – Albums included – Cookin' with the Miles Davis Quintet; Relaxin' with the Miles Davis Quintet; Workin' with the Miles Davis Quintet; Steamin' with the Miles David Quintet. Dave Puddy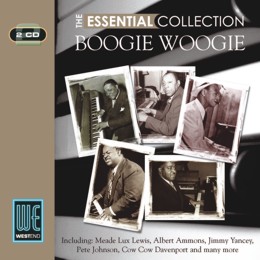 Various Artists: Boogie Woogie – The Essential Collection (2CD)
Avid ref AVC943.
I (BH) am using Avid's own write-up of this set because it says it all – and I agree with every word – "Another classic release in AVID's Essential Collection series introduces you to the many faces of Boogie Woogie.
This superbly re-mastered 2CD set covers all the bases from Cow Cow Davenports "Cow Cow Blues" from 1928 to Montana Taylor captured in 1929 with "Detroit Rocks" and "Indiana Avenue Stomp" through to 1930 and Pinetop Smiths "Pinetop's Boogie Woogie".
Bringing us to the edge of the forties we encounter Albert Ammons, Meade Lux Lewis and Pete Johnson performing as The Boogie Woogie Trio alongside Harry James in 1939.
Taking in other great names such as Louis Jordan, Will Bradley, Benny Carter, Earl Hines. Lionel Hampton and Sidney Bechet and concluding with a track specially recorded for the CD by Johnny Parker as a tribute to Cow Cow Davenport "In Cow Cow's Footsteps", this set certainly does present the many faces of Boogie Woogie." It's a brilliant set with some very rare tracks that I don't think you could find anywhere else.

+++++++++++++++++++++++++++++++++++++++++++++++++++++++++++++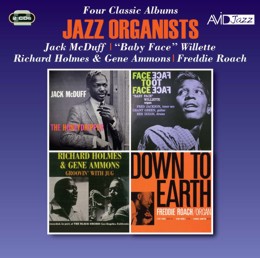 Various Artists: Jazz Organists – Four Classic Albums (The Honey Dripper / Face To Face / Groovin' With Jug / Down To Earth) (2CD) – Ref: AMSC1306
The beauty of this two CD (four LP albums transposed) is that on each set you get a top-quality Hammond organist plus a booting tenor sax man and an excellent rhythm section. In turn they are Jack McDuff on organ with Jimmy Forrest on tenor plus rhythm, Baby Face Willette on organ with Fred Jackson plus rhythm, Richard Holmes – organ – plus Gene Ammons on tenor and rhythm and lastly Freddie Roach – organ – plus Percy France on tenor with rhythm and that includes star guitarist Kenny Burrell. So you can see the level of quality on offer. This is a very fine set of booting and moody tracks that always set my feet tapping. Great stuff – BH July 2020.
Here's what Avid's "house" writer says of this set……
For our latest release in this new series we have chosen a diverse range of jazz organists who released their albums from the late 1950s to the early 1960s. Jack McDuff, perhaps better known as Brother Jack McDuff, he began his career playing bass before moving on to the Hammond B3 organ and being signed to the Prestige record label where he made a number of fine albums in the hard bop/soul jazz style. Our selection "The Honeydripper" is perhaps the finest of his early recordings and features Jimmy Forrest (AMSC1096) on tenor and Grant Green (AMSC1065) on guitar. "Baby Face" Willette, spent his early musical career playing piano in gospel and r "n" b bands before switching to the organ. In 1960 he met Lou Donaldson and Grant Green with whom he played on some Blue Note sessions before being signed himself to Blue Note where he made his very impressive debut album "Face To Face" featuring Fred Jackson (AMSC1285 Classic Tenors) on tenor and Grant Green (AMSC1065) on guitar. Richard "Groove" Holmes – Hard bop meets soul jazz on our fine, mostly live selection where Holmes is in musical combat with famed tenor sax man Gene Ammons. This album takes no prisoners! Freddie Roach is perhaps not as well-known a name in the history of jazz as some of his organ playing contempories, but in the community of Hammond B3 organ fans he is just about one of the best, arguably a shade behind Jimmy Smith, but with a much smaller catalogue to explore. And that catalogue is becoming harder to find and more expensive to buy as each year passes. So we are proud to be able to include Freddie's amazing debut album "Down To Earth" for your enjoyment.
++++++++++++++++++++++++++++++++++++++++++++++++++++++++++++++++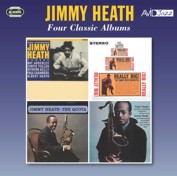 Jimmy Heath Four Classic Albums Avid Jazz AMSC1375
There are a number of things I like about the Avid Jazz series and one of those is they have a habit of bringing out re-issues of classic jazz albums by artists who, for various reasons, have slipped out of the jazz firmament. For me, Jimmy Heath is just one of those players, and it was a delight to be acquainted with the great music of this saxophonist. Heath devoted much of his life not only to playing tenor and alto, but he was an esteemed educator, composer and arranger, and it's maybe because of this diversity that his reputation as a musician tended to wax and wane. However, this new Avid compilation goes a long way to setting the Jimmy Heath record straight.
Our journey starts in 1959 with Heath recorded for the first time as leader on Jimmy Heath Sextet – The Thumper. And, forgive the pun, a thumping good disc it is. The late '50's saw the dominant cool jazz of the period give way to the emerging hard bop with its blues, soul and gospel influenced jazz that was marked by fiery soloing and inventive improvising. All this is evident on The Thumper, with Heath ably supported by Curtis Fuller on trombone, Nat Adderley, cornet, Wynton Kelly on piano with Paul Chambers and brother Albert Heath on bass and drums respectively. Jimmy Heath had recently completed a stint with Miles Davies and the confidence that experience gave comes through strongly here. Over half the tracks are Heath compositions and you get the feel of someone revelling in the spirit of this bright and fresh jazz.
Step forward Jimmy Heath as leader and arranger for the second LP featured on this Avid compilation: The Jimmy Heat Orchestra – Really Big! from 1960 – No stuffiness or formality here, and as Orin Keepnews says in his liner notes, the orchestra manages to achieve a fine balance between big and small-band sounds. Amongst a stella line-up are "Cannonball" and Nat Adderley, Clark Terry, Tommy Flanagan and brother Percy Heath – the long-term bassist with the MJQ. All the main players are given plenty of opportunity to showcase their talents and this, together with some fine big-band arrangements, make for a varied and satisfying album.
We're off with another Heath family affair for Avid's next choice, Jimmy Heath Sextet – The Quota from 1961, with a youthful Freddie Hubbard on trumpet, Cedar Walton, piano and Julius Watkins on French horn joining the three brothers. The French horn was included on the Really Big! album and is equally effective here. On this record the saxophonist's arranging talents are very much in evidence and whilst there are few fireworks, it's a pleasure listening to how Jimmy has crafted the sextet together in order to produce a record that is a low-key delight from start to finish, with some lovely playing from the main man.
Finally, the same group are brought together for the fourth LP of this Avid set, Jimmy Heath – Triple Threat recorded over two dates in 1962. Hubbard and Watkins are left off a couple of tracks which gives you the chance to hear Jimmy in the more intimate quartet setting. Again, some beautiful and evocative playing with the front line under-pined by the very cohesive Heath brothers on drums and bass. I had the pleasure of seeing Percy live with the Modern Jazz Quartet in the late '60's and hearing him on this disc reminded me of just was a meticulous bassist he was.
Throughout a long career – Jimmy sadly died earlier this year aged 93 – he made many records both as leader and in the company of such luminaries as Miles Davis, Milt Jackson, Herbie Mann and Benny Carter, not to forget making ten trio albums with his brothers. By all accounts he was a popular and revered personality who made a considerable contribution to jazz in his various roles within the music. If you don't already know of Jimmy Heath, then this budget-priced Avid is the perfect place to start.
Albums in the two CDs reviewed here – Jimmy Heat Sextet – The Thumper; The Jimmy Heath Orchestra – Really Big!; Jimmy Heath Sextet – The Quota; Jimmy Heath – Triple Threat. Dave Puddy
+++++++++++++++++++++++++++++++++++++++++++++++++++++++++++++++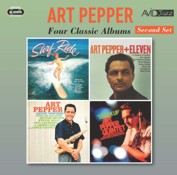 Art Pepper Four Classic Albums "Second Set" – LPs included in this set of two CDs – Art Pepper – Surf Ride; Art Pepper + Eleven; Art Pepper – Getting' Together; Art Pepper Quintet – Smack Up. Avid Jazz ref AMSC1373
If anyone had a tough start to life, then Art Pepper must be one of the main candidates. Born in 1925, his mother was only 14 years old, his father a merchant seaman and both were alcoholics, leaving young Art to be brought up by his maternal grandmother. But, despite all this, from an early age Art showed a talent for music and began playing clarinet when he was nine, moving to the saxophone 4 years later and from where he never really looked back. After spells with Benny Carter and Stan Kenton in the 1940's and time spent in the army, Pepper returned to the Kenton Orchestra and by the early 50's he was voted second best alto saxophonist in a Downbeat magazine poll only to Charlie Parker. I wonder what his good Granny thought of that.
This fine Avid compilation of four LPs begins with Surf Ride – Pepper's first album as leader recorded in 1952 and 1954. This is a spirited, upbeat and youthful affair, and is a good example of Pepper establishing himself as a player of the jazz movement known as West Coast jazz. Both recording dates feature different line-ups, and musicians include Jack Montrose on tenor, with Hampton Hawes and Russ Freeman, sharing piano duties. The majority of tracks are Pepper compositions – no hiding lights under bushels here – and this album is the perfect introduction to Art Pepper's highly individual talent that was to show itself in over 50 albums between then and his death in 1982.
Move forward five years to 1959 for Art Pepper + Eleven for the next album. This is altogether a more sophisticated and arranged affair with a big band feel, but it's none the worse for that. As Nat Hentoff's informative liner notes (and I always appreciate Avid's commitment to reproducing the original notes even if you sometimes need a magnifying glass to read them) describe, this was very much a collaborative effort between Pepper and arranger & conductor Marty Paich, a man with musical and compositional feet in both the jazz and classical world. Here you'll discover fine arrangements of pieces written by Dizzy Gillespie, Horace Silver, Thelonious Monk and Gerry Mulligan amongst others. I think this is a bit of a gem of an album and shows a side of Pepper's playing that is only rarely to be found on his later discs.
We are back in more familiar territory with Art Pepper – Getting' Together! which is the third album in this Avid compilation, dating from 1960. A quintet with Conte Condoli on trumpet and the Miles Davis rhythm section of the day of Wynton Kelly, piano, Paul Chambers, bass and Jimmy Cobb (who sadly died recently from Covid 19) on drums. Maybe a more familiar sized group, but there is nothing familiar about the jazz being played. Pepper has a wonderful talent for taking a melodic line and turning it inside out and upside down in almost endless variations. Listen to the well-known Softly, As in A Morning Sunrise to see what I mean, and there are plenty of other similar delights on this record. And finally, get your magnifying glass out again for Martin Williams' erudite liner notes.
Finally, we have Pepper's 1960 album Smack Up. This was awarded four stars in the Penguin Guide to Jazz and is probably worth the price of the compilation on its own. Pepper's confidence shines through on this album – six tracks all composed by different saxophonists of the day. Supported by Jack Sheldon on trumpet, Pete Jolly, piano with Jimmy Bond and Frank Butler on bass and drums, the band works its way through numbers that include material by Harold Land, Benny Carter, Ornette Coleman and Pepper himself. If you thought that Pepper doesn't swing, try stopping your feet tapping to his charming Las Cuevas De Mario. Great stuff. I don't want to dwell on the man's chequered drug- fuelled life because it's the music that's important and his jazz is what we should thank Art Pepper for. Here you have well over two hours of inspirational modern jazz as well as experiencing the music of one of the saxophone greats of the 20th century. No mean feat, and thanks again to Avid. Dave Puddy July 2020.
+++++++++++++++++++++++++++++++++++++++++++++++++++++++++++++++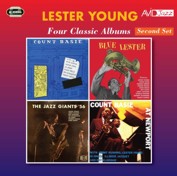 Lester Young Four Classic Albums Second Set Avid Jazz AMSC1366
LP albums included here on the two CDs – Count Basie Kansas City Seven and Lester Young Quartet; Lester Young – Blue Lester; Lester Young – The Jazz Giants '56; Count Basie at Newport
Lester Young might not have released an album called 'Giant Steps', but among the tenor saxophonists of the 1930's, 40's and 50's he was most certainly a giant and one whose influence is still felt by today's emerging jazz improvisors. This Avid compilation features Young leading his own groups as well as playing in various bands led by Count Basie and ranges from 1943 to a late recording made with the Basie in 1957. What is particularly valuable in this compilation is that the records cover significant periods in Young's personal and professional life.
CD 1 opens with three numbers Young recorded with the Basie Kansas City Seven followed by Lester leading his own Quartet. By the time these recordings were made in 1943 Young had been playing professionally for over ten years and his level of confidence on pieces such as Lester Leaps in Again when he plays against and alongside the forceful Basie is a wonder to hear. More intimate are the quartet numbers with Johnny Guarnieri on piano with Slam Stewart and Sid Catlett on bass and drums. For the remainder of the CD you have Lester Young– Blue Lester, a compilation recorded with various musicians recorded between 1944 and 1949. By the time the record was originally released in '49 Lester had survived a period of military conscription during which time he was court-martialled for drug and alcohol abuse and placed in a detention barracks for a year with no access to any musical instruments. Alabama, where this took place, was no place for Black jazz musicians, and it is considered that Lester was mentally affected by this experience for the rest of his life. Luckily for Young he was still very much in demand as one of the most popular tenor players of the time and he made many recordings and performances in the years following his discharge from the army in 1945. Blue Lester contains many Young compositions and is a fine example of Lester's playing in the face of the emerging bebop jazz that – despite his own huge popularity and importance – was becoming an increasing musical challenge.
The second Avid disc picks up the Lester Young career seven years on with The Jazz Giants '56.
By now Lester was drinking heavily and in 1955 he was admitted into hospital following a nervous breakdown. Fortunately, he was still held in high regard by the jazz fraternity and in 1956 the record producer and impresario Norman Granz brought him into the studio for two sessions, one of which resulted in the above record. Here Lester plays with piano legend Teddy Wilson with whom he had previously played in 1946 when they both accompanied Billy Holiday; Roy Eldridge provides the trumpet fireworks, with Vic Dickenson playing trombone, Jo Jones on drums, and Freddie Greene and Gene Ramey on guitar and bass. The set opens with an almost tired-sounding Young on I Guess I'll Have To Change My Plan, but as Eldridge and Dickenson warm up, the mood changes and you begin to hear more of the Lester Young of old.
Lester was re-united with Count Basie for what was going to be one of the tenor player's last recordings, the 1957 Count Basie at Newport set. This must have a wonderful occasion with the band closing that year's jazz festival and it almost comes over as a swan-song to Lester's long and brilliant career. Here he's in the company of many of his old friends and colleagues including Illinois Jacquet, Jo Jones, Jimmy Rushing, Roy Eldridge and Basie himself. This is a spirited affair and seems to bring out some of best late career Young playing.
Lester Young was a revered and much-loved jazz musician; a sensitive and at times troubled man, but one who left a huge legacy. This fine Avid provides a superb budget-priced set glimpse of one of modern jazz's heroes.Lester Young – Blue Lester. Dave Puddy
+++++++++++++++++++++++++++++++++++++++++++++++++++++++++++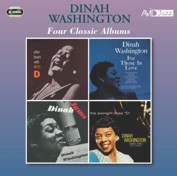 Dinah Washington: Four Classic Albums (After Hours With Miss D / For Those In Love / Dinah Jams / The Swingin' Miss D) (2CD) Avid Ref: AMSC1367
If you are not familiar with Dinah Washington's vocal style then an initial hearing could be something of a culture shock. It's not that she's outrageously different – no – it's just that she has a declamatory style of delivery which at times is more like someone vocalising the dialogue of a play than what we're accustomed to as singing. But it's a unique and dramatic style that's well worth sticking with once you've overcome the initial (perhaps?) shock of what she does. Whatever – here are two great CDs of the lady in her prime and a bonus is that most of the backings are by all-star jazz groups with men like Clark Terry, Clifford Brown, Wynton Kelly, Paul Quinichette, Urbie Green and many more. If in doubt audition the lady by hearing her in the clip below. And Quincy Jones is involved too – and that makes for great memorable stuff. BH May 2020
AVID's in house writer comments – At last, the wait is over, we hear you cry, again! AVID have finally inducted Miss Dinah Washington into our Four Classic Albums "hall of fame"! Ok so we have taken our time in paying tribute to the great lady, but we wanted to get it right, we wanted to select the best albums that truly captured Miss Washington's huge vocal talents. And we think we have succeeded with the four selections we have chosen from when her career really took off after the sensationally exciting performance before a live studio audience "Dinah Jams" in 1954. Born in Alabama as Ruth Lee Jones in 1924, Ruth moved to Chicago and became involved in gospel music singing and playing piano in the school choir. At 15 she began playing in the clubs around Chicago and it wasn't long before she found herself playing upstairs at The Garrick club at the same moment a certain Billie Holiday was entertaining the guest's downstairs. Soon she would join the Lionel Hampton band after he had come to hear the newly named Dinah Washington perform at the club. Dinah Washington made her first recordings in 1944 and would go on to be described as "the most popular black female recording artist of the 1950's". We are proud to present four of her classic albums from that period, the high regard she was held in can be seen by the incredible line up of jazz musicians who are featured on these classic albums. They include, Quincy Jones, Clark Terry, Clifford Brown, Junior Mance, Maynard Ferguson, Max Roach, Jerome Richardson, Osie Johnson, Barry Galbraith, Cecil Payne & Jimmy Cobb.
+++++++++++++++++++++++++++++++++++++++++++++++++++++++++++++++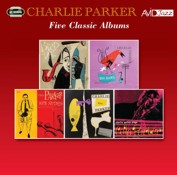 Charlie Parker Five Classic Albums Avid Jazz ref AMSC1364
Here's yet another bargain compilation from Avid with a very fine five LP selection from Charlie Parker's output from the early 1950's and taken from Verve's huge reservoir of the saxophonist's work.
CD one opens with Charlie Parker – Bird and Diz recorded in 1949 and 1950. This is something of a reunion album as the pair first played together in 1944 when Parker joined a small Gillespie unit that was making waves in the jazz world. On this disc the two are joined by Thelonious Monk on piano, Curly Russell, bass and a forceful Buddy Rich on drums. Seven out of the eight numbers are Parker compositions and they reveal a brash confidence in the playing of both leaders. For anyone interested in getting to know how these giants of be-bop sounded in their early days this is a good place to start.
Charlie Parker Big Band – Big Band takes us to 1952 and sees the altoist playing in front of over 24 musicians including Oscar Peterson on piano with arrangements by Joe Lipman and including a string section. Verve producer Norman Granz explains that he wanted to vary the usual small group setting that Parker performed in and this set certainly shows the main man in a very different context. Playing a mixture of Rodgers and Hart, Cole Porter and George Gershwin numbers this is a beautifully relaxed album and I almost wanted to light the stove and put my feet up to this one. Well, almost, as you'd be hard pushed to drift off too far with Buddy Rich, yet again, on the drums.
The third featured album is the well-known Charlie Parker with Strings from 1950. Although this includes Ray Brown on bass, Buddy Rich, drums, and Stan Freeman or Bernie Leighton on piano, the string and woodwind orchestra is far more in evidence. Granz in his interesting liner notes explains that he wanted to broaden Parker's appeal, suggesting that the more typical bebop side of his playing alienated all but the most fervent jazz fans of the period, and he makes no excuse for linking Parker to the strings that 'soften and prettify Parker.' I'm surprised he got away with that, but then the man who pays the piper calls the tune, even if the piper is Charlie Parker. The result is often lush and lovely and I certainly was able to put my feet up here. Mr Rich is even persuaded to swap his sticks for the appropriate brushes on several tracks. Some great compositions too, including a lovely version of Summertime and They Can't Take That Away from Me.
We're back on familiar Parker territory with the Charlie Parker Quartet from 1952/3. The line-up is a who's-who of the bebop world of the period. Al Haig or Hank Jones on piano, Percy Heath or Teddy Kotick, bass, and Max Roach, playing drums. Familiar, maybe, but no less enjoyable for that. Parker is given plenty of space to explore the melodic content of the eight featured numbers with the able backing of the rhythm section. Less frantic than the earlier Bird and Diz album, this is maybe a good place to quietly reflect on how Parker created his very individual and influential contribution to the jazz of the period.
Finally, Avid have chosen to include a fine Charlie Parker Quintet album – Plays Cole Porter – as their final choice for this compilation. All nine tracks are Porter compositions and here we have alternate takes of three numbers – I Get A Kick Out Of You, Love For Sale and I Love Paris – that give the listener the chance to hear how Parker varies the pace and phrasing of these particular numbers. Supported by Roy Haynes or Art Taylor on drums, Jerome Dart, guitar, Teddy Kotick., bass and Walter Bishop Junior on piano.
All in all, a feast of Charlie Parker and one that one leaves you bloated after listening this maestro of bebop. LPs included on the two CDs – Charlie Parker – Bird and Diz; Charlie Parker Big Band – Big Band; Charlie Parker – Charlie Parker with Strings; Charlie Parker Quartet – Charlie Parker; Charlie Parker Quintet – Plays Cole Porter. Review by Dave Puddy
Lee Morgan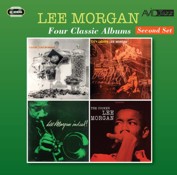 Lee Morgan Four Classic Albums Second Set Avid AMSC1351
The history of jazz, particularly the be bop generation, is littered with tales of tragic and often early deaths – from drugs, road accidents, suicide and in the case of Lee Morgan, being murdered by his common law wife at the early age of 33 in 1972. Tragic indeed. Fortunately, Morgan had produced a wealth of superb jazz during the proceeding 16 years and this fine Avid compilation showcases four albums from early in the trumpeter's career.
The opener, Lee Morgan – Candy, was made in 1957 and besides Morgan, features Sonny Clark on piano, Doug Watkins on bass and Art Taylor playing drums. Morgan is the only horn and this inevitably puts his playing under the spotlight – a challenge he rises to in a manner that belies his relatively young age. This is thoughtful and often lyrical playing with some fine and supportive accompaniment and this is a disc I couldn't wait to hit the return button for at its end.
All change for the next record – Lee Morgan – City Lights recorded six months later. In come George Coleman on tenor and alto, Curtis Fuller, trombone, Ray Bryant on piano, the estimable Paul Chambers playing bass and Art Taylor again on drums. Playing tunes by Benny Golson and G.G. Gryce, the arrangements are slick and highly creative, giving all members of the front line plenty of space to show what they could do. Morgan had by this time spent time playing alongside the likes of Dizzy Gillespie and Clifford Brown and as Leonard Feather's informative liner notes show, the former was already singing the praises of his young protegee. Morgan was increasingly finding his own unique style, both as player and leader, and this was all the more impressive given the hugely influential rise of one of jazz's greatest trumpeters, one Miles Davies.
We're back a year for 1956's Lee Morgan – Indeed! This was Morgan's first record as leader and the confidence he shows is duly commented on in yet more informative notes by Leonard Feather. I feel Avid should be congratulated in making the effort to present the much-appreciated original album notes on all their jazz compilations, even if you need a magnifying glass to read them!
On this disc Morgan is joined by Clarence Sharpe, alto, Horace Silver on piano, Wilbur Ware, bass and "Philly" Joe Jones on drums. The exotically tinged opener 'Roccus' written by Silver sets the scene for a set that contains some fascinating early hard bop compositions including another couple of tracks by Benny Golson.
This Avid compilation concludes with Lee Morgan – Cooker recorded in September 1957. This was Morgan's fifth outing as leader for the Blue Note label and the young trumpeter just seems to go from strength to strength. Another record and another front line with Pepper Adams on alto, Bobby Timmons, piano, and Paul Chambers and Joe Jones returning for bass and drum duties. On the opener Morgan plays tribute to his mentor Dizzy Gillespie with a cracking version of A Night in Tunisia and this is followed by four other numbers including two penned by the trumpeter himself. There's self confidence for you. Never a dull moment here and the group play a cohesive set that keeps the momentum from first to last.
This Avid, together with its companion First Set, provides a great budget priced introduction to one of the finest trumpeters of his generation.
LPs in this compilation – Lee Morgan – Candy. Lee Morgan – City Lights. Lee Morgan – Indeed! Lee Morgan – The Cooker. Dave Puddy 21-2-20.
+++++++++++++++++++++++++++++++++++++++++++++++++++++++++++++++
Sarah Vaughan – Four Classic Albums – Sarah Vaughan with Clifford Brown; Sarah Vaughan And Her Trio – Swingin' Easy; Sarah Vaughan and Her Trio – At Mr Kelly's; Sarah Vaughan – No Count Sarah. Avid Jazz double CD ref AMSC1252.
Sarah Vaughan, nicknamed 'Sassy' and 'The Divine One' had a long career as one of the finest jazz singers and someone who many critics and fans put in the same league as Billy Holiday and Ella Fitzgerald. Play this Avid collection through and I guess you'd be hard pressed to disagree.
Vaughan started recording in the early 1940's with the likes of Earl Hines, Dizzy Gillespie and Charlie Parker and her stellar career continued for the next four decades. The first of the Avid choices is the 1954 album Sarah Vaughan – With Clifford Brown – and from the opening track you know you're in very fine company. With accompaniment from Paul Quinichette on tenor sax, Clifford Brown, trumpet, Herbie Manne, flute, Jimmy Jones on piano, Joe Benjamin, and Roy Haynes, bass and drums, Vaughan's smoky and perfectly controlled voice moves through a wonderful selection of generally slow-burn standards ranging from Lullaby of Birdland, April In Paris and Embraceable You. A true classic and one that should find its way onto everyone's desert island.
On to 1957 for Sarah Vaughan & Her Trio – Swingin' Easy. Sassy indeed describes the almost cocky opening number, Shulie A Bop, with its scat beginning showing the singer and rest of the band obviously having a great time in the recording studio with Vaughan's confidence and assured vocal talent coming through another selection of memorable well-known songs. For me, Sarah Vaughan can add her considerable individuality to any well-known standard and it's no wonder Frank Sinatra was forced to admit "Sassy is so good that when I listen to her, I want to cut my wrist with a dull razor." Please don't do that, dear listener – just sit back and enjoy!
We are off to Chicago in 1957 for the next LP – Sarah Vaughan and Her Trio at Mister Kelly's. This famous diner and jazz club is the perfect setting for this intimate and atmospheric live recording. The club's owner provides a fine introduction to the proceedings and Vaughan, supported by Jimmy Jones on piano with Richard Davies and Roy Haynes in bass and drums, continues the good-humoured gig with plenty of off-stage sounds and asides from the lady herself. And oh yes, the singing itself is pretty astounding too. And if you think this reviewer is a touch too gushing about Ms Vaughan, try reading the liner notes. My only gripe relates to the fact that more recent releases of this and the previous record include several additional tracks that Avid, probably for reasons of space, do not include. Completists beware.
The following year finds Sarah Vaughan back in New York with a 16-piece band recording one of her final first-time around Mercury records, Sarah Vaughan – No Count Sarah. A different city and in many ways a different sound. Still the wonderful controlled and wide-ranging voice, but now set against a highly orchestrated big band. This is a smoother and more sophisticated Sarah Vaughan working her vocal magic with further standards, but for my money I'll always go for the more intimate small-group settings. In the former she is singing to an impersonal large audience whilst with the latter Sarah Vaughan is singing just to me.
When reading about Ms Vaughan the superlatives just drip from the pages. During her career she sang with many of the jazz greats, was accompanied by both jazz groups of all shapes and sizes as well as major symphony orchestras, had commemorative plaques placed outside jazz clubs she frequented, was given countless Awards and even made an as yet un-released album of John Lennon and Paul McCartney songs. And yet finally, in 1982, just 8 years before her death in 1990, in a Down Beat magazine interview, Sarah Vaughan denied that she was a jazz singer: "What I want to do, music-wise, is all kinds of music that I like, and I like all kinds of music." Listen to these fine Avid discs and see what you think. Dave Puddy
+++++++++++++++++++++++++++++++++++++++++++
Nancy Wilson: Four Classic Albums Plus (Like In Love / Something Wonderful / Nancy Wilson & The Cannonball Adderley Quintet / Hello Young Lovers) Avid double CD ref Ref: AMSC1349
Here are some of Avid's own comments to which we've added our own. –Nancy Wilson -a singer who like other great vocalists, crossed many musical genres during her career, from blues to jazz to R 'n' B to soul and later even to pop. But here she's a driving jazz singer in the company of amongst others, George Shearing, Cannonball Adderley and Billy May and hey there's even a connection between Nancy and Weather Report! Joe Zawinul was a member of the Cannonball Adderley Quintet, now that's cool. And the girl was not just soulful and very musical – she could swing and even push the band's that accompanying her. Never heard of her? Don't let that put you off – this lady may sometimes be overlooked by some jazz writers – they're tone deaf as these fine 53 very swinging and original tracks prove. Don't pass this one by. BH
++++++++++++++++++++++++++++++++++++++++++++++++++++++++++++++++
Miles Davis Three Classic Albums Plus Avid Jazz AMSC1348
Well, well, Christmas comes early with this latest treat from Avid. Three top-notch LP's plus extracts from two lesser known Miles Davis albums. Most readers of this esteemed web site will have these discs in their collection but if you don't or just want to buy that young relative who is getting into jazz some of the best Miles Davis around here is your golden opportunity at a budget price.
The compilation starts with 'Round About Midnight from 1956. The music of Miles Davis is a story of jazz in transition. Throughout most of his life David was searching for new approaches, new directions, new ways of pushing the boundaries of the music he eventually didn't even want to call jazz. And in a quiet sort of way this is what you have with 'RoundAbout Midnight. This was the trumpeter's first record for Columbia and features John Coltrane on tenor, Red Garland, piano, Paul Chambers on bass and "Philly Joe" Jones, drums. Here Miles is emerging from his bop influenced earlier work and begins to introduce a more reflective side of his playing. Tunes written or arranged by Monk, Parker, Cole Porter and Stan Getz are all given the Miles treatment and the disc is a fine postscript to the ground-breaking records made with the same group between 1955 and 1956 for Prestige,
Milestones from 1958 is the next gem and finds Davis playing with the same band plus the addition of Cannonball Adderley on alto sax. Between the two records Davis had spent time in Paris working on the sound track for the Louis Malle thriller, Lift to the Scaffold, and the atmospheric jazz on the film's soundtrack is a precursor for the shift towards the modal jazz that Milestones represents. There are fine solo outings for Davies and Coltrane and you might like to judge how well Adderley fits into a session otherwise dominated by the two masters of their respective instruments. The title track features Davies on a rare outing with the flugelhorn.
And then for the piece de resistance – Kind of Blue recorded in 1959. One of the biggest selling jazz albums of all time and one that introduced modern jazz to a wide audience, and continues to do so.
Bill Evans and Wynton Kelly share piano duties though it is the impressionistic contribution of Evans that did so much to make this record special. Coltrane and Adderley are there again with Paul Chambers and Billy Codd on bass and drums. All compositions are by the main man and more than enough has been written about this music to make any further eulogies unnecessary.
But there is more. CD 2 ends with two versions of the Davies composition So What that opens Kind of Blue. Both recorded in 1961 – Miles Davies – In Person, Saturday Night at the Blackhawk followed by Miles Davies – At Carnegie Hall. The former has Bill Evans on piano, the latter Wynton Kelly, and for the Carnegie Hall concert the band are joined by Gil Evans conducting a 21- piece orchestra. Compare, contrast but most of all enjoy. My only gripe is that Avid fail to credit the authors of the excellent liner notes that accompany each record – otherwise this is an excellent and highly desirable set. Go on, give that niece or nephew a treat.
Dave Puddy 9-2019.
The albums included within the two CDs reviewed here are –
Miles Davis – 'Round About Midnight; Miles Davis – Milestones
Miles Davis – Kind Of Blue; Miles Davis – In Person, Saturday Night At The Blackhawk Vol 2 (One Track), Miles Davis – At Carnegie Hall (One Track)
+++++++++++++++++++++
Hel
en Merrill Four Classic Albums on two CDs – Albums included in this set – Helen Merrill with the Clifford Brown Sextet; Helen Merrill – Dream of You; Helen Merrill – You've Got A Date With The Blues.; Helen Merrill – The Nearness Of You. Helen Merrill Four Classic Albums Avid Jazz AMSC 1337
The second track on this generous Avid collection of four LP's from the 1950's by Helen Merrill is her version of the Cole Porter song 'You'd Be So Nice To Come Home To' and this just about sums up what I feel about the idea of coming home from a hard day to find Ms Merrill on the sound system. Delightful and delicate bebop singing that is accompanied by a whole range of top-draw musicians from a singer who maybe deserves a wider recognition.
Helen Merrill was born in New York in 1930 and to my knowledge she is still putting in the odd rare appearance. Part of the city's post-war jazz scene, her early appearances included sessions with Charlie Parker, Clifford Brown and Miles Davies and Helen went on to release over thirty albums of which these Avids are among the earliest.
"Helen Merrill with the Clifford Brown Sextet" opens the set and besides Brown on trumpet, Danny Banks, flute, Jimmy Jones on piano, Barry Galbraith, guitar, Oscar Pettiford, bass and Osie Johnson or Bob Donaldson on drums this Quincy Jones arranged disc is a classy and low-key affair from beginning to end. Apparently, Helen was a self-depreciating person who throughout her long career rarely pushed herself into the limelight and this reserve is obvious in this selection of songs from Gershwin, Porter, Rogers & Hart and others.
The second disk, "Helen Merrill – Dream Of You", is from 1956 and finds the singer fronting a larger eleven-piece band plus strings that includes Art Farmer on trumpet, Hank Jones, piano and Pettiford and Galbraith again on drums and guitar. The arranger this time is Gil Evans and Helen's gentle and at times almost vulnerable voice is beautifully set within the framework of an impressive sound-scape. By this time her confidence is growing and Helen's voice quietly dominates the proceedings which is no mean feat considering the array of instruments she has to sing against. This album is of more standard material and includes works by Sinatra, Arlen and Ellington but nothing of a standard quality.
CD2 opens with "Helen Merrill – You've Got A Date With The Blues" from 1959. Pianist Jimmy Jones, who worked for many years as accompanist for Sarah Vaughan, arranged the tunes on this blues-drenched album and his admiration for the growing talent of Miss Merrill is apparent from the start. Jerome Richardson and Frank Wess play tenor and flute, Kenny Dorham, trumpet, Barry Galbraith ('Musically Barry and I were made for each other' – Helen is quoted) on guitar, Milt Hinton or Al Hall, bass and John Cresci, drums complete a fine line-up that gives the singer a freedom to enjoy a jazz medium she obviously revels in. A superb late-night album with liner notes by Leonard Feather.
We're back a couple of years to 1957/8 with "Helen Merrill – The Nearness Of You", the final disk from this Avid collection. To my mind this comes across as the most confident of all four records. There are some lovely interpretations of compositions by the likes of Mercer, Carmichael and Gershwin and Helen obviously enjoys the company of, among others, Bill Evans on piano and Bobby Jasper playing delightful flute.
Helen Merrill went on to make many enjoyable records and despite recording sporadically in the 1960's when she lived in Italy and later Japan, she returned to America in 1972 and continued recording, including a return to making a record with Gil Evans. I thoroughly enjoyed this Avid compilation and as soon as the final track ended, I was ready to turn down the lights, re-fill the whisky glass and press the re-play button. Dave Puddy – June 2019
++++++++++++++++++++++++++++
Essential Collection – "Classic Swing U.S.A" – featuring Benny Goodman, Tommy Dorsey, Artie Shaw, Harry James, Woody Herman, Gene Krupa, Count Basie, Glenn Miller, Duke Ellington and many more. Two CDs with a total of 49 tracks. Avid ref AVC 868.
Avid's clever compilers have here gathered together many of the swing era's classic tracks – titles like "Opus One" by Tommy Dorsey, "Woodchopper's Ball" by Woody Herman, "In the Mood" by Glenn Miller, "Let's Dance" by Benny Goodman and "And the Angels Sing" by Ziggy Elman are some of the gems included. They've been superbly remastered and balanced and that makes this a "no brainer" listening experience. In other words if you were to have just one Swing era CD set then this would be it. And with a UK price of just around £4.50 you can't go wrong. Bravo Avid – you've done it again!
++++++++++++++++++++
Harold Land Four Classic Albums Avid Jazz double CD ref AMSC 1332 – Albums included on the CDs here – Harold Land – Harold In the Land of Jazz; Harold Land Quintet – The Fox; Harold Land – West Coast Blues; Harold Land with Kenny Dorham – Eastward Ho!; Harold Land In New York.
I've always been a bit suspicious of the old East Coast versus West Coast jazz division and sometimes wonder if I played 'blind' tracks to my jazz listening friends whether they'd be able to confidently spot the differences. And reading about tenor player Harold Land there are frequent comments about his Californian place of residency and periodic forays to New York which don't seem to add much to any evaluation of his music. But anyway, on this fine Avid compilation of four Land LP's from the late 1950's and early 1960's you can judge for yourself as three were recorded in Los Angeles or San Francisco and one in New York.
Land had a reputation for being a fairly reserved and understated saxophonist and set alongside his more fiery contempories such as Coltrane or Rollins that's probably true. However, Land has his moments and these combined with a thoughtful and at times beautifully melodic style makes for consistently interesting and listenable jazz.
Land began his jazz career touring with the Max Roach/Clifford Brown quintet in the mid 1950's and the opener on this Avid set – Harold in the Land of Jazz – dates from 1958 and is his debut as leader. It features Rolf Ericson on trumpet, Carl Perkins, piano, Leroy Vinnegar and Frank Butler on bass and drums with arrangements by Elmo Hope. Land, Hope and Perkins share most of the composing duties and the record is a fine example of mid-period be-bop with some informative liner notes from Nat Hentof.
The following year saw the release of The Fox – one of Land's best-known records. Here we have Dupree Bolton on trumpet, Elmo Hope, piano, Herbie Lewis playing bass and Frank Butler on drums. Altogether a disc with a more fleet and lighter touch (as might befit sly old Reynard) than its predecessor, The Fox has many great moments, especially when Elmo Hope is in the spotlight.
CD Two opens with West Coast Blues from 1960. Land is joined this time by Joe Gordon on trumpet, Barry Harris, piano, Sam Jones on bass, Louis Hayes, drums and Wes Montgomery playing guitar. It's a lovely record with a laid-back late-night feel, though be prepared for the frantic Charlie Parker composition Klactoveedsedstene (what on earth does that mean!!). Montgomery plays with his usual elegance and the record includes the rarely heard Billy Holiday composition Don't Explain.
Finally, we have Eastward Ho! – Harold Land in New York, again from 1960. On this Land plays with the fine trumpeter Kenny Dorham whom he played with whilst in the Roach-Brown group. The set includes a couple of original compositions – one from pianist Amos Trice, the other by Land and dedicated to record producer Orin Keepnews. Altogether an attractive proposition reuniting two old friends who are in great form and who cares where the individual records were recorded. I couldn't tell. Dave Puddy – May 2019
+++++++++++++++++++++++++++++++++++++++++++++++++++
Jack McDuff and Bill Jennings – Four Classic albums – "Bill Jennnings with Jack McDuff", "Bill Jennings & Jack McDuff Glide On", "Jack McDuff –Tough Duff", "Jack McDuff with Bill Jennings – Brother Jack" – Avid Jazz double CD of four re-mastered LPs – Avid ref AMSC1339.
Three of the four albums included here feature Hammond B3 organist McDuff with his friend guitarist Bill Jennings and a rhythm section (Wendell Marshall on bass and Alvin Johnson – drums) whilst the fourth set "Tough Duff" – has the two with Jimmy Forest on tenor sax and Bill Elliott on vibes. It's all very relaxing bluesy jazz – nothing raucous – all in very good taste and that's good because both men are fine original improvisers. And that makes this an excellent listening album – it might even be good as an aid to a little late night seduction! Enjoy – BH 5-2019.
+++++++++++++++++++++++++++++++++++++++++++
Hank Crawford – Three Classic Albums Plus – "Hank Crawford – More Soul", "Hank Crawford – The Soul Clinic", "Hank Crawford – The Heart" , "Ray Charles featuring Hank Crawford – Ray Charles in Person". Avid Jazz double CD ref AMSC1340.
Avid here present the contents of four fine soul infused bop albums headed up by the fine alto sax and pianist Hank Crawford who was Ray Charles musical detector and played baritone in Charles' orchestra. There are other star soloists here too like the otherwise little heard trumpeter Phillip Guilbeau and Dave "Fathead" Newman on tenor. Ray Charles (piano and vocal – yes that Ray Charles) is the star of album four here and sings on five tracks which also of course have him on funky piano and there's also the Raylettes fine soul backing singers. A fine release that bears repeated hearings. BH 5-19
+++++++++++++++++++++++++++++++++++++++++++++++++++++
Benny Golson Four Classic Albums – Benny Golson – The Modern Touch; Benny Golson's New York Scene; The Other Side of Benny Golson; Benny Golson and the Philadelphians. Avid Jazz ref AMSC1310
When you are at high school and get the chance to play your tenor saxophone with the likes of fellow students John Coltrane, Red Garland, Percy Heath and Philly Joe Jones, then a bright jazz future beckons. Such was the case with Benny Golson and true to form, this bepop/hard bop musician went on to have a great career as both performer, composer and arranger. As far as I know Golson, who celebrated his 90th birthday earlier this year, is still with us and he should be pleased to know that Avid have just brought out an attractive compilation of his first four LPs.
The set opens with the Benny Golson Sextet – The Modern Touch and features Golson in the company of Kenny Dorham, trumpet, J.J. Johnson – trombone, Wynton Kelly, piano with Paul Chambers and Max Roach on bass and drums. An impeccable line-up and pretty impeccable jazz, as you might imagine. On three tracks Golson demonstrates the composing talents that went on to produce such jazz standards such as I Remember Clifford and Killer Joe, and whilst the music on this disc is more restrained than much of what his fellow saxophonists were playing at the time, this is a great example of some of the greatest jazzers of period having a wonderful and laid-back blowing session.
From the same year, 1957, this is followed by Benny Golson's New York Scene, and again the band members read like a who's-who of the hard bop movement. Gigi Gryce plays alto, Sahib Shihab is on baritone, James Cleveland, trombone, Art Farmer is on trumpet, Julius Watkins plays French horn, Wynton Kelly is on piano, Paul Chambers, bass and Charlie Persip plays drums. Again, Golson's composing skills are well demonstrated with over half the tracks being the leader's compositions.
The group itself is broken down into a nonet for three numbers, a quartet for the remaining four which includes some beautiful Golson playing on You're Mine You. Nat Hentoff's liner notes are also well worth a read for their erudite background information on Golson.
The Other Side of Benny Golson and Benny Golson and The Philadelphians both date from 1958 and show Golson continuing his composer/arranger/performer talents in the company of yet more stalwarts of the then current jazz scene. Included here are Curtis Fuller on trombone, Philly 'Joe' Jones, drums, Lee Morgan, trumpet and Percy Heath playing bass. Golson is more to the fore on these albums – something that might reflect his growing confidence and technical ability. The saxophonist and Fuller have a great musical affinity and this is reflected in the fact they continued to play off and on together for the next 30 years.
Benny Golson went on to have a celebrated career in jazz music. In 2009 he was inducted into the International Academy of Jazz Hall of Fame as well as being the recipient of numerous other jazz awards. This fine Avid compilation is a good place to find out where it all started. Dave Puddy 22-02-19
++++++++++++++++++++++++++++++++++++++++++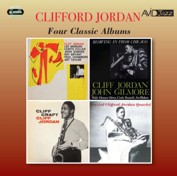 Clifford Jordan Four Classic Albums Avid Jazz AMSC 1330 – Albums included in the two CDs reviewed – Cliff Jordan – Cliff Jordan; Cliff Jordan & John Gilmore – Blowing In From Chicago; Cliff Jordan – Cliff Craft; Clifford Jordan Quartet – Bearcat.
Clifford Jordan was born in 1931 and spent his early life in Chicago where there was a long-established jazz scene that he quickly got involved with. After playing in local R&B bands he established a reputation as a tenor saxophonist and in the late 1950's Jordan was playing with the likes of Johnny Griffin, Sonny Stitt, Sonny Rollins and Max Roach. This fine Avid compilation showcases three of the early records Jordan made for Blue Note in 1957 together with a later 1961/2 record originally put out by Jazzland Records.
Cliff Jordan is the opener and features Jordan with an all-star line-up of John Jenkins on alto, Lee Morgan, trumpet, Curtis Fuller, trombone, Ray Bryant, piano, Paul Chambers and Art Taylor on bass and drums and the music doesn't disappoint. Jordan had a more relaxed and laid-back style than some of the other young saxophone Turks of the period – Lester Young and even Ben Webster comes to mind – and the five tracks here are evidence of this. Four of the tunes were composed by band members and the lengthy opener, "Not Guilty" by Jordan himself, sets the tone nicely for what is to come.
Blowing in From Chicago has a complete change of personnel with a double saxophone outing featuring Jordan and his old school pal John Gilmore also on tenor, Horace Silver plays piano with Curly Russell and Art Blakey on bass and drums. Fine company indeed. Some reviewers list this as Gilmore's album and this is reflected in his up-front punchy and post-bop approach which contrasts with Jordan's previously noted more reflective and melodic style. As you might expect Silver and Blakey are always much in evidence and the whole disc is a good opportunity to compare the saxophone styles of two young musicians in the early days of their recording careers.
Still in 1957 for the third record we have Jordan leading yet another change of personnel in Cliff Craft. Art Farmer is on trumpet, Sonny Clark, piano, George Tucker on bass and Louis Hayes playing the drums. The gentle and almost wistful trumpet of Art Farmer works well with Jordan's style – better to my mind than the hard edge of John Gilmore – and the quintet moves through a number of contrasting tracks with a delightful ease that is a pleasure from start to finish. Stand-outs for me is Soul-Lo Blues written by Jordan himself and a lovely version of Ellington's Sophisticated Lady.
The final record, Bearcat, and named after a wrestler friend of Jordan's, features the saxophonist in the company of pianist Cedar Walton with Teddy Smith on bass and a relative newcomer to the New York jazz scene, J.C. Moses playing drums. Barbara Long provides some quirky and very readable liner notes (and I must say that I appreciate Avid's willingness to include original notes in their jazz compilations) and she ends up describing this record as a musical conversation between the four players and this is just right. Five of the seven tracks are Jordan compositions and whilst I have a problem linking the opening number, Bearcat, with a wrestler, all the numbers have a freshness that provides a great portrait of Jordan as both saxophonist and composer.
During his career Clifford Jordan recorded over 30 records as leader and worked alongside such eminent musicians as Charles Mingus, Eric Dolphy and Dizzy Gillespie. Whilst he may have not reached the commercial heights of two of his favourites, John Coltrane and Sonny Rollins, Jordan was a talented musician in his own right and if you like jazz saxophone there is not much to dislike in this Avid compilation and much to enjoy. Dave Puddy 19-02-19
++++++++++++++++++++++
Avid Jazz – Billie Holiday – Four Classic albums "Second Set" – ref AMSC1329.
AVID Jazz continues this month (Feb 2019!) with its Four Classic Album series with a re-mastered 2CD second set release from Billie Holiday, complete with original artwork, liner notes and personnel details. The original albums titles were "Lover Man"; "The Blues Are Brewin'" "Solitude" and "Songs For Distingue Lovers"
This Double CD set features brand new restorations of all the tracks featured on the four albums. The first two albums – "Lover Man" and "The Blues Are Brewin'" – consist of tracks that were originally mastered for issue on 78s, while the tracks on the third album "Solitude" were mastered for both LP and 78, and those on "Songs For Distingué Lovers" are stereo recordings originally issued on LP only. In all cases, the earliest and cleanest source material has been used for the initial transfers for subsequent restoration. This has allowed us to present the best possible restorations of these classic Billie Holiday recordings.

Those words were Avid's own intro to this release – here are mine –

Billie's unique ability to "inhabit" almost every song she sang is on clear display throughout the 42 fine tracks here. She bares her soul and almost convinces you that each song was written especially with her in mind – and she "acts out" the lyrics in a unique manner – sometimes so emotionally you almost feel you wish you could comfort her – her anguish is palpable. This is a superb release and covers her output from the mid 1940s to 1957 and in places she has sterling company – like with Oscar Peterson, Flip Phillips and Ben Webster, Harry Edison and Barney Kessel – it's an all-star cast and a majority of the tracks are classic. A one word verdict – brilliant. BH 12-02-19.
.
.
++++++++++++++++++++++++++++++++++
Jazz Drummers – Four Classic Albums – Louis Hayes – Louis Hayes.Philly Joe Jones – Showcase. Art Taylor – A.T.'s Delight. Elvin Jones – Elvin! Avid Jazz double CD AMSC1297
It's not often that drummers get the opportunity to head up jazz groups but that's exactly what you'll find with this four LP compilation from Avid. Louis Hayes, Philly Joe Jones, Art Taylor and Elvin Jones all take centre stage and provide the listener with over two hours of fine mid-period bop jazz.
The eponymously named Louis Hayes album dates from 1960 and was the first record the drummer made as leader. Yusef Lateef on tenor sax, Nat Adderly, cornet, Barry Harris on piano and Sam Jones, bass all provide superb accompaniment and give Hayes the chance to demonstrate the full range of his drumming skills beyond the basic one of keeping a steady rhythm. Lateef, Adderley and Harris all compose material on the album and for me one of the stand-out tracks is a beautiful and slow "I Need You" written by Barry Harris. Louis Hayes went onto make nearly 20 records as a leader or co-leader, and throughout a long career that still continues he played with the likes of John Coltrane, Dexter Gordon, Johnny Hodges, Oscar Peterson and Horace Silver.
Altogether more showy and flamboyant is the second album – Showcase – with Philly Joe Jones in the hot seat from 1959. By the time this record was made Joe Jones had already spent time with the Miles Davis band and the trumpeter famously said of the drummer 'He's got the fire I want.' Indeed. Joe Jones pushes all the front line – Bill Barron on tenor, Blue Mitchell, trumpet, Pepper Adams, baritone and Julian Priester on trombone to their limits as well as taking forceful solos himself on most of the tracks. Think of Joe Jones as a mixture of Max Roach and Art Blakey but also being very much his own man and you'll get some idea of what's in store.
Another drummer who played with Miles Davis was Art Taylor, the drummer featured on the third record, "A.T.'s Delight", recorded in 1960. With a dream team line-up of Stanley Turrentine on tenor, Dave Burns, trumpet, Wynton Kelly, piano, Paul Chambers, bass and 'Potato' Valdez playing congas this is wonderful showcase record for the thoughtful yet adventurous drummer that Art Taylor was. Among the pieces played are included compositions by both John Coltrane and Thelonious Monk who Taylor played with, and the swinging inclusion of Valdez on Monk's Epistrophy is a delight. If I had to take one of these four records to my desert island, the Art Taylor would be the one.
That said, I would be sad leaving the Elvin Jones record, " Elvin!" behind. Recorded in 1961/2 this is one of the last records Jones made before joining John Coltrane from where he made such a contribution to the saxophonist's classic quartet of the 1960's. Always recognizable from his distinctively aggressive and cross-rhythmic approach to jazz drumming, Elvin! leaves you in no doubt as to who is the leader of the pack, though time is always given for other band members to show through. With a line-up that includes his brothers Hank on piano and Thad playing cornet with Frank Foster on tenor, Frank Wess, flute and Art Davies on bass this is an enjoyable and varied album and the addition of Frank Wess adds considerably to its pleasure.
If you want to hear what the chief drivers of the jazz engine room were getting up in the early 60's this budget price Avid compilation is a great place to start. Dave Puddy
+++++++++++++++++++++++++++++++++++++++++++++++++++++++++++++++
Stanley Turrentine. Four Classic Albums – Avid Jazz double CD ref AMSC1319. Albums included in this set – Look Out, Dearly Beloved, Stanley Turrentine with The 3 Sounds, Blue Hour, That's Where It's At.
If you like earthy and blues inflected tenor saxophone playing then this new Stanley Turrentine release from Avid will certainly fit the bill. Born in 1934 Turrentine came from a musical family – father Thomas played saxophone, his mother the stride piano and brother Tommy recorded on trumpet – and Stanley began his own prolific career playing in soul and rhythm and blues bands before quickly moving to main stream jazz in the bands of Lowell Fulson, Earl Bostic, Tad Dameron and Max Roach. Always a melodic saxophonist Turrentine was much in demand in the 1960's and 70's, making over 30 records for Blue Note before moving to the fusion label CTI in 1970.
This fine Avid compilation features four early Blue Note releases, starting with 'Look Out' from 1960. A genial and swinging album this features Turrentine in the company of pianist Horace Parlan with George Tucker and Al Harwood on bass and drums. Stand-out tracks for me include Turrentine's 'Little Sheri', which dedicated to his daughter and the Clifford Brown composition 'Tiny Capers'.
'Dearly Beloved' was recorded the following year as a trio session with Turrentine's new wife Shirley Scott playing organ and Roy Brooks on drums. Material by Turrentine, Howard Arlen and Jerome Kern form the basis of the music which is always varied and enjoyable As Ira Gitler says in his liner notes this is obviously an album bathed in the love between saxophonist and organist and the warmth and communication between the two is always evident, even the cover shows Turrentine picking a bunch of red roses – presumably for Shirley. How romantic.
We're in deep late-night blues territory with the third Avid disc – Stanley Turrentine with the 3 Sounds – Blue Hour from 1960. More great Ira Gitler notes to this album put the mood far better than I could: "The 'blue hour' is when the lonely automobile sounds from the street below, the reflection of the neons and the elongated shadows on the wall, all serve as reminders of the solitary state." They don't do them like that these days! The Three Sounds of Pianist Gene Harris, bassist Andrew Simpkins and drummer Bill Dowdy join Turrentine to create one of the finest blues jazz albums of the period.
To round the set off Avid have chosen 'Stanley Turrentine – That's where It's At' from 1960 which was obviously a productive year for the Pittsburgh saxophonist. From the outset this is a very different beast to the earlier Blue Note. Upbeat and swinging jazz with a forceful soul influence this brings Turrentine back to his own roots. Les McCann on piano, Herbie Lewis, bass and Otis Finch on drums all contribute to what is a thoroughly enjoyable session. Turrentine went on to make many more records including accompanying singers such as Abbey Lincoln and Diana Krall and this bargain collection from Avid is a fine place to start getting to know the man and his music. Dave Puddy
+++++++++++++++++++
AVID Jazz continues with its Four Classic Album series with a re-mastered 2CD release from Curtis Amy, complete with original artwork, liner notes and personnel details
"The Blues Message"; "Groovin' Blue"; "Meetin' Here" and "Way Down'"
We like our Texan tenors here, (check out AMSC1285 Tenor Sax – Four Classic Albums) and Curtis Amy was one of the best! Starting his musical life on the clarinet, Curtis soon switched to the tenor sax and made his mark on the US west coast during the late 1950s and into the 1960s. Our featured albums find Curtis in collaboration with the likes of Paul Bryant on organ for "Meetin' Here" and "Blues Message", Frank Butler on drums with an early outing for the fabulous vibist Bobby Hutcherson on "Groovin' Blue", and for "Way Down", he is joined by the wonderful Victor Feldman on piano and two up and coming future stars Marcus Belgrave on trumpet and Roy Ayers on vibes. Oh and just for added interest, Curtis Amy also went on to play on albums by The Doors, Marvin Gaye, Smokey Robinson and he is all over Carole King's masterpiece Tapestry. He was also married to the dynamic singer Merry Clayton! Fine, fiery jazz indeed! – (notes by Avid)
++++++++++++++++++++++
AVID Jazz continues with its Four Classic Album series with a re-mastered 2CD second set release (ref AMSC1321) from Jimmy Smith, complete with original artwork, liner notes and personnel details – the albums included on the two CDs here are – "The Sermon"; "Crazy! Baby"; "House Party" and "Midnight Special".
We don't think we would find many detractors if we were to say that our latest guest artist is probably the most famous jazz Hammond organist in the world. Mr Jimmy Smith, or to give him his rightful name The Incredible Jimmy Smith spent his formative years in the early 1950s in R&B bands playing piano and dabbling with the Hammond organ. After hearing Wild Bill Davis he made the permanent switch to the Hammond and was soon discovered by Blue Note supremo Alfred Lion. Smith was incredibly prolific, (hmm, perhaps that's where the name came from?), recording over forty sessions for Blue Note in a period of just eight years. He made many classic albums and we at AVID think we have snagged four of his best! Here's a few of the names on these swinging platters. Tina Brooks, Lou Donaldson, George Coleman, Lee Morgan, Kenny Burrell, Art Blakey, Curtis Fuller, Donald Bailey and Stanley Turrentine. Check out also Classic Organists AMSC1306, Lou Donaldson AMSC1251, Art Blakey AMSC1017 and AMSC1269, Curtis Fuller AMSC1326, Lee Morgan AMSC1255, Kenny Burrell AMSC1327, Stanley Turrentine AMSC1319. (notes by Avid)
++++++++++++++++++++
AVID Jazz continues with its Four Classic Album series with a re-mastered 2CD second set release (ref AMSC1322) from tenor sax and pianist Ike Quebec, complete with original artwork, liner notes and personnel details – "Blue And Sentimental"; "It Might As Well Be Spring"; "Heavy Soul" and "Bossa Nova Soul Samba"
Welcome back Ike Quebec! 1945-1961, that's a long time between releases! So what happened to the great tenor saxophonist? Sadly an all too familiar story of the decline of big band jazz audiences followed by serious drug problems. Ike Quebec had quite an extraordinary split career which either end you look at was remarkable for the jazz men he played with. The early years in the 1940s gets you Hot Lips Page, Ella Fitzgerald, Benny Carter, Cab Calloway, Coleman Hawkins and Roy Eldridge. While the comeback years of the 1960s courtesy of friend and great fan Alfred Lion at Blue Note gets you Grant Green, Paul Chambers, "Philly" Joe Jones, Sonny Clark, Louis Hayes, Freddie Roach, Milt Hinton, Al Harewood and Kenny Burrell. Check out, Classic Organists AMSC1306, Classic Tenor Sax AMSC1285, Paul Chambers AMSC1324, Grant Green AMSC1065, Sonny Clark AMSC1250, Kenny Burrell AMSC1327. (these notes are from Avid)
+++++++++++++++++++++
Jazz Piano – Four Classic Albums on two CDs. Avid Jazz ref AMSC1284. Albums reviewed: Jutta Hipp with Zoot Sims. Walter Davis Jr. Davis Cup. McCoy Tyner Trio – Inception. Herbie Hancock – Takin' Off
Jutta Hipp is the first featured pianist on this fine Avid compilation. I'm not often moved to tears after listening to a jazz record, but listeening to Hipp after reading details of her tragic life very nearly pressed that particular button for me. Born in Lepzig, Germany in 1925, Jutta first listened to jazz in secret as the music was not approved by the Nazi authorities. Further oppression happened after the Russian invason of East Germany at the end of the war and and Jutta fled to the West as a penniless refugee. Here she gave birth to a son whose father was a Black American GI who for whatever reason could not accept paternity and the baby was adopted. All the time Jutta continued her love of jazz, having become highly adept at be bop piano. In 1952 she was heard playing by the critic Leonard Feather and he arranged for Jutta to move to New York. Over the next four years she made a number of records including three for Blue Note, the last which is included here – Jutta Hipp with Zoot Sims from 1956. Apparently Jutta suffered stage fright, had a shy and quiet personality and on this disk her playing reflects this with Sims and trumpeter Jerry Lloyd very much to fore. Her own playing is reserved and flowing but it was never forceful enough to allow Jutta to create a musical career and she did not record again, apparently working for the rest of her life in a New York clothing factory and dying from cancer in 2003. Sad indeed and more details of her life can be found on Wikipedia, including a report of alleged on-stage verbal abuse given by drummer Art Blakey, which if true, do him no favours. Altogether a rare record and maybe more facinating for its background than the music itself.
Walter David Jr, the second pianist included on this compilation, is another relatively unknown musician who made less than a dozen records under his own name. Born in 1932 Davis Jr hit the jazz ground running and by the 1950's he was playing along side the likes of Max Roach, Charlie Parker and Dizzy Gillespie, ending up as pianist and composer/arranger with Art Blakey's Jazz Messengers. After a period working as a tailor in the 1960's, Davis Jr returned to the jazz scene ten years later to play
with Archie Shepp, Kenny Clarke, Sonny Criss and Sonny Rollins and continued to record under own name till his death in 1990.
Few of his records are now available and Avid are to be congratulated for bringing out his first disc – Davis Cup – from 1959. This features Donald Byrd on trumpet, Jackie McLean, alto sax, Sam Jones and Art Taylor on bass and drums and as you might imagine from such a stella line-up this is a lively and free blowing session that features all Davis Jr compositions. It's a great listen and after such a promising start a pity Davis Jr seemed to slip into a premature obscurity, both as pianist and maybe more importantly, a composer.
We are back onto familiar ground with the final pair of records on this Avid twin set – both from 1962 and first outings as leader for pianists who went on to great things – McCoy Tyner and Herbie Hancock. 'Inception' by a Tyner trio features the pianist with Art Davis on bass and Elvin Jones on drums (and possibly the shadow of John Coltrane waiting in the wings) whilst Hancock is joined by Deter Gordon, tenor sax, Freddie Hubbard on trumpet, Butch Warren and Billy Higgins on bass and drums with 'Takin' Off'. Both disc are highly recommended – the Herbie Hancock in particular is one of the greatest ever first-as-leader records – and if they are not already in your collection this Avid is a good way to get them at a budget price. Dave Puddy – October 2018.
+++++++++++++++++++++
Sonny Rollins Four Classic Albums – Tenor Madness – Second Set – Way Out West; Newk's Time; The Bridge. Avid Jazz ref AMSC1311
Christmas certainly comes early with this offering from Avid, so thank you Santa for Tenor Madness, Way Out West, Newk's Time and The Bridge. The first three date from 1956/7 – a highly productive time for the saxophonist whilst The Bridge was recorded in1962.
One of the most influential and long-lived saxophonists in post-war jazz, the list of musicians he's played with reads like a who's-who of modern jazz. Bud Powell, Thelonious Monk, Art Blakey, John Coltrane, Miles Davies, Max Roach, Coleman Hawkins, Herbie Hancock, Jim Hall – the list goes on and on.
This Avid set begins with "Tenor Madness" and finds Rollins in the company of John Coltrane (sadly only on the first track), Red Garland, piano, Paul Chambers, bass and 'Philly' Joe Jones on drums. The opening Rollins composition is a laid back romp with both tenorists laying out their improvisational credentials in a good natured rather than explosive fashion. Rollins was always a generous player – someone willing to let his sidemen have a good share of the action and by the end of the album I guess you know as much about Garland, Chambers and Jones as you do about the main man. There's some particularly lovely playing on the Debussy number My Reverie and a Rogers and Hart number, The Most Beautiful Girl In The World.
Tenor Madness? Not really. Much more like Tenor Delight.
Way Out West from 1957 puts Rollins in the company of Ray Brown on bass and Shelly Manne, drums. Famous for its LP cover picture of Sonny complete with wide-brimmed cowboy hat looking lost in some remote desert, the disc contains some wonderful interplay between all three musicians. I sometimes find Rollins' playing to be on the melancholic side of things (and there's nothing wrong there), but this Wild West inspired record left me feeling distinctly up-beat. Some good liner notes by Lester Koenig puts Rollins' career at this time into an informed perspective. Verdict – Tenor Happiness.
Apparently Rollins had some facial resemblance to a baseball player called Don Newcombe which earned him the nickname 'Newk' – strange folk, these Americans – so hence Newk's Time, the third LP on this Avid collection dating from 1957, a year that saw Rollins put out no fewer than five records. Here he's back with 'Philly' Joe Jones and joined by pianist Wynton Kelly and Doug Watkins on bass. A more forceful and joyfull album – no melancholy here – Rollins is confidently showing just what he can do with his tenor sax. For me the high point is the duet with Joe Jones on The Surrey With The Fringe On Top. Rollins seems to pull out every variation on the well known tune and the drummer is right up with the leader from the word go. One of Rollins less known records, but there's much to enjoy here.
In 1959 Rollins apparently became frustrated with what he perceived were his musical limitations and took a two year sabbatical. During this time he lived on the Lower East Side in Manhattan and practised daily on the walkway of the Williamson Bridge becoming something of a legend in the process. In 1962 Rollins returned to the jazz scene, began a new recording contract with RCA and brought out The Bridge. This went on to become one his biggest selling records and it was inducted into the prestigious Grammy Hall of Fame in 2015. Besides Rollins, Jim Hall plays guitar, Bob Cranshaw begins a long musical association on bass, Mickey Roker, Ben Riley and Harry T. Saunders share drum duties. This is a complex and introverted record and gives the impression that Rollins is still in the process of consolidating his musical direction. Jim Hall provides wonderful rhythmic and melodic support throughout and The Bridge and God Bless The Child are two fine stand-out numbers.
If you don't know the music of Sonny Rollins this is a great place to start and if you already have these discs, well, how about putting this bargain Avid collection into the Christmas stocking of that grandchild who needs to know what real music is all about? Dave Puddy 17-10-18.
+++++++++++++++++++++
Charlie Mingus – Four Classic Albums on two CDs – Second Set Records – "Pithecanthropus Erectus", "East Coasting by Charles Mingus", "Charles Mingus The Clown", "Charles Mingus Tijuana Moods" Avid AMSC1315
In my opinion Charle Mingus created some of the most varied, imaginative and listenable modern jazz of the 1950's and this Avid collection of four LP's is a great example of what I'm talking about.
The set kicks off with Pithecanthropus Erectus from 1956 with Mingus on bass providing clear leadership (as he does on all four discs), with J.R. Montrose and Jackie McLean on tenor and alto saxes, Mal Waldron, piano and Willie Jones on drums. The album-titled opening track moves effortlessly from seeming chaotic free improvisation to a contrasting restrained and ordered music which reflects the concept of man's uneven rise from primitive to advanced humanity. Hear this once and you'll never fail to recognise the piece. Fog horns, police whistles and wailing sirens open the second number – a wonderful interpretation of Gershwin's "A Foggy Day" – whilst Mingus's jazz portrait of Jackie McClean and the more conventional "Love Chant" round off the record.
1957 was a creative year for Mingus and the other three records on this compilation were all laid down in that year.
East Coasting includes pianist Bill Evans who was soon to make his mark in the Miles Davis band. Maybe more conventional bop than the previous record, East Coasting is none-the-less a good example of Mingus mixing blues, bop, swing and rhythmic variation into the form of jazz he made his own. There are informative original liner notes by Nat Hentoff too.
Hentoff also writes the notes to the third LP – The Clown – and where now would you find reference to poet W.B. Yeats on the covers of LP's or CD's? Oh, those were the days.
The driving power of Mingus's bass is immediately evident on the opening track of The Clown and whilst Jimmy Knepper on tombone or drummer Danny Richmond are no wilting violets you soon know who is the boss on this disc. The Clown includes the first release of Reincarnation of a Lovebird – a favourite of Mingus which appeared regularly for the rest of his career. Mingus' interest in words and poetry is also shown by the inclusion of Jean Shepherd's narration on the hilarious final track. The Clown is a rather neglected album and thanks to Avid for helping correct this.
Tijuana Moods is the last featured LP and it's worth noting this is the original release compared with the longer and unedited later Tijuana Moods Complete. Mingus nearly always has the ability to surprise, and on this record you'll find Ysabel Morel playing castenets for your delight on Ysabel's Table Dance. One of Mingus's favourite trumpeters,Clarence Shaw, is well featured on the lengthy track, Los Mariachis, which has Mingus shouting encouragement to the band. Equally good is the nod to the leaders former colleague in Dizzy Moods whilst added interest is also to be found in Mingus' own liner notes.
For pure entertainment I can't recommend this too highly and the compilation is great value too. Enough said. Dave Puddy 13-09-18.
++++++++++++++++++++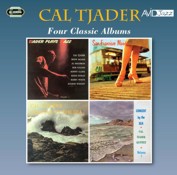 AVID Jazz continues with its Four Classic Album series with a re-mastered 2CD set release from Cal Tjader, complete with original artwork, liner notes and personnel details – the albums are – "Tjader Plays Tjazz"; "San Francisco Moods"; "Concert By The Sea Volumes 1 & 2." All on Avid Jazz ref1318.
I (BH) have played this set through and feel completely underwhelmed! It's cool West Coast American jazz of the 1950s when at that time many of the musicians there were over-influenced by the be-bop of New York when almost every soloist's phrase book seems to consist of the triplets and quads first coined by Dizzy – what a good friend called "oobly" music. All four albums make for pleasant but unsensational listening but rather than damn them with faint prize I'm going to include below the issuing label's (Avid) own notes.
We love the sound of the vibes here at AVID Acres! There is a very small and very elite list of classic vibes players and Cal Tjader is certainly high up on that list. Primarily known as a Latin jazz musician, Cal was however a fine straight ahead cool jazz musician as our four fine selections will show. Take a listen to Tjader Plays Tjazz where the great man switches from vibes to drums on a cooled out straight ahead jazz set. For more cool, fun sounds try San Francisco Moods where Cal and gang capture the special atmosphere of his adopted city, San Francisco on an excellent, mostly Tjader composed set. And live, he was something else, as the double album set Concert By The Sea Volumes 1 & 2, considerd by many to be one of the high points of Cal's career will show. Here Cal returns to his Latin influenced jazz to fabulously exhilarating effect, alongside such fine Latin musicians as Eddie Duran, Mongo Santamaria and Willie Bobo. Catch these fine vibes players on other AVID releases Teddy Charles- AMSC1174; Walt Dickerson- AMSC1183; Terry Gibbs- AMSC1095 & AMSC1100; Milt Jackson- AMSC769 & AMSC979; MJQ- AMSC945 & AMSC1226; Dave Pike- AMSC1249 and Lem Winchester-AMSC1161.
https://youtu.be/3rSNqhEWH9M
++++++++++++++++++++
Mel Torme – Four Classic albums – "Mel Torme and the Marty Paich Dek-Tette", "Mel Torme Swings Schubert Alley", "Mel Torme Vol 1", "I Dig the Duke – I Dig the Count". Avid Jazz double CD AMSC1317.
Whilst Mel Torme had perfect pitch, a spot on sense of rhythm and a wonderful regard for the dynamics of lyrics he never appeared to make all but one song "his own" That one was a British hit for his unique version of "Mountain Greenery" and that sadly is not included here but you can probably catch it on You-Tube. Meanwhile the two excellent CDs here have the condensed contents of four superb LPs. Torme is perfect throughout, he wings wonderfully, enunciates the lyrics in better style than almost anyone else on record and gives each song a thorough workout. It's all most enjoyable but totally unconvincing. He never manages to "inhabit" a song – to make it his own as both Ella and Frank Sinatra did in their day. But – for all that – these tracks make for excellent listening. BH 27-08-18
+++++++++++++++++++++
Johnny Griffin and Eddie "Lockjaw" Davis – Four Classic Albums – "Tough Tenors", "Lookin' at Monk", "Blues up and Down", "Griff and Lock". Four Avid remastered LPs on two CDs ref AMSC1309.
One of the saddest aspects of the advent of Long Playing vinyl LPs in the 1950s and 1960s was the realisation by both musicians and recording company managers that the traditional three minute record was dead and buried. Instead now a great freedom opened up. Tracks could be as long as the record itself, solos could and would be endless. And frequently endlessly boring too as egos triumphed over sanity. Thankfully this didn't happen on the sessions that produced the four albums here. No – tracks are as long as they need to because the guys here – Griffin and Davis – know in themselves when they've "said" what they have to "say" on a particular theme. At that point they stop – before listener boredom sets in. The result is that this is a very fine set of classic very hot modern jazz sessions which never bore. As you listen you want to hear what these guys get up to next and boy do they get up to it? That excitement and high creation makes this double CD set one of the finest in all of modern jazz – in other words this is a classic. I should have said – the main protagonists are tenor men Griffin and Davis who we hear both together and for contrast soloing. Among their accompanists are the great pianist Junior Mance, drummer Ben Riley and bass man Larry Gales. If you like your jazz hot then this is a "must". BH 23-8-18.
https://youtu.be/M4aP7Fk3bbM
++++++++++++++++++++
George Russell Four Classic Albums Avid Jazz AMSC 1298 – "George Russell & His Orchestra – Jazz In The Space Age", "George Russell Sextet in K.C.", "George Russell Sextet – Stratusphunk.", "George Russell Septet – The Stratus Seekers".
It seems strangely appropriate that this George Russell double CD set arrived in the week that NASA sent a probe to the outer reaches of the sun as two of the original LP's would have provided a good soundtrck for the lift-off – Jazz in the Space Age and Stratusphunk, both from 1960.
George Russell (1923-2009) is probably best known for being the inventor and chief proponant of The Lydian Chromatic Concept of Tonal Organisation which describes his new and experimental approach to writing jazz composition. Despite the rather daunting title of Russell's approach ( for more detail of the whole process I'd refer readerss to the Wikipedia entry on Russell as a starting point) he was highly regarding by the New York jazz fraternity in the late 1950's and the modal experiments of Miles Davis and John Coltrane owe much to Russell's influence.
Jazz In The Space Age kicks off our galactic adventure and comprises a small jazz orchestra that includes pianists Bill Evans and Paul Bley, drummer Charlie Persip and Bob Brookmeyer on trombone. From the opening moments when Russell runs a string of beads over tuned drums you know you're in for something both different and challenging and this music must have sounded quite revolutionary when it was first played. Both composed and improvised sections feature throughout and Russell who considered himself more a composer than musician (he was originally lined up to become Charlie Parker's drummer before Max Roach hit the scene) gives soloists plenty of space within the ensemble and the interplay between Evans and Bley is worth repeated listening.
We are down to a smaller group with George Russell Sextet in K.C. from 1961. Here Russell plays piano, Dave Young is on tenor sax, Don Ellis plays trumpet, Dave Baker is the tombonist and Chuck Israels and Joe Hunt are featured on bass and drums. Leonard Feather provides thoughtful liner notes that puts the music into the context of the so called New Wave experiments that were coming to dominate jazz of the period. 'Russell's music is aggressive but not hostile, neoteric but not neurotic, ultra-jazz but never anti-jazz.' There is a lighness of touch to many of the tracks which belies the impression that George Russell was just an earnest and academic proponant of his new jazz and this includes a musical referance to the French nursery rhyme Frere Jacques.
CD 2 opens with Stratusphunk recorded in 1960 with the same musicians as the K.C. session except Al Kiger replaces Don Ellis on trumpet. As the name of the LP suggests this is an all together more down-home and bluesy affair intercut with reflective and (probably) composed pieces that lean towards the modern classical music of Stravinsky or even Stockhausen. Whilst made up of mainly Russell compositions, Stratusphunk includes one track written by Carla Bley who, with her husband Paul, became a lifelong friend of Russell and who went on to form her own jazz orchestra producing numerous seminal records.
We're still flying through the skies with the last LP on this Avid collection: "The Stratus Seekers with the George Russell Septet from 1962". The group includes long-term collegues Don Ellis, Joe Hunt and Dave Baker plus Steve Swallow on bass and Paul Plummer , tenor sax. Perhaps the most challenging of the four discs, The Stratus Seekers finds Russell pushing atonality to new limits with a great variety of rhythm, mood and atmosphere. Joe Goldberg in his liner notes draws parrallels with Gershwin and Mingus and to this I'd add a strong nod to the hard bop of the period. But Russell is very much his own person who disliked catorgarisation and continued putting out distinctive records for the rest of his long and creative career. He was sadly overlooked for much of his lifetime (though not by fellow jazz musicians who always valued his compositional, arranging and teaching skills) and all credit to Avid for bringing our attention to this unique jazz voice.
+++++++++++++++++++++
Dakota Staton – Four Classic Albums – Second Set – "Dakota Staton", "Dakota Staton Sings Ballads and the Blues", "Dakota Staton – Softly", "Round Midnight". Avid Jazz double CD ref AMSC1312.
This lady has a fine strong voice, a great sense of rhythm and timing and when given top class material like Noble's "The Very Thought of You", Gershwin's "Someone to Watch Over me" or Gershwin and Duke's "I Can't Get Started Without You" she is a convincing world beater. But the rest of the tracks on these CDs don't have the same pedigree anf she just sings rather than "lives" them. Miss Staton sounds to me like her place should have been in stage musicals – she has that dramatic quality about her lyric interpretations but otherwise for me she doesn't click. Sorry. But here anyway is what the releasing label Avid have to day about these two CDs.
"Born in Pittsburgh, Pennsylvania, Dakota Staton attended the famed George Westinghouse High School, (alumni include pianist Ahmed Jamal, possibly at the same time!) and went on to study music before entering the music scene through that tried and tested, and very tough route, of the night club circuit. From a young age she was travelling around the country appearing in night clubs from Detroit to Indianapolis to Cleveland and to St. Louis and to Harlem in New York, where she was discovered by Capitol Records producer Dave Cavanaugh who promptly signed her to a recording deal with Capitol. Dakota made many highly acclaimed albums in the 1950s and 1960s and we have included four here. Our original sales notes to accompany our first acclaimed Dakota Staton release promised more to come. Well it's not five albums this time but four, but hey, when they are this great, it's quality not quantity that counts! Check out AMSC1259 for more great Dakota Staton music. BH 09-08-128
PS – having now seen the film clip below I realise that Dakota's seeming "squarenesss" on many tracks here is the fault of the titles she was given to sing – not the lady herself who is revealed as a true jazz lady! The pianist by the way is Ralph Sharon – an escapee from the London jazz scene.
+++++++++++++++++++++
Kenny Dorham Four Classic Albums Second Set – "Afro Cuban", " 'Round About Midnight at the Cafe Bohemia", "Jazz Contrasts", "Wistle Stop". Avid Jazz ref AMSC1300.
If you enjoy listening to the trumpet in early modern jazz but want something different to either Dizzy Gillespie and Miles Davis I'd suggest Kenny Dorham as a challenging, enjoyable and highly creative alternative. This Avid compilation of four Dorham LPs is a good place to start.
Dorham emerged in the late '40's and together with a clutch of other bebop trumpeters including Clifford Brown, Art Farmer and Fats Navarro quickly established himself as significant comtributor to the movement. After replacing Miles Davis in the Charlie Parker quintet between 1948-50 Dorham really came into his own as trumpeter in Art Blakey's Jazz Messengers in 1954 and these Avids date from 1955, soon after he began leading his own groups.
Kenny Dorham's – "Afro Cuban" was recorded in 1955 and besides the leader includes Hank Mobley on tenor, Jay Jay Johnson, trombone, Horace Silver, piano, Oscar Pettiford and Percy Heath, basses, Art Blakey on drums and Carlos Valdes making a significant contribution on congas. This is a full-on band and Dorham displays some fine trumpet playing that has an echo in the pyrotechnics of Dizzy Gillespie. All but one of the tracks are written by Dorham and the album neatly divides between the tracks with a distinctive Afro -Cuban feel and more straight ahead bebop. Good liner notes from Leonard Feather too.
The mood changes with Kenny Dorham – 'Round About Midnight at the Cafe Bohemia" where Dorham in the company of J.R.Montrose, tenor, Bobby Timmons, piano, Kenny Burrell, guitar and Sam Jones and Arthur Edgehill bass and drums. This is a more reflective set that sets the tone for much of what was to come in Dorham's relatively short career – he died from kidney failure in 1972. Slightly brooding and intense are two common descriptions of his playing and Dorham's concenttration on minor keys shows itself to good effect on a number of these tracks. His versions of Monk's "'Round About Midnight" and Gillespie's "A Night In Tunisia" make this point clearly. This is my favourite album in this Avid compilation.
"Kenny Dorham – Jazz Contrasts" from 1957 is a surprsingly low key and mostly ballad affair given that the tenor saxaphone player is non less than Sonny Rollins with Max Roach on drums. The band only really let rip on a fiery version of "I'll Remember April" where Rollins and Dorham spar beautifully and Roach shows why he was one of the foremost drummers of the period. However, more intriguing is the inclusion of Betty Glamman playing harp on three tracks, two arranged by Gigi Gryce and one by Dorham. I'll let you decide how well this instrumentation works.
On the final featured albim – Kenny Dorham – "Whistle Stop" from 1961, Dorham is joined by his former Jazz Messengers tenor collegue, Hank Mobley, and the pair obviously have a ball playing all Dorham compositions with Kenny Drew on piano, Paul Chambers, bass and Philly Joe Jones, drums. Compare the funky track "Buffalo" with the modal explorations of "Sunset" and you get a good idea of Dorham's talent as composer, musician and arranger. Some fine liner notes by Ira Gitler add to the depth of this album.
For much of his career Kenny Dorham seemed destined to follow in the shadow of trumpeter Miles Davis but his fellow musicians and sympathetic critics knew otherwise and this Avid two-disc compilation goes a long way to prove the point. Dave Puddy 9-7-18.
+++++++++++++++++++++
David "Fathead" Newman – Four Classic Albums – "Ray Charles Presents David Newman", "The Sound of Wide Open Spaces", "Straight Ahead", "Fathead Comes On". Avid Jazz ref AMSC1308.
Newman made his name mainly in the Ray Charles rhythm and blues bands of the 1950s where he can be heard on many of their hits. Here however he's teamed with a variety of his own groups the most notable of which is the first named on which Ray Charles plays brilliant blues inspired piano. With him there are the excellent Bennie Crawford on baritone sax, Marcus Belgrave on fiery and innovative trumpet and a fine rhythm section which includes Edgar Willis on bass and Milton Turner on drums. On the second album here half the tracks feature tenor man James Clay and the others Newman. Clay doesn't impress but Newman is quite brilliantly inventive and soulful particularly on the lovely Bob Haggart composition "What's New" – and Wynton Kelly's piano is as always – superb. The third album "Straight Ahead" has Newman soloing with Kelly on piano, Paul Chambers bass and Charlie Persip on drums. It does what is says on the label and that makes for excellent listening proving by the way what a fine talent Newman is. The final album here consists mostly of Newman originals but the standout is not one of those – it's "Unchained Melody" that old pot-boiler but given bright new life here by Newman on flute! This is a good set of four transcribed albums which despite their late 1950s and 1960s origins don't sound dated at all. BH 4-7-18.
++++++++++++++++++++
June Christy­ – Four Classic Albums – "Something Cool", "Gone for the Day", "Misty Miss Christy", "Ballads for Night People". Avid Jazz ref AMSC1305.
June Christy was prominent on the West Coast of America's "cool" jazz scene in the 1950s. She was the resident vocalist with Stan Kenton's wonderful big jazz band and with husband Bob Cooper – the multi-reed man to advise her – she didn't have to search for work. Avid's choice of LPs to transcribe onto CDs however sees Miss Christy working over mainly non jazz titles. OK – we get Ellington's "Don't Get Around Much Anymore", Thelonius Monk's "Round Midnight" with a strange set of lyrics and among others the beautiful Ellington – Strayhorn "Day Dream" – but there's little here to excite. Maybe these tracks would work well as a late night winter by-the-fire sessions with a bottle of something mellow. Certainly Miss Christy has a fine voice and a wonderful Ella-like vibrato but on these tracks she never excites, never "inhabits" the lyrics. We'll give it a try again on a winter evening. BH 3-7-18.
+++++++++++++++++++++
Jazz Organists – Four Albums on two CDs – "Jack McDuff – the Honeydripper", "Baby Face With Jug", "Freddie Roach – Down to Earth". Avid Jazz ref AMSC1306 .
In days gone by – i.e. when the LPs that these CDs come from were first released, regular jazz collectors often knew that they had to avoid them. That was because there were a number of new albums released in the 1960s featuring wild over-loud electric organ playing and frantic honking tenor saxes. That wildness was popular in the States. So – when this double CD set arrived I was wary. But that was proved unnecessary because all four albums (almost!) are well balanced and make for fascinating listening. The first by organist Jack McDuff with Jimmy Forrest on tenor and the excellent Grant Green on guitar and Ben Dixon on drums works out well with the main man allowing time for the others to ably express themselves. It all makes for good listening my only complaint being that this is the one album out of the four here on which the balance between organ, tenor and rhythm favours the organ too heavily.
The Baby Face Willette set with Fred Jackson on tenor, the ubiquitous Grant Green on guitar and Ben Dixon drums is very listenable with Jackson in particular proving a fine improviser on a set of tracks all but one of which are originals by Willette. The exception is "Whatever Lola Wants…." and that one gives us the best opportunity of all the tracks here to judge how good these guys are at creating new music from old – if you follow me. When jazz soloists are playing on top of tunes created by fellow group members or indeed themselves it is difficult to judge how good they are. Give them a "standard" however and you can soon whether they've got "it" or not!. On "Lola" Fred Jackson proves himself competent but no star. Willette however is a master accompanist as is guitarist Green.
The other two sets included here – Richard Groove Holmes with saxist Gene Ammons and Freddie Roach with Percy France are excellent – packed with finely crafted solos and often exciting ensembles. They also please from the balance point of view – the Hammond organ can easily dominate – but both the main men here and the recording engineers have found a fine balance that's most enjoyable. I enjoyed these sides and will be returning to them regularly. BH – 27-6-18. .
+++++++++++++++++++++
Lester Young – Four Classic Albums – "Lester Young with the Oscar Peterson Trio", "The Lester Young Buddy Rich Trio", "Lester Young & Harry Edison – Prez and Sweets", "Lester Young and the Teddy Wilson Quartet – Pres and Teddy". Avid Jazz AMSC1307.
Avid could not have chosen four better LPs to transcribe to CD with which to salute and remember the career of saxophone giant Lester Young. He's quite brilliant on all four and with the superbly varied talents of the three pianists here – Oscar Peterson (recorded in the days before he thought that 200 notes a minute was a god idea!), Nat King Cole (pre-singing!) and Teddy Wilson – all of whom prove that the piano can improvise in phrases much like a scat singer! They're all wonderfully rhythmic, sensitive to what Lester is doing and we're luckily hearing each is at the peak of his powers. Lester is wonderful on almost all the tracks here. Full of that inimitable "breathy" tone and eager to show us his unique voice-like phrasing which was so much like Billie holiday's – or should that be the way round? There are a couple of tracks that show his choice of pre sessions medicine (!) could have been wiser but the effects soon wear off as the session progresses and Lester's foray into the realms of surrealism are soon forgotten. These two CDs are a collection "must" – Lester, Peterson, Wilson, Barney Kessel, Ray Brown, Buddy Rich, Nat Cole et al have rarely been heard in better form then here. Five star all the way. BH 26-06-18. PS – that's a track from this set below – enjoy…….
++++++++++++++++++++
Jazz Bassists Four Classic Albums Avid Jazz AMSC 1301 – Leroy Vinnegar Sextet – Leroy Walks!; Doug Watkins Quintet – Soulnik ; Paul Chambers – First Bassman; Ron Carter – Where.
This Avid two CD set continues the label's clever theme of putting out compilations devoted to specific instruments linked with jazz and I was intrigued by the first one which concentrates on the playing of Leoy Vinnegar, Doug Watkins, Paul Chambers and Ron Carter, all masters of either the bass or cello. Leroy Vinnegar opens proceedings with Leroy Walks! – his first outing as leader from 1957 with a sextet featuring Teddy Edwards, tenor saxophone, Gerald Wilson on trumpet, Carl Perkins, piano, Victor Feldman playing vibes, and Tony Bazely on drums. Six out of the seven tracks have a direct reference to Walking and indeed the album is a good introduction to the idea of the 'walking bass' of which Vinnegar was a marvellous exponent. As you might expect he is given plenty of exposure as leader and to hear him in the company of London-born Feldman is a delight. Altogether this is an appropriately relaxed set with the addition of informative liner notes by Nat Hentoff.
Soulnik from 1960 was the first of only two LP's led by Doug Watkins and features the main man playing cello with Herman Wright on bass, Yusef Lateef flute and oboe, Hugh Lawson on piano and Lex Humphries drums. In a short career – Watkins was tragically killed in a car accident travelling between gigs in 1962 aged only 27 – he played alongside major artists such as Horace Silver, Kenny Burrell, Donald Byrd, John Coltrane, Sonny Rollins and John Coltrane. Pianist Red Garland described Watkins as his all-time favourite bass player. Some fine and exciting playing by Lateef contrasts with the more reserved cello playing of Watkins and having flute, oboe and cello on the same disk makes for a memorable experience, especially on the only Watkins composition, Andre's Bag. However, I'm not convinced of the place in jazz of the cello and yes, I know several bassists included a place in their repertoire for the instrument, but on this Watkins record to my mind it falls somewhere in between being a melodic instrument and the bass' s more traditional role of being a solid time-keeper. Watkins himself said of the cello that it gets a tone between piano and guitar. Bring on those two instruments is what I'd say!
We're up a gear with the third disk on this Avid collection with Paul Chambers leading on "Paul Chambers – 1st Bassman". Here we have an altogether more fiery approach recorded only five days after the Watkins date with again Yusef Lateef but this time on tenor saxophone and flute, Tommy Turrentine, trumpet, Curtis Fuller playing trombone, Wynton Kelly piano and Lex Humphries drums. With such a potentially aggressive front line playing all Lateef compositions, any bass player needs to be no shrinking violet and Chambers rises to the occasion in fine form. As Barbara J. Gardner writes
in her liner notes – Chambers was 'never satisfied to merely "walk" and "stroll" and urges his bass to skip and gallop unafraid of foreign soil' Exactly. On the other hand, I do wonder if Ms Gardner listened to the final track, Blessed, which nearly sent me to sleep with Chambers playing a bowed bass throughout.
And finally we're in top gear with Ron Carter – Where? A hugely prolific musician – Carter has played on hundreds of records – this was recorded in 1961, just two years before he joined the Miles Davis group, and puts him in the company of Eric Dolphy, Mal Waldron, George Duvivier, and Charles Persip. I've always enjoyed Carter's quietly assertive style and besides being able to hold a regular and supportive beat, he is able to play the bass in ways that are highly inventive and that move the instrument in new and sometimes controversial directions. Carter even manages to play cello on a couple of tracks in a way that made me think again about that particular instrument.
Altogether this is a fascinating compilation that puts the often overlooked bass in the foreground. From its early rise in prominence as played by Jimmy Blanton in the Ellington band of the 1940's, the bass has come a long way and this Avid compilation is a good example of where it had got to twenty years on from the Blanton-Webster years. Dave Puddy – 16-6-18
+++++++++++++++++
Abbey Lincoln – Four Classic Albums on two remastered CDs. "That's Him", "Abbey is Blue", "It's Magic", "Straight Ahead". Avid Jazz ref AMSC1302.
Even though these albums are released in Avid's jazz range I (BH) find her delivery and phrasing too staid and inflexible to be categorised as genuine jazz. She doesn't have the subtlety of Sarah Vaughan or Ella or the intensity of Billie Holiday. She does have a fine voice, enunciates lyrics with great clarity and has a fine sense of rhythm. But on the evidence of these albums she lacks soul and emotion. The backings here are fine, which they should be considering the fact that at the time of most of these tracks she was Mrs Max Roach, and – he organised the personnels which are suitably star-studded. The recording quality also is excellent but the sounds overall are far too cool and soul-less – too clinical. Verdict – fine albums – excellent music but no soul. (BH 30-05-18)
Avid Jazz double CD comprising four LPs – "Nat King Cole Sings for Two in Love", "Penthouse Serenade", "10th Anniversary Album'" and "Just One Of Those Things". Avid Jazz ref AMSC1303.
These are fine sets with Cole backing himself on piano on many tracks and on others he's with such illustrious company as the orchestras of Nelson Riddle, Dave Cavanagh and Billy May. I can't state strongly enough just how classic the combination of Cole's subtle vocal tones, his clever enunciation and wonderfully clever rhythms stand the rigours of time to feel just as fresh today as the day these tracks were first released. These are absolute popular music cum jazz classics – and his piano work is just a fresh and inventive as when he played with Jazz at the Philharmonic.
+++++++++++++++++++++

Della Reese – Four Classic Albums – "The Story of the Blues", "The Classic Delta", "Della by Starlight", "Wat do You Know About Love". Avid Jazz double CD ref AMSC1295.
Here's Avid's own intro to this double CD set – "Born in 1931, Delloreese Patricia Early, began singing gospel music at an early age and was hired to sing in Mahalia Jackson's gospel group at age, only 11! Changing her name to Della Reese she began performing in nightclubs and fell under the influence of the great female jazz singers of the age, Ella Fitzgerald, Sarah Vaughan and Billie Holiday. Her singing career was defined by two long spells with major record companies, in 1953 she signed to Jubilee and later in 1959 to RCA. Our four fine selections show off the best of Della from both these periods. From Jubilee we have the wonderfully sultry, "What Do You Know About Love" and the themed concept album "The Story of the Blues" in which Della provides the introduction to each song. From RCA we present the sublimely lush albums "Della By Starlight" and "The Classic Della". A fitting tribute to a great lady of music who passed away only last year (2017) at the age of 86".
And here are our comments – this set comprises four brilliantly recorded albums in which Miss Reese is on top form – but – her style is for me (BH) slightly too formal, too good and not raw enough to make the first blues set anywhere near authentic. It's excellent – don't get me wrong – but she's more a cabaret or stage show singer than a jazzer. There's a lack of that rawness that brings soul to the blues. When it comes to more standard repertoire like "It Got it Bad", "These Foolish Things" and "Two Sleepy People" she's superb. Della had a fine voice, a deep richness of tone and an excellent sense for the meaning of lyrics, that all adds up to the fact that here we have four very fine albums well worth adding to the collection. The first album here would be a perfect introduction to the blues for a newcomer to the music. BH 114-05-18.
+++++++++++++++++++++
Tenor Sax Four Classic Albums Avid Jazz AMSC1285
Avid have been providing a valuable service to those interested in the growth of modern jazz – by which I mean the music that developed primarily in America after the second world war and which grew out of the popular swing era. The Tenor Sax compilation focuses on four saxophonists who provide over two hours of inventive and enjoyable jazz in the company of various jazz associates who often went on to lead their own influential bands.
The two CDs begin with J. R. Montrose on his self named LP from 1956. This is the first of only six records Montrose made as leader and includes Horace Silver on piano, Ira Sullivan, trumpet with Wilber Ware and "Philly" Joe Jones respectively on bass and drums. This is an altogether swinging affair with material written by Montrose, Jones, as well as bassist Paul Chambers and trumper Donald Byrd. Montrose spent much of his career content to tour and play smaller venues both in the U.S., Belgium, Holland and Denmark. He always considerd himself an underground artist and whils this might have contributed to his relitive obscurity he was held in high esteem by other musicians and his reserved talent led historian and jazz writer David Brett Johnson to describe Montrose as 'The best tenor you never heard. '
Tenor players Charlie Rouse and Paul Quinichette feature on the second LP, The Chase Is On, recorded in New York in 1957. Rouse devoted much of his career to playing with Thelonius Monk, appearing on nearly all of Monk's records between 1959 to '68 and this outing with Quinchette is a good opportunity for the spotlight to fall on Rouse whilst at the same time listening in to a couple of tenor players enjoying their relaxed saxophone conversations. Quality accompanyment is provided by pianists Hank Jones or Wynton Kelly, Freddie Green plays guitar, Wendell Marshall is on bass with Ed Thigpen playing drums. I found this a good listen and maybe its a shame that Charlie Rouse didn't make more records under his own name.
The second Avid features two saxophonists who were new to this reviewer – Don Wilkerson and Fred Jackson. Don Wilkerson – The Texas Twister is a 1960 recording produced by Cannonball Adderly that features Wilkerson in the company of Nat Adderley on trumpet, Barry Harris, piano, Leroy Vinegar or Sam Jones on bass and Billy Higgins playing drums. Good solid and muscular playing all round with a particularly fine performance of Wilkerson's own Jelly-Roll blue where he plays muted sax. In a relatively short career – Wilkerson died when he was 54 – this a good chance to hear a musician who only released four records under his own name.
Fred Jackson made only one record as leader and Avid give you the chance to enjoy it – Hootin' 'N Tootin' from 1962 on this compilation. Jackson was very much an R&B and soul jazz player and he began his career with Little Richard's band in the early 1950's before recording with Lloyd Price and B.B. King. Hoot' 'N Tootin' features Jackson with Willie Jones on guitar, Earl Vandyke, organ and Wilbert Hogan on drums playing all Jackson composed material. Hot and soulful if how I'd describe the record; Jackson's enthusiasm for the music is obvious – he's a suprisingly agile improvisor – and plenty of room is given for Jones, Vandyke and Hogan to strut their stuff. Again, it seems a pity that Jackson didn't concentrate more on his jazz playing. Soon after this record he concentrated mostly on R&B and largely disappeared from the jazz scene.
Thanks to Avid for making these hard-to-get records available again. the albums from which these CDs are compiled are as follows – J.R. Montrose – J.R.Montrose; Charlie Rouse & Paul Quinichette – The Chase Is On; Don Wilkerson – The Texas Twister; Fred Jackson – Hootin' 'N Tootin'. Dave Puddy 16-04-2018.
++++++++++++++++++++++
Horace Silver Four Classic Albums Second Set Avid Jazz AMSC1287
This is the second Horace Silver compilation from Avid to be reviewed in Jazznotes and features material by the pianist from 1952 through to the early 1960's. These were the years where classic early bebop moved towards the more bluesy and funky hard bop and Silver was at the forefront of that change in jazz styling. New Faces New Sounds frrom '52 does just what it says on the label with Silver in the company of Curley Russell or Gene Ramsey on bass and, more importently, Art Blakey on drums showing the world where jazz would travel in the coming decade. The tracks on this LP are mostly short – three minutes or less – Silver compositions with a punchy and rhythmic edge that must have been a revelation when first played. They're still pretty exciting 60 years on.
Horace Silver & The Jazz Messengers from three later features Silver in the more impressive company of Hank Moberly on tenor, Kenny Dorham playing trumpet and Doug Watkins on bass with again Blakey sitting high on the drum kit. In general this is more of the same but by now confidence is growing , the numbers get longer and the individual musicians strut their stuff with an ever increasing joie de vivre. These were indeed exciting jazz times. Outstanding for me is the swaggering blues Creepin' In and what was to become a Silver favourite, The Preacher.
For the final two LP's we move to the early 1960's with Horace-Scope and The Tokyo Blues. Silver was born under the astrological sign of Virgo and this obviously facinated Barbara J.
Gardner who wrote the original liner notes: ' To be born under the banner of Virgo indicates a tendency to get things done properly and on time. Your interest and feeling for dramatics and music is strong.' Well, you don't get liner notes that anymore. However, I personally am not too sure of the link between astrology and jazz but Silver's interest and feeling for the music is certainly evident on this disc which includes an interesting re-working of Horoscope from the New Faces New Sounds record and which appears now as Horace-Scope.
The Tokyo Blues is dedicated to Silver fans who enthusiastically welcomed him to Japan where the pianist toured early in 1962 and includes all Siver material where he attempts to combine a Japanese feel with Latin moods that Japanese listeners particualrly enjoy. Again, this is fine, rhythmically strong and inventive hard bop with a front line featuring Junior Cook on Tenor and Blue Mitchell playing trumpet and it is worth noting that by now the Quintet are able to extend their improvisations to over twelve minutes – compare that to tunes on the first record of this collection.
All round this is yet another value-for-money collection from Avid and these releases are a good way to both extend or begin a collection of jazz records that illustrate of a significant period of modern jazz history.
LPs included n this set – Horace Silver Trio – New Faces New Sounds 1952; Horace Silver and the Jazz Messengers 1955; The Horace Silver Quintet – Horace-Scope 1960; The Horace Silver Quintet – The Toko Blues 1962. DavePuddy 08-04-18.
https://youtu.be/e48tiLrJ6NA
+++++++++++++++++++++
Alto Sax – Four Classic Albums on two CDs – The artists are – James Moody, Lou Donaldson, Paul Horn and Jimmy Woods. Avid Jazz ref AMSC1292.
Here's what Avid's "in house" expert has to say about this compilation – "AVID Jazz is proud to introduce an exciting new addition to our Four Classic Album series, Four Classic Jazz Instrumentalists. We continue with Four Classic Jazz Alto Saxophonists, a re-mastered 2CD set complete with original artwork, liner notes and personnel details.
"James Moody: Last Train From Overbrook"; "Paul Horn: Something Blue"; "Lou Donaldson: Sunny Side Up" and "Jimmy Woods: Awakening"
For our next release in this new series we have chosen a diverse range of jazz alto saxophonists who released their debut albums from the mid 1950s to the early 1960s. James Moody had a long career in jazz beginning in the 1940s and stretching into the 2000s! Perhaps best known for his work with his life-long friend Dizzy Gillespie with whom he spent many years both recording and touring with. When he wasn't with Dizzy he managed to find the time to play with the likes of Miles Davis, Lionel Hampton and Max Roach as well as leading his own fine bands on many splendid albums under his own name. We feature his "Last Train From Overbrook" recorded in Chicago in 1958 after he had recovered from a spell in a mental asylum (For his Four Classic Album release check out AMSC1261). Paul Horn presents jazz with a little bit of an edge with his quintet work "Something Blue" where he is joined by Paul Moer, Earl Richards, Jimmy Bond and the great Billy Higgins at the drum stool. Lou Donaldson like many great alto players was inevitably influenced by the mighty Charlie Parker during his early bebop days before developing his own more distinctive soulful and bluesy style. In his long and prolific career, which still continues to this day, Lou has played with just about anyone who is anyone in the jazz firmament. Beginning his recording career in the 1950s working with the likes of Art Blakey, Thelonious Monk, Blue Mitchell, Horace Silver and Clifford Brown, he went on to make many great soul jazz albums in the 1960s with the likes of Grant Green, George Benson, John Patton, Lonnie Smith and Charles Earland. Our selection still finds Lou in his hard bop phase and features Horace Parlan, Bill Hardman, Al Harewood, Sam Jones and Layman Jackson (For his Four Classic Album release check out AMSC1251). Jimmy Woods was another jazz musician who started his musical career playing in R&B bands before turning to jazz. He played with the likes of Ray Milton, Joe Gordon (AMSC1293), Elvin Jones, Harold Land, George Tucker and the great and late lamented pianist Andrew Hill. According to our enquiries, Woods retired from the music business in the late 1960s and was never really heard from again! That's a shame, because this album is a corker!"
For me (BH) however these albums didn't impress. In general I found them pretentious and lacking in excitement. Many tracks appeared to be in minor (sour!) keys and were consequently depressing. I like my modern jazz hard, exciting and swinging. There is too little of those factors here for me on many of the tracks. But don't necessarily take my word for it. Try a Lou Donaldson track from this set – you can hear it using the link below. The trumpet man by the way is the great Bill Hardman. (BH 06-04-2018).
+++++++++++++++++++++
Jeri Southern – Four Classic Albums on two CDs – "The Southern Style"; "A Prelude To A Kiss"; "Southern Breeze" and "Coffee, Cigarettes & Memories" – Avid Jazz ref AMSC1291.
Here's Avid's intro to this bargain-price set – "Jeri Southern started her musical career as a pianist having been classically trained from an early age. During her musical training she had become interested in jazz and during the 1940's duly took off to begin her musical life playing the clubs. It was in these clubs that she began singing and was eventually signed to Decca in 1951. During the 1950's Jeri made a string of outstanding albums of which we have chosen what we consider to be four of her best. Her singing style was quintessentially what became known as the "torch" style of jazz singing, world weary and somewhat downbeat, it was perhaps overlooked by some listeners because of it. However we think she was fabulous, as did many of the great names in jazz who had the privilege of accompanying her. That list would include the following…Marty Paich, Herb Geller, Georgie Auld, Don Fagerquist, Bud Clark and Mel Lewis."
Sadly for me (BH) – although Miss Southern interprets her songs well, sings in key and keeps good time she fails to "inhabit" the lyrics – to own them and therefore to put them over convincingly. Maybe it's a taste thing – that she's just not my cup of java. Try a sample track and see what you think. PS – afterthought – these tracks would make great background for an evening of gentle seduction…… (BH 05/04/18)
+++++++++++++++++++++
Peggy Lee – Four Classic albums on two CDs – Avid Jazz ref AMSC1290
Avid's own intro to this very fine set reads – "AVID Jazz continues with its Four Classic Album series with a re-mastered 2 CD release from Peggy Lee, complete with original artwork, liner notes and personnel details
"Dream Street"; "The Man I Love"; "Jump For Joy" and "Blues Cross Country'"
At last, the wait is over, we hear you cry! AVID have finally inducted Miss Peggy Lee into the 4 Classic Albums "hall of fame"! Ok so we have taken our time in paying tribute to the great lady, but we wanted to get it right, we wanted to select the best albums that truly captured Miss Lee's huge vocal talents. Peggy Lee spent most of her recording career at Capitol Records which she joined in 1947. She had a short break between 1952-56 where she recorded for Decca, and ironically made one of her greatest albums "Black Coffee" (AVC876). We feature three albums for her Capitol years, a couple of classics arranged by the legendary Nelson Riddle, "Jump For Joy" and "The Man I Love" which also features conducting duties by that other rather famous Capitol Records artist, Mr Frank Sinatra! These two are joined by another classic "concept" album "Blues Cross Country" arranged and conducted by Quincy Jones. To round off our selections we feature the extraordinarily intimate "Dream Street" recorded by Peggy for Decca in 1956. And if you need any further proof of the regard Peggy Lee was held in by the jazz fraternity, take a look at some of the names that appear on our selections. Harry "Sweets" Edison, Pete Condoli, Mel Lewis, Shorty Rogers, Bud Shank, Bob Cooper, Bill Perkins, Lou Levy, Max Bennett, Benny Carter and Buddy Collette. Oh and did we mention Nelson Riddle, Frank Sinatra and Quincy Jones?!"
There's not much to add (writes BH) to Avid's excellent notes except to say that Lee's uniquely personal delivery gives you the feeling that she's almost in the room with you – it's a gentle highly intimate thing that few if any other girl singers ever achieved. She really is unique and there are many magic tracks here that stand the test of time. Try for example her version of the Duke Ellington – Ben Webster composition "Jump for Joy" or Count Basie's "Goin' to Chicago Blues" – which is a Basie, Jimmy Rushing piece. Verdict – jazz magic.
+++++++++++++++++++++
Jazz trumpet – Louis Smith – Booker Little – Johnny Coles – Joe Gordon – Avid Jazz double CD album ref AMSC1293.
Here is what the experts at Avid have to say about this release – our comments are further on…..
AVID Jazz is proud to introduce an exciting new addition to our Four Classic Album series, Four Classic Jazz Instrumentalists. We continue with Four Classic Jazz Trumpets, a re-mastered 2CD set complete with original artwork, liner notes and personnel details.
"Louis Smith: Here Comes Louis Smith"; "Booker Little: Booker Little"; "Johnny Coles: The Warm Sound" and "Joe Gordon: Lookin' Good"
For our next release in this new series we have chosen a diverse range of jazz trumpeters who released their debut albums from the late 1950s to the early 1960s. Louis Smith, a classic case of what might have been? Louis Smith made two classic albums in the 1950s before deciding to leave the music business and enter academia. He returned to recording briefly in the 1970s before disappearing again, only to emerge in the 1990s and 2000s with a string of albums. While, of course, we applaud his personal decision, we can't help wondering what he might have gone on to do with his prolific talent. And we suspect many of the jazz greats who played with him might have thought the same thing….and the list is impressive….Cannonball Adderley (Buckshot La Funke), Duke Jordan, Tommy Flanagan, Art Taylor, Dizzy Gillespie, Miles Davis, Count Basie, Sonny Stitt, Donald Byrd, Kenny Dorham and Zoot Sims. Booker Little, coincidently, Booker Little was the cousin of our first featured artist, Louis Smith, however, unlike his cousin, Bookers career was tragically cut short by his early death at 23 years of age. During this short time he worked primarily alongside Eric Dolphy and Max Roach taking time out to record his album "Booker Little" in 1960 which included the fine line up of Wynton Kelly, Tommy Flanagan, Scott La Faro and Roy Haynes. Johnny Coles had a prolific career primarily as a sideman starting out in the early R&B bands for the likes of Earl Bostic and Eddie Vinson before moving into the jazz arena working with Gil Evans, Miles Davis, Duke Ellington, Mingus, Art Blakey, James Moody and Tina Brooks. He went into the studio with Kenny Drew, Peck Morrison and Charlie Persip to make the classic debut "The Warm Sound" in 1961. Joe Gordon was another fine bop trumpeter who only got to make a couple of albums as leader before tragically dying in a house fire at age 35. He was best known as a sideman for the likes of Charlie Parker, Lionel Hampton, Art Blakey, Dizzy Gillespie. Horace Silver, Thelonious Monk, Benny Carter, Shelley Manne and Dexter Gordon. In 1961 he went into the studio in L.A. and cut "Lookin' Good" featuring eight of his own compositions and a band that included his long time friend, the fine altoist Jimmy Woods (AMSC1292) The songs were good, the playing even better, indicating the promise of more to come but which tragically remained unfulfilled.
And now here are Jazz Notes comments – whilst all four trumpet men featured here all show a remarkable inability to play with much sensitivity or emotion there are a few gems if you search for them. Technique they have in spades but feeling and excitement of the kind we find in much "hot" jazz is in short supply. There are moments of high art and enjoyment like Johnny Coles fine "Come Rain or Come Shine" and all of the tracks on which Louis Smith plays with wonderfully toned open unmated horn. For the low price that Avid charge -there is much to feel is a bargain here but you'll have to search for it. BH 02/04/2018
+++++++++++++++++++++
Jackie McLean Four Classic Albums Second Set Avid Jazz ref AMSC1288.
Saxophonist Jackie McLean was one of the finest be bop alto players and although not as well known as the likes of Charlie Parker, Sonny Rollins or Dexter Gordon, McLean made over 50 records as leader and a similar number as sideman during a career that stretched over 50 years and throughout he was highly regarded as both a player and later a much sought after jazz educator.
This fine Avid compilation features four Prestige and Blue Note LP's recorded between 1956 to '61 and together they give a picture of the intense and fluent playing of McLean during these years. McLean was a close friend of Charlie Parker and the influence of Parker's driving and exuberant creativity certainly are evident in McLean's approach to his music.
Lights Out! from 1956 opens the set and includes the original Ira Gitler liner notes which are interesting in their own right for the discussion around the importance of recording certain players in dimly-lit studios where a laid-back and late night feel is required of the jazz. This is true of the mood created on this disk and I'm particularly fond of the beautiful version Gershwin's A Foggy Day with Donald Byrd's muted trumpet solo.
A range of sidemen are included on the records and stand-outs include the trumpeters Donald Byrd, Tommy Turrentine, Blue Mitchell and Freddie Hubbard, pianists Kenny Drew, Elmo Hope and Walter Bishop, with Art Taylor, Billy Higgins and Pete La Roca on drums and Doug Watkins and Paul Chamber playing bass. You can hardly go wrong with musicians like this playing alongside. All four records include material composed by McLean and other band members and this adds to the compelling group feel of the playing.
The remaining records continue to demonstrate McLean's open and expressive style with the driving and blues-drenched aptly named Bluesnik from 1961 being my particular favourite.
Jackie McLean died in 2006, the same year he was elected to the Down Beat magazine illustrious Hall of Fame. A fitting tribute to one of jazz's finest and this great value compilation does the musician credit.
The albums these two CDs are compiled from are – Jackie McLean – Lights Out! 1956; Jackie McLean – Capuchin Swing 1960; Jackie McLean – Bluesnik 1961; Jackie McLean – A Fickle Sonance 1961. Dave Puddy
+++++++++++++++++++++
Chet Baker Sings Four Classic Albums Second Set Avid Jazz ref AMSC1283
The life and career of Chet Baker is too well known to repeat here but maybe less familiar is the fact that beside recording dozens of records featuring Baker on trumpet or piano he put out a number of discs where his voice is the focus of the music and this Avid collection of four L P's from the 1950's is an excellent place to get acquainted with that side of his output.
By the time the first of the Avids was originally released in 1954 Baker had already been voted Down Beat Readers poll winner as jazz vocalist and on this and all three subsequent LP's he sings with an assured confidence material from a wide range of composers including Gershwin, Rogers & Hart, Van Heusen and Mercer. On the other hand there is not one compostion credited to Baker himself – an interesting fact given that he was not shy in playing his own material on trumpet.
All four records are exemplory of West Coast Cool jazz and Baker's unique, silky and melliferous voice fits this style perfectly. My only criticism of the collection is that all four records put together come across as a rather too rich black forest gateau concoction, something emphasised by the inclusion of strings on two of the disks. Fine, however, if you like your puddings. On the other hand there are plenty of delightful tracks which feature Baker singing and playing tunes that he made his own within the vocal jazz repetoire – Someone To Watch Over Me, My Funny Valentine and When I Fall In Love are just a few.
Sidemen on the records include Russ Freeman, Bud Shank, Kenny Drew and Philly Joe Jones.
Overall this is another great value collection from Avid featuring some CD's that are not too easy to find individually these days. And don't tell anyone, but I'm off for another helping of desert.
The albums these two CDs are compiled from are – Chet Baker – Sings and Plays with Bud Shank, Russ Freeman & Strings. 1955; Chet Baker Sings. 1954; Chet Baker Sings – It Could Happen To You. 1958; Chet Baker Sings And Plays With Len Mercer and his Orchestra – Angle Eyes. 1959. Dave Puddy
+++++++++++++++++++++
Four Classic Albums – "Presenting The Gerry Mulligan Sextet", "A Profile Of Gerry Mulligan", "Mainstream Of Jazz", "The Gerry Mulligan Songbook – Original recordings remastered from four LPs to two CDs. Avid Jazz ref AMSC1282.
This is the third fine Avid collection comprised of early Gerry Mulligan LPs and includes material recorded between 1955 and '57. This was a prolific period for the distinctive baritone saxophonist and the Avid double CDs reviewed here include just four LPs from the fourteen records made during those three busy years. Will we soon see the rest?
Mulligan hit his jazz career running. Starting out as an arranger for local big bands when he was just 16 he moved to New York when he was 19 and after stints arranging and playing with the Gene Krupa and Claude Thornhill bands when in 1948 Miles Davis formed a nine-piece band he included Mulligan as arranger and baritone player. It was this group that went on to make the seminal "Birth of the Cool" album in 1949/50. Following a lengthy period touring and recording with his famous piano-less quartet, Mulligan led a variety of baritone, tenor, drums and bass groups augmented by various other fine and emerging bebop musicians throughout the rest of the 1950's. It's from this period these Avids are culled.
"Presenting the Gerry Mulligan Sextet" is the first of the records and Mulligan is on fine form with Zoot Sims on tenor, Jon Eardley playing trumpet, Bob Brookmeyer the distinctive trombonist, and John Morrison with Dave Bailey on bass and drums respectively. All eight tracks are a pleasure with Mulligan's skill as arranger immediately apparent. He plays elegantly with Sims and Brookmeyer – including a beautiful quartet version of "Everything Happens to Me" with an anonymous piano played probably by Brookmeyer.
"A Profile of Gerry Mulligan" was recorded in 1955/6 with much the same line-up except William Crow swaps bass with Morrison on some tracks and Don Ferrara plays trumpet on a couple of numbers. Highlights include a beautiful arrangement of Ellington's "Moon Mist" and a rare Mulligan piano solo on his own "Blues".
"The Mainstream of Jazz" is the confident title of the third LP extracted from here and Mulligan and the band demonstrate an ever increasing level of musical rapport. Mulligan and Sims obviously enjoy sparring together and overall the record certainly achieves Mulligan's desire stated in the liner notes of creating 'that juke-box-Saturday-night sort of mood.'
"The Gerry Mulligan Songbook" dates from 1957 and concludes this enjoyable compilation featuring Lee Konitz on alto sax, Allen Eager and Zoot on alto and tenor, Al Cohn, tenor and baritone, Freddy Green playing guitar with Henry Grimes and Dave Bailey on bass and drums. All the numbers are Mulligan compositions and for this record he hands over arranging duties to Bill Holman. This is a feast of saxophone playing by some of the finest musicians of the time and for a bonus you get erudite liner notes by the renowned Nat Hentoff.
Gerry Mulligan remains one of the giants of modern jazz. As composer, musician and arranger his output was phenomenal and if you want a bargain price addition to your collection of early period Mulligan this is thoroughly recommended. DavePuddy 21/02/18
++++++++++++++++++++
Red Garland – Four Classic Albums – "A Garland Of Red", "All Mornin' Long", "Groovy", "All Kinds of Weather" – Two CDs ref AMSC1280.
When you're the pianist of choice with both Miles Davis and John Coltrane in the mid 1950's then your career is off to a flying start. Things are looking even better if you've landed a recording contract with Prestige records and there's a further plus if you're based in New York during those heady jazz days that have probably never been repeated. So, thumbs up to Red Garland for all this. That said, he is quite able to be judged on his own talent which combines a thoughtful, lyrical and often and blues-based style and these four Avids all recorded in the famous Rudi Van Gelder studios between 1956 and 1958 present a good cross section of Garland's music during these years. Three of the records feature Garland with his regular trio members of Paul Chambers on bass and Arthur Taylor playing drums but for me the real treat is are the tracks from the LP "All Mornin' Long" featuring Garland with John Coltrane, trumpeter Donald Byrd, George Joyner on bass and Taylor on the drums.
The collection opens with "A Garland of Red" from 1956 and you could be forgiven for not realising this is Garland's first release as leader. By this time he had already recorded with Davis – including several sessions with the classic Davis/Coltrane quartet from the same year – and "A Garland" oozes a confident lightness of touch that eventually become a hallmark of Garland's playing. He gives his side men plenty of space which makes this very much a trio session and the numbers range from an atmospheric "A Foggy Day" to the self composed and ruminating "Blue Red".
The other two trio discs are "Groovy" from '57 and "All Kinds Of Weather" recorded a year later, and both continue the graceful and thoroughly listenable jazz of Garland's first disc. The latter record is interestingly themed and should appeal to anyone looking for a new angle when talking about the rain or whatever over the garden fence.
Last and certainly not least John Coltrane and Donald Byrd immediately raise the temperature with Garland's composition "All Mornin' Long" on the fourth LP that this great value Avid collection contains. At 20 minutes long this helped set the bar for much of the saxophonist's later explorations and all band members make the most of strutting their stuff on what would have been a whole side of the original LP.
Red Garland was happy to acknowledge his musical influences as Art Tatum, Nat Cole and Bud Powell. Fair enough, but for my money Garland has provided much inspiration to following generations of jazz pianists and this Avid is a good place to discover his early talent for yourself.
Dave Puddy 1/2/2018
++++++++++++++++++++
Don Ellis – Three Classic Albums Plus – "How Time Passes", "New Ideas", "Essence", "Charles Mingus Dynasty" 4 x tracks featuring Don Ellis. Avid Jazz double CD ref AMSC1279.
Here's Wikipedia's intro to their extensive biog of Mr Ellis. "Donald Johnson Ellis (July 25, 1934 – December 17, 1978) was an American jazz trumpeter, drummer, composer, and bandleader. He is best known for his extensive musical experimentation, particularly in the area of time signatures. In later life he worked as a film composer, contributing a score to 1971's "The French Connection" and 1973's "The Seven-Ups".
It's owning-up time! I like my jazz hot or at least pretty warm, with emotion, with clarity of purpose and direction and without unnecessary dissonance. This double set has all my hates in spades but – hold on – it's also brilliant for the superb musicianship on show, for the time experimentations that were an Ellis speciality and for one track – "Things Ain't What They Used to Be" – from the Charles Mingus album on which Ellis was featured. Otherwise this display of pretentious emotionless ego tripping is for me a no-no. But if you like yout jazz ice cool and highly complex and technical then rush an order to Avid right now.
This review posted 31/01/2018 – BH
+++++++++++++++++++++
Chet Baker – Three Classic Albums Plus – Avid Jazz ref AMSC1274
Chet Baker began his recording career in 1952 and ended it 36 years later during which time he produced some of his generation's finest jazz trumpet on record. Whilst the story of his often colourful and ultimately tragic life has been told many times and often with a focus on his later life this Avid collection concentrates on the 1950's and early '60's when Chet was making music that gained him international accolades including winning Down Beat and Metronome magazine readers' polls, even beating another upcoming trumpeter called Miles Davies.
Chet Baker – In New York, the first of the Avids, dates from 1958 by which time he had played and recorded with the likes of Jerry Mulligan, Shelly Mann and Art Pepper and the confidence gained from these sessions is immediately apparent. Beautiful, open-toned and laid back are just a few of the ways to describe Chet when he was laying down his approach to what became known as West Coast Cool. But, and its a big But, on this record Chet plays with several musicians who were playing regularly in and around New York and as Orin Keepnews writes in his introduction, people use the terms East and West coast jazz at their peril. Johnny Griffin on tenor, Al Haig, piano, inventive Paul Chambers on bass and Philly Joe Jones (not credited on the listings) all contribute to a broadening out of Chet's playing at the time.
'Chet' from the following year continues in the same style but is perhaps more special for the inclusion of Herbie Mann on flute, Pepper Adams playing baritone and an early and rather tentative outing for the brilliant pianist Bill Evans. The music – all ballads – slips a few degrees towards the warm Californian sunshine and I'd suggest that if you want to woo a new girlfriend – or indeed boyfriend – this is the kind of record to play whilst you stoke up the wood burner and bring out a bottle of fine red wine. From the smoochy LP cover photo Chet obviously has the same thing in mind.
Three years on and Chet Baker is now living and playing regularly in Europe and the LP 'Chet Baker Sextet – Chet is Back' finds the trumpeter recording in Rome with Bobby Jasper on sax and flute, Italian Amedeo Tommasi on piano, Belgians Rene Thomas playing guitar and Benoit Quersin on bass and Swiss drummer Daniel Humair. This is a faster paced and less introverted record and as a consequence Baker seems less at home than on the previous disks. That said, the rhythm section and Tommasi in particular swing along wonderfully and this is a rare opportunity to hear these European players together.
The Avid collection ends with three tracks which were scores from an obscure 1959/62 film Big Deal On Madonna Street. This features an all Italian group of musicians led by pianist Piero Umillani plus a string section. Slightly reminiscent of Miles Davies' work for the film L'Ascenseur pour l'echafaud this is a brief – and rather tantalising – glimpse of another side of Chet's musical life.
Maybe not a top drawer selection of Chet Baker's huge output, but thanks again to Avid for making available some lesser known but all the same thoroughly entertaining Chet Baker LPs. Dave Puddy
+++++++++++++++++++++
Johnny Lytle – Four Classic Albums – "Blue Vibes", "Happy Ground", "Nice and Easy", "Moon Child". Avid Jazz AMSC1275.
Johnny Lytle (1932-1995) was a vibraphonist and drummer who made many albums with a wide variety of sidemen but never achieved major recognition. The reason for that it's thought is because he moved from label to label so many times, being concerned that if he stayed in anyone place for too long he'd lose control over his music. He had "fast hands" and was thought by Lionel Hampton to be the best vibes player in the world. Sadly that comment took no account of Milt Jackson of The Modern Jazz Quartet fame! On the four LPs condensed into the two CDs here Lytle's heard with small groups three of which contain his favourite sideman Milton Harris on a Hammond B3 organ. That's my favourite organ sound (I (BH) also play a Hammond!) and I don't like the jerky intrusive part he plays in the group's work – to my mind he spoils the leader's flow of ideas. One of the LPs contents included here "Nice and Easy" doesn't have Mr Harris as one of the participants but instead tenor man Johnny Griffin is included and his great ideas and storming tone make that set the standout. Overall this is not one of Avid's best releases. Interesting yes – worthwhile – debatable!
++++++++++++++++++++
Sidney Bechet Second Set – Five Classic Albums Plus – "On Parade", "Ambiance", "Deux Heures Du Matin Au Vieux-Colombier", "Rendez-Vous", "Bechet Revient", "Airs Du Film Serie Noire", "Un Ange Comme Ca", "L'inspecteur Connait La Musique" – Avid double CD ref AMSC1278.
Wikipedia's entry for Bechet opens with this paragraph – Sidney Bechet (May 14, 1897 – May 14, 1959) was an American jazz saxophonist, clarinetist, and composer. He was one of the first important soloists in jazz, beating trumpeter Louis Armstrong to the recording studio by several months.[1] His erratic temperament hampered his career, and not until the late 1940s did he earn wide acclaim.
Bechet was a child prodigy and even before he was in his teens bandsmen would call at his home to ask his parents whether they would allow him to play with them at concerts and dances. He was that good that he could hold his own with the giants whilst still even in short trousers – "knee pants" as the Americans call them. Before long he was a fully fledged musician playing with jazz giants like Freddy Keppard and Bunk Johnson. He joined Will Marion Cook's Syncopated Orchestra and travelled with them to Europe playing at the Philharmonic Hall in London. It was also in London that he was arrested for assault and deported back to the USA! That was not however before he had discovered the soprano saxophone which became his instrument of choice for the rest of his life. Back in the USA he recorded with Louis Armstrong – one of the hottest jazz records of all time – with the group labelled "The Red Onion Jazz Babies".
So in this collection of 48 tracks Bechet is very much the star soloist. He rarely mixes it in free-wheeling improvisation with the bandsmen and they – aware of his towering solo genius – wisely sit back and provide excellent backing. There are also tracks on these two CDs from a couple of moody French films and Bechet's always deeply emotional tone and variations are perfect for these highly Gallic settings. In summary this is a fine release containing some classic tracks like "Si Tu Vois Ma Mere", "Dans Les Rues d'Antibes"", the famous hit "Petite Fleur" – which he of course wrote – and standards like Django Reinhardt's "Nuages". Verdict – a great couple of albums provide a super opportunity to hear one of New Orleans two greatest soloists in his pomp.
+++++++++++++++++++++
James Moody – Four Classic Albums – Avid Jazz double CD ref AMSC1261
Born in 1925, James Moody began his professional life playing alto and tenor saxophones with the Dizzy Gillespie band in 1946 before moving to Paris where he worked with Miles Davies and Tad Dameron after which he toured and recorded in Europe with Max Roach. Not a bad start to career that stretched into the early part of this century.
Moody returned to the USA in 1952 and soon after began leading his own groups when he added flute and vocals to his recordings. This fine Avid collection brings together four L P's recorded between 1955 and 1957 and is highly representative of the leader's output at this time when he plays in a seven piece band that features the addition of singer Eddie Jefferson on the final three discs.
'Wail, Moody, Wail' begins the compilation where Moody is joined by Dave Burns on trumpet, Pee Wee Moore playing baritone, William Shepherd on trombone with Jimmy Boyd and John Latham on piano and bass and Clarence Johnson on drums. Moody comes across as a forceful improviser and he demonstrates the sinuous style that was to become his hallmark. The other musicians – most of whom are new to me – provide strong support and while there are no obvious high points on the disk, 'Wail, Moody, Wail' is a thoroughly enjoyable listen.
From the first moment of the 1956 'Hi Fi Party' Moody and the band have moved up a gear. The arrangements seem sharper, the solos more finely drawn with the musicians creating a big band sound that far larger groups would have been pleased with. Moody became well known for his genial stage presence and the general party mood of the record is emphasised on the third track where band members are encouraged to talk among themselves and call out encouragement to the soloists. Maybe a touch contrived but good fun all the same.
The other two albums contained on the second Avid CD are Flute 'N The Blues and Moody's Mood For Love and these introduce Moody adding flute to his alto and tenor saxophones. Both disks are notable for the highly individual contribution of singer Eddie Jefferson who became well known for being an innovator of vocalese – a vocal style where lyrics are set to instrumental compositions or solos. He was widely recorded during the next three decades, including a vocal version of the Miles Davies composition 'So What'. It seems he and James Moody enjoyed working together, and they collaborated on nine records before Jefferson came to a sticky end being shot outside a Detroit nightclub in 1979. Singer Van Morrison cites him as one of his formative influences. These two Moody albums also features trumpeter Johnny Coles. A fine and rather ignored musician with a lovely open tone and capable of some beautiful melodic improvisations he proves that there were other great trumpeters of the period beside Miles Davies or Dizzie Gillespie. And, oh yes, James Moody is no mean flautist either.
As autumn sets in and winter approaches this Avid collection provides some perfect listening in front of an open fire. And if you're up for it enjoy a highly individual version of I'm In The Mood For Love from the final disk. Cheers, Avid Records. Dave Puddy
+++++++++++++++++++++
Horace Silver – Four Albums – Avid Jazz double CD ref AMCD1260
I think Horace Silver must have kept a camp bed in the recording studios of Blue Note, Verve and Columbia records. Well, how else would he have found the time to record 36 studio albums, 3 live ones, put together 7 compilations and 37 singles, record 5 albums with his group The Jazz Messengers plus find time to record 42 albums as a side man during a career that stretched from 1946 to 2004. No wonder Mrs Silver complained that she never saw him – or maybe not. Looking through Silver's discography and the musicians he played with is like exploring a jazz whose-who of the 1950's, 60's and 70's. Miles Davies, Art Farmer, Sonny Rollins, Stan Getz, Coleman Hawkins, Art Blakey, Milt Jackson are only a few of the lumineries who have played with Silver and his influence on the early American modern jazz scene is enormous both as musician, composer and arranger.
The four albums collected here by Avid stretch from 1956 to early 1959 and offer an early picture of both Silver's playing and leading his own groups after leaving Art Blakey's Jazz Messengers. Horace Silver was renown for playing a strongly rhythmic and melodic style of jazz and he was in the forefront of moving the bebop of the time into what become known as hard bop with its emphasis on a funkier and more blues drenched sound. The first of the Avid compilation – '6 Pieces of Silver' finds Silver in the company of Hank Mobley on tenor sax, Donald Byrd on trumpet with Doug Watkins and Louis Hayes on bass and drums respectively and perfectly illustrates the musical direction Silver was to take for the next 20 or so years. Latin beats, moody blues and forceful straight ahead numbers are all included and Silver mixes both whole group numbers and playing just with bass and drums as accompaniment. Six out of the seven pieces are Silver compositions and this is a feature of all four albums.
'6 Pieces of Silver ' is followed by 'Further Explorations By The Horace Silver Quintet' from 1958, 'The Stylings of Silver' made in 1957 and 'Finger Poppin with the Horace Silver Quintet' from 1959. And front line musicians include trumpeters Art Farmer or Blue Mitchell with Clifford Jordan or Junior Cook on tenor sax.
Not one of the albums disappoints. Silver was a truly wonderful composer and the range and variety of the numbers never fails to excite. Rhythmically challenging, melodically inventive and the title of the '59 disk is the perfect description of all four records. The pianist is the obvious and very creative leader but he always leaves plenty of room for other band members to strut their stuff – for me Art Farmer often seems to stand out and his open, clean and clear trumpet playing fits the hard bop style of jazz perfectly.
The Avid collection includes fine original liner notes by Leonard Feather and Nat Hentoff – two of the most respected jazz critics of the period and these add a further bonus to what is a great collection of early Horace Silver material. Whilst to some ears silence may indeed be Golden, if you want superb jazz sounds I'd suggest Silver is a great alternative. Dave Puddy
https://youtu.be/SmXjWTyTHiM
++++++++++++++++++++
Max Roach – Four Classic Albums – "Max Roach Plus four – Quiet as it's Kept", "Percussion Bitter Sweet", "We Insist – Max Roach's Freedom new Suite", "Max Roach his Chorus and Orchestra – It's Time". Avid Jazz double CD ref AMSC1270.
Maxwell Roach(January 10, 1924 – August 16, 2007) was an American virtuoso jazz drummer and composer.
A pioneer of bebop, Roach went on to work in many other styles of music, and is generally considered alongside the most important drummers in history.[1][2]He worked with many famous jazz musicians, including Coleman Hawkins, Dizzy Gillespie, Charlie Parker, Miles Davis, Duke Ellington, Thelonious Monk, Charles Mingus, Billy Eckstine, Stan Getz, Sonny Rollins, Eric Dolphy, Booker Little, and Robert Stewart. He was inducted into the Down Beat Hall of Fame in 1980 and the Modern Drummer Hall of Fame in 1992.[3]
Roach also led his own groups, notably a pioneering quintet co-led with trumpeter Clifford Brownand the percussion ensemble M'Boom, and made numerous musical statements relating to the Civil Rights Movement.
That's just a section of Wikipedia's major entry for Mr. Roach – a complex character not content to be a "mere" drummer – a man always looking for new ways in which to express his art. In the four albums (LPs) condensed into the two CDs presented by Avid here we see a wide range of this aspect of the man. The first albums sees him with his five piece featuring Stanley Turrentine on tenor sax, his brother Tommy on trumpet, the amazing Julian Priester – trombone and Bob Boswell on bass – plus of course Max on drums. This excellent driving hard bop session dates from July 1959 whilst the next album "Bitter Sweet" is from 1961 and features a nine-piece plus Max' wife – the superb vocalist Abbey Lincoln. In this ambitious band the stars are Mal Waldron, Clifford Jordan, Eric Dolphy, Booker Little plus Max of course and two Latin percussionists. The music here is very forward looking, combining American jazz with a feeling for the music of central and North Africa. It's hard to describe in a few words but adventurous and most enjoyable if you free your mind as to what you expect! All the compositions here – bar one – are by pianist Horace Silver.
The first album condensed into the second CD here is a vigorous plea for more freedom for the American Negro prompted by the marches, diner "sit-ins" and other manifestations of black frustration during the early 1960s. It's powerful semi-political stuff mainly co-written by activist Oscar Brown jr and within this angry set are great jazz gems like the participation of Coleman Hawkins on one track and Booker Little (trumpet) on others. It's strong stirring stuff.
The fourth album included here is titled "It's Time" and is a feature for sixteen voices and the six piece jazz group using strange time signatures like 7/8 and a mix of 4/4/ and 2/4. Max wanted to use the voices as instruments and with the aid of Coleridge Parkinson as "chorus master" he's succeeded in creating six highly challenging tracks. Abbey Lincoln is of course a major player here as is bass singer Earl Baker. It's all fascinating stuff but whether it's jazz is another question.
+++++++++++++++++++++
Reverend Gary Davis – Three Classic Albums Plus – "American Street Songs – Harlem Street Spirituals", "Pure Religion and Bad Company", "Say No to the Devil", "A Little More Faith". Avid double CD ref AMSC1271.
Wikipedia's take on the Rev Gary goes like this – Reverend Gary Davis, also Blind Gary Davis(born Gary D. Davis, April 30, 1896 – May 5, 1972),[1] was a blues and gospel singer who was also proficient on the banjo, guitar and harmonica. His fingerpicking guitar style influenced many other artists. His students include Stefan Grossman, David Bromberg, Steve Katz, Roy Book Binder, Larry Johnson, Nick Katzman, Dave Van Ronk, Rory Block, Ernie Hawkins, Larry Campbell, Bob Weir, Woody Mann, and Tom Winslow.[2] He influenced Bob Dylan, the Grateful Dead, Wizz Jones, Jorma Kaukonen, Keb' Mo', Ollabelle, Resurrection Band, and John Sebastian (of the Lovin' Spoonful).
Blues researcher Paul Oliver who helped lead me in the right musical direction in the 1950s, said of the Reverend Gary Davis that he was "one of the great folk guitarists of our time, and one of the last of a great tradition". Certainly he was unique, being a street singer but not a bluesman although he could and did sing the blues. He was a brilliant original guitarist and a fine songwriter which means that virtually everything you hear on these fine albums is going to be new to you. He's very sincere in his preaching but never a bore and his guitar work is always fascinatingly original. This is a fine release that bears repeated hearings. Great stuff – well done again Avid.
++++++++++++++++++++
Art Blakey – "The second Set" – Four Classic Albums on two CDs – "The Jazz Messengers Moanin", "Mosaic", "The Big Beat", "A Night in Tunisia" – Avid Jazz AMSC1269.
Art Blakey(October 11, 1919 – October 16, 1990) was an American jazz drummer and bandleader. He was known as Abdullah Ibn Buhaina after he became a Muslim.[1]
Blakey made a name for himself in the 1940s in the big bands of Fletcher Hendersonand Billy Eckstine. He worked with bebop musicians Thelonious Monk, Charlie Parker and Dizzy Gillespie. In the mid-1950s Horace Silver and Blakey formed the Jazz Messengers, a group that the drummer was associated with for the next 35 years. The Jazz Messengers were formed as a collective of contemporaries, but over the years the band became known as an incubator for young talent, including Freddie Hubbard, Wayne Shorter, Lee Morgan, Benny Golson, and Wynton Marsalis. The Biographical Encyclopedia of Jazz calls the Jazz Messengers "the archetypal hard bop group of the late 50s".[2]
The indented paragraphs above are from Wikipedia's excellent Art Blakey entry and this superb Avid label compilation of four classic LPs fits snugly with that entry. My reasoning is that the four cover the period 1960 and 1961 when this classic band was at its peak The music here is not just "hard bop" it's classic HOT hard bop of the type that has been little heard since – at least with this degree of fierce excitement invention and passion. The stars here include Benny Golson, Lee Morgan, Bobby Timmons, Wayne Shorter, Freddie Hubbard and Curtis Fuller – what bands Blakey had. They set the tone for small band modern jazz for that era – and since. This is absolute classic stuff – important stuff. Don't pass it up. PS – here's a track from one of the albums.
https://youtu.be/YZphhNPkSPI
++++++++++++++++++++++
Nina Simone – Four Classic Albums – "The Amazing Nina Simone", "Nina Simone at Town Hall", "Forbidden Fruit", "Nina Simone at Newport". Avid Jazz double CD ref AMSC1268.
"Nina Simone – born Eunice Kathleen Waymon; February 21, 1933 – April 21, 2003) was an American singer, songwriter, pianist, arranger, and activist in the Civil Rights Movement. Simone employed a broad range of musical styles including classical, jazz, blues, folk, R&B, gospel, and pop."
Well – that's the on-line encyclopaedia Wikipedia's take on Nina – but does that intro and the long entry that follows it really tell Nina's story? The answer is yes and no. It tells the bare facts but the angst, anger and emotion that shaped her troubled life and work are really only hinted at. It's only when you hear the inner anger and passion evident in some of her recorded work or see film of her in action when her alter ego took over that you begin to understand the real Nina. You can expose yourself to a great deal of Nina's inner soul within the DVD tracks in a "Sound & Vision" release "Nina Simone the Essential Collection" which has revealing tracks from a Montreux Jazz Festival concert she gave in 1976. Hear in particular the track "Feelings" and make your own mind up.
For now however let's look at Avid's superb double CD release which combines four of Nina's LPs. There's a strong contrast between the studio recorded albums here – the first and third – and those recorded "live" in concert – i.e. the Town Hall set and that from Newport. In the studio albums she sings the songs beautifully but to my mind never "inhabits" them. They are less than convincing whereas when "live" she is quite sensational, totally convincing, full of emotive feelings and her piano accompaniments are dynamic – great creative jazz. So – what's the verdict? Simple – buy this album – there are classic tracks here – a great treasury. Well done Avid.
+++++++++++++++++++++
Sonny Clark – Four Classic Albums – Avid Jazz double CD ref AMSC1250.
The 1950's were an exciting time for jazz. Swing had been knocked of its perch in the 1940's by the exciting emergence of bebop which in term had to make way for a more blues and funkier Hard Bop. Labels are often dubious things and can easily blind the listener from exploring the subtle nuances of the music – nuances where musicians who often have little time for labelling simply develop their styles in ways that are organic developments of an ongoing jazz tradition where change has always been the name of the game.
And so it was for Sonny Clark. Born near Pittsburgh in 1931 the youngest of eight children to a mining family he started playing piano at the age of four. Two years later he began playing piano for customers at the hotel where his family were allowed to live following the death of his father from black lung disease and this led to performing in his high school band where he fell under the musical influence of Art Tatum, Fats Waller, Count Basie and Duke Ellington. In 1951 Sonny moved to Los Angeles where his talent was quickly recognised and in 1953 he recorded with Wardell Grey moving to play with Oscar Pettiford and Buddy De Franco and becoming part of the West Coast jazz scene. But for Sonny he felt the formalised approached of cool jazz too limiting. On the other side of America players such as Dexter Gordon, John Coltrane and Kenny Burrell were beginning to carve out their formidable reputations and this is where Sonny felt his musical direction lay. Aged 26 he was signed to the prestigious Blue Note label going on to record 29 sessions as both leader and sideman and it from his early period that this excellent Avid two CD collection been chosen.
'Dial "S" for Sonny' from1957 is his first recoding as leader and shows Sony in fine company which includes Hank Mobley on tenor, Art Farmer, playing trumpet and Curtis Fuller on trombone. The music has an open, melodic and often funky feel to it and all members of the front line are given plenty of opportunity to stretch out with expressive solos. Four of the six pieces are Clark compositions and his presence is confident and assured.
By contrast 'The Sonny Clark Trio' from the same year has an altogether more lyrically boppish feel about it. With Paul Chambers on bass and Philly Joe Jones on drums the record opens with Dizzy Gillespie's "Be-Bop" and by the time you reach the final track you'll have a good idea of the creative talent of Sonny Clark – a talent that was fast establishing a much sought presence in and around New York.
Sonny Clark – Cool Struttin' which opens CD2 needs little introduction and is a funky and swinging delight from start to finish. This 1958 record has Sonny joined again by Art Farmer, Paul Chambers and Philly Joe Jones but this time featuring Jackie McLean on alto. With a fine liner notes from Nat Hentoff this record alone is worth the price of the Avid collection.
By 1961 it seems that musicians were queuing up to play with Sonny and his "Leapin' and Lopin'" features Charlie Rouse and Ike Quebec swapping tracks on tenor, Tommy Turrentine on trumpet with Butch Warren and Billy Higgins on bass and drums respectively. This is perhaps the most reflective and melodic of the four featured LPs that form this double CD set and provides a fine contrast to the earlier works.
Sonny Clark died of heart failure when he was only thirty-one – a situation probably brought on by his long term heroin and alcohol addiction. He was a great loss to the music and as always Avid are to be congratulated on making available some of the finest early records of musicians who deserve more of our attention.
Dave Puddy
+++++++++++++++++++++
Johnny Griffin – Four Classic Albums – "Introducing Johnny Griffin", "A Blowing Session", "The Congregation", "Way Out". Avid double CD ref AMSC1266.
Known for his forceful but rarely harsh playing, Johnny Griffin rapidly made name for himself not only with the first album here "Introducing" but also with the various all-star groups that he was rapidly assimilated into. Evidence the second album here – all four on these two CDs are from the great Blue Note label – where he's with sax giants Coltrane and Mobley and with a wonderful rhythm section that includes Art Blakey. Griffin was welcomed by the stars of the scene and never had to search for work – he was always in demand. So – I'm not going to write reams about the contents of these two CDs – suffice it to say that they contain very enjoyable classic modern jazz of the 1950s that was rarely surpassed. This is an important release that should be in every modern jazz collection – so buy it!
+++++++++++++++++++++
Freddie Redd – Four Classic Albums – "FR Trio with Guests", "The Music From The Connection", "San Francisco Suite", "Shades of Redd". Avid Jazz double CD ref AMSC1203.
Despite (!) being born in 1928 Freddie Redd is – as far as we know – still playing today. Dubbed a "hard bop" pianist in his early days he's pretty lyrical and compared with many – not too busy. In other words he's for the most part pretty easy to listen to. On the first of the excellent four LP albums condensed onto these two CDs we first find him rather oddly paired with two trumpet men Benny Bailey and Rolf Ericson who appear with Redd's trio on four of the ten tracks. It's it all good mid 1950s bop – hot and exciting – not too far "out". The second album included is of compositions Redd penned for the stage and touring play "The Connection". Here his trio is joined by the fluent and inventive Parkerish alto of Jackie McLean. Despite this being music designed for a show it works well as a pure audio experience although Redd does get over excited at times, but McLean is full of great ideas. Still it's hot and steamy – good stuff. The second CD first includes Redd's ambitious "San Francisco Suite" descriptive suite which is pleasantly explored with just piano plus the bass of George Tucker and drums of Al Dreares and following that we have the Redd quintet with Jackie McLean on alto and Tina Brooks on tenor sax exploring a further seven of Redd's compositions. It's all very listenable stuff but in his "San Francisco Suite" there is a feeling of immaturity in Redd's phrasing and on the other tracks from that LP there is too much use of block chords from both hands which comes over as being too heavy. The final seven track selection on the second CD has the benefit of the horns of Jackie McLean and Tina Brooks and the tracks here are reminiscent of the Thelonius Monk groups of the same time frame. Inoffensive it all may be but it also fails to catch fire and is too bland.
++++++++++++++++++++
Etta James – Five Classic Albums – "Miss Etta James", "Etta James At Last", "Second Time Around", "Etta James", "Etta James Sings For Lovers". Avid double CD ref AMSC1264.
Etta James (1938-2012) was one of the better R&B singers who was just as adept in other fields – pop, blues, jazz, rock and toll and gospel. She had a difficult upbringing and several singing tutors mistreated her from the start often punching her in the chest to deepen her voice – hard to believe isn't it? But she made it with popular blues-ish songs like "Something's Got A Hold On Me" and "Tell Mama". Sadly she had a lifelong battle with addiction and physical abuse but somehow managed to carve a reasonably successful musical career. The five albums here cover the breadth of her career and capture wonderfully her ability to turn quite mundane songs into soul vehicles. Etta was a super singer and these albums are a fitting memorial.
+++++++++++++++++++++
Dakota Staton – Five Classic Albums – "The Late Show", "Dynamic", "More Than Most", "Crazy He Calls Me", "Time to Swing". Avid double CD ref AMSC1259.
Dakota Staton – June 3, 1930 – April 10, 2007 – was an American born jazz singer who had some success in the popular field with a top ten hit "The Late Late Show". She worked mainly in the cabaret field and lived in the UK for a few years towards the end of her career. These two CDs include the contents of five excellent albums that she made with various jazz backing groups that usually contained one or two stars like trumpet men Jonah Jones and Harry "Sweets" Edison, pianist Hank Jones and saxists Phil Woods and Jerome Richardson. This lady swings, has a good feel for the meaning of lyrics and on many tracks proves she has a good "feel" for the music. Sometimes though she is a little stiff and stilted as if she'd been asked to record a song but didn't really believe in it. Thankfully those occasions are few and far here. Generally these are good late night sounds and there are a few gems tucked away – like the obligatos of Jonah Jones and Harry Edison. Yes.
++++++++++++++++++++
Lavern Baker – Four Classic Albums – Avid R&B double CD ref AMSC1258
Delores Lavern Baker (1929-1997) was a moderately successful rhythm and blues singer whose timing and phrasing marked her out as a jazz singer who – from our point of view – took a wrong turn! Her R & B stuff is fine but suffers from the usual ills of that medium in that the form itself is boring because it lacks variety. This double CD contains the contents of four LPs (remember vinyl?) two of which "Lavern" and "Lavern Baker" are a good mix of soul-ish titles whilst the next two "Lavern Baker sings Bessie Smith" and "Blues Ballads" make this a good set to buy. The Bessie Smith set where Baker is accompanied by an all ­star jazz band including such luminaries as Buck Clayton, Vic Dickenson, Jimmy Cleveland, Jerome Richardson and Nat Pierce – among others – is brilliant. She thankfully doesn't try to "do" a Bessie but interprets manyn of the songs Bessie made famous in her own fashion – a good fashion too. The final LP set on this double album is soul ballads in the blues idiom these two also make for good listening – preferably late at night with something smooth in a glass and cuddlesome company – you dig? At the usual Avid price of around £7 this set is a very good buy.
++++++++++++++++++++
Lee Morgan – Four Classic Albums – Avid Jazz double CD ref AMSC1255.
I need a holiday and I'd challenge anyone tasked with the job of reviewing four Lee Morgan CD's not to feel pretty exhausted after sitting through this wonderful Avid collection of early Morgan discs. The bebop and hard bop trumpet is a fiery instrument at the best of times and in the hands of Lee Morgan it is on the explosive spectrum. Take it from me.
Lee Morgan, born in 1938, was something of a trumpet prodigy, making his recording début as leader when he was just 18 years. The following year he can be found on John Coltrane's Blue Train after which he went on to mix it with the likes of Art Blakey, Dizzy Gillespie, Hank Mobley and Wayne Shorter as well as leading his own bands. This Avid collection begins with the 1957 'Dizzy Atmosphere' where Morgan pays homage to one of his most significant heroes. With Wynton Kelly on piano and Al Grey playing trombone this is one of Morgan's earliest discs and demonstrates his ability to explore musical ideas in a never ending series of punchy and vibrant improvisations. Critically its not his best received album but certainly points a determined figure in the direction he was to take. The following year saw the issue of 'Here's Lee Morgan' where he is joined by drummer Art Blakey with whom Morgan was to form a long and highly productive association in Blakey's famous Jazz Messengers.
1960 was a good year for Morgan with the issue of 'Leeway' and 'Expoodient' both of which are included on the second Avid CD. Jackie McLean and Clifford Jordan are the respective saxophonists on these discs and as you might expect both contribute to the propulsive energy of the music. Jazz critic Nat Hentoff wrote in the original liner notes of 'Leeway' that Morgan refused to follow the direction of Miles Davis who played a more lyrical and understated style of jazz concentrating instead on an exuberant, joyous and extrovert approach which are the hallmark of these discs. Lee Morgan continued to bring out numerous records during the 1960's including his famous 'Sidewinder ' album in 1963 and throughout the decade he thrilled audiences and inspired other musicians in a way few trumpeters have done since. Morgan, as with so many jazz musicians, died tragically young when he was shot by his girlfriend following a bar room brawl when he was only 33. Much of his recorded output is well worth exploring and this Avid collection is an excellent starting point. I still need that holiday but I'll be slipping a copy of this two CD collection into my suitcase just in case I'm tempted to do too much beach-side dozing which I'm told is not good for the health. With Lee Morgan on the Walkman there's no chance of that. Dave Puddy
++++++++++++++++++++
Lou Donaldson – Four Classic Albums – Avid Jazz double CD ref AMSC1251
If you want some good, full throated and bluesy early bebop this Avid Lou Donaldson collection is for you. One of the grand old men of the New York jazz scene, altoist Lou has made over 50 albums as well as appearing as sideman on countless other records. He started playing in the late 40's and to this day acknowledges the influence of both Charlie Parker and Johnny Hodges though a Donaldson session is always marked by his own individual style which incorporate the blues and soul sounds that he heard in the gospel church music of his childhood. .
One of the Blue Note label's early signings these Donaldson Avids date from 1957 – 'Lou Takes Off', 1958 – 'Blues Walk' and the 1961 'Here 'Tis' and 'Blues Walk'. All four records include Donaldson playing a mixture of his own compositions and material by the likes of Dizzy Gillespie and Charlie Parker. 'Lou Takes Off' includes Donald Byrd on trumpet and Curtis Fuller on trombone – the latter being given plenty of time to contribute some fine solos, whilst 'Here 'Tis' sees Donaldson joined by organist "Baby Face" Willette and Grant Green on guitar both of whom add to the blues feel of the album.
'Blues Walk' is probably Donaldson's best known album and its appearance fairly early in his career set the tone for much of what followed. Ray Barretto on congas adds an extra dimension to the music and this was repeated with Alec Dorsey on the later 'Gravy Train'.
Donaldson is a fine improvising musician. When first released his records were highly popular and whilst his fame or reputation never reached the heights of other saxophonists who grew out of the bebop era his jazz playing is well worth listening to and this Avid selection offers a well priced opportunity to do just that. And, hey. If you want to catch up and hear what the good man sounds like today just hop on a flight to New York and hear Lou Donaldson play in Tompkins Square Park at 3pm on August 27th. Not bad for a man who celebrates his 90th birthday this year. Dave Puddy.
++++++++++++++++++++
Elmo Hope – Five Classic Albums. Avid Jazz double CD ref AMSC 1256.
Part of the pleasure of reviewing Avid compilations is that they often introduce me to jazz musicians whose names I've been aware of for years but who for whatever reason I haven't got round to giving them the attention they deserve. Listening to this Elmo Hope collection was just one of those occasions. Hope is one of those pianists whose career took off in the late 1940's in the company Bud Powell and Thelonious Monk. Hope, in fact, went to college with Powell and he remained deeply influenced by his school buddy for much of his life.
Avid's compilation opens with his earliest record as leader – 'New Faces – New Sounds: introducing the Elmo Hope Trio' from 1953. Accompanied by Percy Heath on drums and 'Philly' Joe Jones on drums Hope demonstrates a lightness of touch together with a swinging and melodic style that was to remain the hallmark of his playing.
The second album, 'Informal Jazz – The Elmo Hope Sextet' from 1956 came as quite a shock for here Hope is joined by none other than Donald Byrd, John Coltrane, Hank Mobley, Paul Chambers and again 'Philly' Joe Jones. The horn players are fresh off the leash and blow as if their lives depended on it which means Hope is less in the foreground than in the other records of the compilation. But he is still the nominal leader and its fascinating listening to how he holds his own with the rest of the group. To my mind 'Polka Dots and Moonbeams' is a gem.
CD 2 opens with the 1954 'Elmo Hope Quintet – Quintet'. This, together with the remaining and later 1961 albums 'Elmo Hope – Here's Hope!' and 'Elmo Hope Trio – High Hope!' all feature just Hope compositions and demonstrate another aspect of the musician's talent that added to his reputation.
Elmo Hope died relatively young aged 43, probably from a heroin addiction he carried for many years. Despite this he left a legacy of fine records and over 70 compositions. Perhaps unfairly he never achieved the fame of his early compatriots Monk and Powell but in 2010 The Penguin Jazz Guide commented that 'Like many of his piano generation Hope's work is only now being properly studied and appreciated.' This generous Avid collection is a wonderful place for anyone interested in Elmo Hope to begin listening.
Dave Puddy
++++++++++++++++++++
Hank Jones – Four Classic Albums – "Urbanity", "The Trio of Hank Jones", "The Trio with Guests", "The Hank Jones Trio plus the Flute of Bobby Jaspar". Avid Jazz double CD ref AMSC1253.
The first LP on this four album compilation was the very first that Jones recorded way back in 1947. The others are from 1953, 1955 and 1956 and it's great to be able to trace the great man's stylistic development through those seminal nine years. You have the feeling that in the first set – with guitarist Johnny Smith, bassist Ray Brown and drummer Louis Hayes, that although equipped with a prodigious technique and mastery of the keyboard, Jones had not at that time fund his niche – his own style. On that album he at times sounds like George Shearing and at others he meanders. The other three albums show far greater maturity with Jones exploring the themes and construction of songs like "There's a Small Hotel" – the wonderful Rogers and Hart composition – with thought and fine new ideas but great respect for the original. And that's how he continues to progress through the other sets here – at first with soloists like Jerome Richardson, Herbie Mann and Donald Byrd and finally with flautist and tenor saxist Bobby Jaspar. This journey through the evolution of a pianistic jazz giant is both intriguing and fascinating – but above all very enjoyable. Well done Avid.
++++++++++++++++++++
Lightnin' Hopkins – Four Classic Albums. "Lightnin' Hopkins Sings the Blues", "Blues in My Bottle", "Lightnin' Hopkins – Lightnin' Hopkins", "Walking this Road by Myself". Avid Roots AMSC 1254.
The following is an edited "product description" from Amazon which saves me writing much of the same stuff. See further down though for my (BH) comments…….
"AVID Roots continues with its Four Classic album series with a re-mastered 2CD Second Set release from Lightnin' Hopkins, complete with original artwork and liner notes. 'Sings The Blues'; 'Lightnin' Hopkins'; 'Blues In My Bottle' and 'Walkin' This Road by Myself'. It is not surprising that in an extraordinary musical career that lasted over 50 years, Sam Lightnin' Hopkins became the most recorded of all the legendary bluesmen. Primarily a country blues singer and guitarist from the old tradition that included Robert Johnson, he outlasted them all to become quite literally a living legend along with Blind Blake, Blind Lemon Jefferson and Charlie Patton, to name but a few. Lightnin' became much better known when the blues revival hit the US and UK in the 1950s and '60s. He had met Blind Lemon Jefferson at the age of 8 and that became a defining moment in his life. Hopkins went on to become his accompanist for a while. Just think of that for a moment? The history and the stories the man must have carried around inside his head! Lightnin' had been trying to break into the recording business from the late 1930s but it wasn't until the mid-1940s that he was discovered singing and playing in the streets in Houston and was signed to Aladdin Records of Los Angeles. Houston was to become his home base from then on. But of course, Lightnin' had to earn money, life was very tough, especially for a black man in the USA. He became a prolific recording artist over the years and was one of the spearhead artists during the folk-blues revival of the early 1960s. Our four fine selections include his album "Lightnin' Hopkins" which saw Lightnin' return to his roots with just a guitar and voice. Our album includes the rare, and lengthy original essay booklet written by legendary blues writer Samuel Charters and re-tells a fascinating story of his search to find Lightnin' amongst his perhaps rightly suspicious associates and family before finally tracking the great man down. What followed was music playing by Lightnin' as he used to be heard, just by himself with his guitar, the results as you will hear, are stunning!"
It would be hard to get closer to raw blues origin – excepting the "field" recordings of Alan Lomax – than many of the tracks here – especially the set titled just "Lightnin' Hopkins" which is pure raw uncommercial blues from the heart. That set alone with its track of reminiscences of Lightning talking to legendary blues researcher Samuel B. Charters is one of the greatest of all blues recordings. Many bluesmen sort of lost their originality as they went into the studios or even saw the recording equipment – a bit like we all do when we modify our language when in polite company – or maybe you don't. On this set you get the feeling that Lightning didn't. The tracks from the other three LPs that make up this set are equally enthralling helping make this one of the finest blues sets yet. It's one for all collections – a library "must".
++++++++++++++++++++
Dave Pike – Four Classic Albums – "It's Time for Dave Pike", "Bossa Nova Carnival", "Pike's Peak", "Limbo Carnival". Avid Jazz double CD ref AMSC 1249.
Dave Pike (1938-2015) was a vibraphone player who first played drums and then taught himself to pay vibes. He worked with Paul Bley and extensively with Herbie Mann in the early 1960s – the period covered by the four albums included on these two CDs. His playing is pleasingly inventive on standards like Charlie Parker's "Cheryl", Tad Dameron's "Hot House" and Duke Ellington's "In a Sentimental Mood" but he seems to get lost on his own compositions and those he includes with less well defined themes. But there are compensations here because on three of the albums included there are brilliant pianists. Barry Harris on the first set, Bill Evans on the second and Tommy Flanagan on the fourth. There's no pianist present on album three where Pike plays Marimba and vibes. All in all then a pleasant release by Avid worth buying just for the pianists! The vibes player is quite good too.
++++++++++++++++++++
Ahmed-Abdul-Malik – Four Classic Albums – "Jazz Sahara", "East Meets West", "The Music of Ahmed Abdul-Malik", "Sounds of Africa". Avid Jazz double CD ref AMSC 1248.
Despite the Arab sounding name and professional standard proficiency on the Oud – a lute style instrument dating back to the ancient Egyptians – I can find no reference to the fact that Malik ever visited Africa or studied there. He was born in the USA of Caribbean parents and spent many years studying all the stringed instruments becoming known in jazz for his excellent double bass work. Indeed he played with Monk and many others of that calibre. Here though – on the four LPs that comprise these two CDs – he's teamed with a stellar line up of modern jazzmen like Lee Morgan, Curtis Fuller, Benny Golson, Jerome Richardson and Tommy Turrentine. And his idea overall is to marry New York's modern jazz of the late 1950s and early early 1960s with African sounds and rhythms. And it works through the leader's obvious deep study and understanding of African music and the inclusion of African musicians like Naim Karacand (violin), Ahmed Yetman (kanoon), Bilal Abdurraham (clarinet) and Chief Bey on a variety of African drums. Yes indeed it works and at times is thrilling and exciting. The music here is a welcome break from much of what is promoted as modern jazz in the current era. Malik of course plays both bass and Oud – very well indeed!
++++++++++++++++++++
Sauter-Finegan Orchestra – Four Classic Albums Plus. "New Directions in Music", "The Sons of Sauter-Finegan", "Adventures in Time", "Memories of Goodman and Miller". Avid Jazz double CD ref AMSC1246.
The Sauter-Finegan orchestra led by Eddie Sauter and Bill Finegan – both established big band arrangers – started recording together in 1952 using a mixture of standard but very modern arranging styles and innovative instrumentations. The results were at times somewhat startling but always refreshing and for a while their unique approaches were all the popular rage. They combined a good deal of jazz within the overall orchestral sound and the whole thing was quite fascinating as you can hear on these CDs which are taken from four of the band's best LPs. They had several popular hits with numbers like the very original "Doodletown Fifers" and "Nina Never Knew" with singer Joe Mooney. They were a very creative band but like much of big band innovation it did not consistently pull large audiences to their on tour concerts and in March 1957 the group was disbanded. But – we have these fine tracks to remember what was a quite remarkable jazz-swing band – and – who knows – maybe some enterprising bandleader will revive some of their arrangements. It would be good to hear them played live.
++++++++++++++++++++
Freddie Hubbard – Four Classic Albums – "Open Sesame", "Goin' Up", "Hub-Tones", "Ready for Freddie". Avid Jazz double CD ref AMSC1244.
Frederick Dewayne "Freddie" Hubbard (April 7, 1938 – December 29, 2008) was from Indianapolis and studied first at school and then at the Jordan Conservatory of Music (now the Jordan College of the Arts at Butler University) with Max Woodbury, the principal trumpeter of the Indianapolis Symphony Orchestra. Freddie had a very distinctive warm tone with a gentle vibrato and that coupled with his mastery of his instruments (he also played flugelhorn, cornet, French horn and mellophone) and a brilliant fund of ideas rapidly earned him entry to the top ranks of late 1950s modern jazz in New York. Back home he'd played with fellow Indianapolis jazzers Wes and Monk Montgomery and by the time he arrived in New York he was ready to earn his keep and make his mark. He was rapidly accepted by John Coltrane, Wayne Shorter, Art Blakey (he replaced Lee Morgan in the Jazz Messengers) and many others and never had to search for work. He recorded prolifically and his work in the 1970s was generally accepted as probably being his best, but some of his later stuff was attacked for being "too commercial". That's no problem here though for all the four LPs from which these two CDs are compiled were recorded between 1960 and 1962. Sidemen included with Hubbard here include McCoy Tyner, Hank Mobley, Herbie Hancock, Wayne Shorter Elvin Jones and Philly Joe Jones. It's all eminently listenable stuff – very mellow at times and always thoughtful. Definitely one for the collection.
++++++++++++++++++++
Hank Mobley – Four Classic Albums – "Peckin' Time", "Soul Station", "Roll Call", "Workout". Avid Jazz double CD ref AMSC1243.
Wikipedia's entry for Hank Mobley begins – "Henry "Hank" Mobley (July 7, 1930 – May 30, 1986) was an American hard bop and soul jazz tenor saxophonist and composer". All these years after those words were written in 1958, I can't agree. The words "hard bop" don't fit. Mobley was – as indeed many of his fellows were – a hot strong exciting and assertive player – not hard. He had a warm tone in the Hawkins mould and a wonderful fund of improvisational ideas in the school of later men like Rollins and Coltrane. The later 1950s and early 1960s saw Mobley at his peak, absolutely full of power and ideas. It's said that his finest albums were two of the four here – "Soul Station" where's accompanied by Wynton Kelly (pno), Paul Chambers (bs) and Art Blakey (dms) and "Roll Call" where the rhythm section remains the same but Freddie Hubbard's trumpet joins the fray. The other two albums included here are also excellent but maybe not quite up to the same standard. Mobley wasn't exactly a jazz "great" but he was a major figure in the formative years of intelligent hot modern jazz. As such he's worth hearing.
++++++++++++++++++++
Sam Most – Four Classic Albums – Sam Most Sextette – "I'm Nuts About the Most….Sam That Is"; Sam Most – "Musically Yours" – "Sam Most Plays Bird, Bud, Monk & Miles", "The Most Amazing Mr Sam Most". Avid Jazz double CD ref AMSC1245.
Samuel "Sam" Most – December 16, 1930 – June 13, 2013 – was according to writer and critic Leonard Feather – "probably the first great jazz flautist". And the fact that he emerged at a time – the 1950s – when the recording industry was hungry for and willing to record new talent made it relatively easy for him to become a go-to talent in the Hollywood music factory. His high talent for pleasing coherent improvisation coupled with a fine tone made his work acceptable both to light music enthusiasts and jazzers alike. And here in four albums is the proof. He ranges from show tunes and pops to deep jazz creations and all the time never losing the listener's interest. In other words these are four very listenable sets – and there's a bonus for this man who was mainly known for his brilliant flute work – also plays great clarinet and that helps the musical variety here. This is a fine release.
PS – Frank Sinatra was one of Most's friends and after a private session at Sinatra's home when Most was playing piano for Frank to sing, Sinatra presented him with a superb hand carved wood flute in recognition of Most's work. Apparently Sinatra had used the instrument to aid his in-performance breathing control. That's recognition indeed.
+++++++++++++++++++
New Orleans 1961 – The Living Legends – four classic albums. Percy Humphrey's Crescent City Joy Makers, Sweet Emma's Dixieland Boys with Jim Robinson, Jim Robinson's New Orleans Band, Billie & Dede Pierce Vocal Blues and cornet in the classic tradition. Avid double CD ref AMSC1046.In 1961 the young jazz enthusiast Bill Grauer visited New Orleans and organised a series of four sessions in an attempt to capture the authentic music of pioneer jazzmen. Many at the time thought that when the pioneers died so would the music. Bill didn't believe that – and it didn't die and that's another story. The important fact is that Grauer captured some of the most exciting, vital sounding happy jazz that was ever put on record by pioneers – some of them the creators indeed – in New Orleans. Here are those four gems of sessions transcribed from the now rare original LPs. This is great music from great personalities and what's most amazing – with the most vital "live" sound we've heard for many a year. The Percy Humphrey tracks for example find the pioneer in rare form not trying to dominate in his usual "parade" style but subjugating himself to the integral lead role that the trumpet should play in this music. And the result of that is probably the finest work that great man ever put on record. Together with his sidemen Louis Nelson, Albert Burbank, Josiah Frasier, Louis James and Emanuel Sayles they create one of the great New Orleans' classic sessions. Their eight tracks alone are worth the price of around £6 this set will cost you. And the other bands – Jim's – The Pierces and Sweet Emma's are all almost equally excellent. What a great release – what joy – what uninhibited great music. You need this in your collection.
+++++++++++++++++++++
Betty Roche & Marilyn Moore – Four Classic Albums Plus – Three by Roche – "Take the A Train", "Singin' and Swingin'", "Lightly and Politely" plus – Marilyn Moore "Moody". Avid Jazz ref AMSC1240.
Betty Roche came to fame as the soulful blues singer who gave unique life to Duke Ellington's classic 1951 recording of "Take the a Train". She gave that song a unique exciting dramatic character. Sadly though her career in music didn't spark from that great launch pad. She sang with many greats but her progress was stymied by the American musicians' union recording ban of the period and despite help from "greats" like Ellington, Earl Hines and Clark Terry she was unable to sustain a career in music. Marilyn Moore (1931 – 1992) whose sole album's contents are on the second CD here was the wife of saxophonist Al Cohn and he's among the Don Abney Orchestra members who accompany his wife here. Her style was near to that of her friend Billy Holiday and the soulful collection of titles on this album fit that association perfectly. But – sadly – Mrs Cohn's singing career never really took off. Pity that – she was good.
++++++++++++++++++++
Ann Richards – Avid Jazz – Four Classic Albums – "Shooting High", "Two Much" (with Stan Kenton), "The Many Moods of Ann Richards", "Ann, Man". Avid ref AMSC1239.
Born Margaret Ann Borden in 1935 in San Diego, Richards first sang with Charlie Barnet's band and later joined Stan Kenton's Orchestra during which time she married Kenton. She appears to have made four albums – these are they. Her style is conventional for the period – i.e. band singer with a good voice and range influenced by Ella Fitzgerald but with no ability to "scat". My (BH) main enjoyment here comes from the accompaniments – on the first section Brian Farnon conducts a large swing orchestra much in the style of Nelson Riddle's for Sinatra. In the second section Bill Holman is the brilliant big band arranger and conductor. The third album, where she's teamed with Stan Kenton's quite mild touring band, is OK but not brilliant and on the last album Richards has a small group backing her and is quite good. But in the group Barney Kessel, Red Callender and Larry Bunker are brilliant. If you are nostalgic for quasi jazz singing of the 1960s this is for you.
++++++++++++++++++++
Herbie Mann – Four Classic Albums – "Herbie Mann and Bobby Jaspar – Flute Souffle", "Herbie Mann and Bobby Jaspar – Flute Flight", "Herbie Mann Nonette – Flute, Brass, Vibes & Percussion", "Herbie Mann (Octet) at the Village Gate". Avid Jazz double album ref AMSC 1241.
One of the first jazz musicians to specialise in the flute Mann also played
saxophone and clarinets – standard and bass! In his earliest jazz recorded
form – the 1950s – he was generally a bop enthusiast but later became one of
the first American jazzmen to major on "world" music. Born in 1930 Mann
passed on in 2003 but left us with many albums of his work. The four
collected here onto two CDs are from the late 1950s and 1960 and '61.
They see him with a wide variety of five star sidemen exploring options
mainly for the flute. In some cases it all works but in others the improvisations
by both Mann and his sidemen seem to modern era ears somewhat
simplistic and at times puerile. His duets with fellow flautist Bobby
Jaspar are excellent and well thought out but those tracks – on the first two
albums here – rarely catch fire and swing with any real energy. The third
album – first on CD 2 – sees our man backed by a fine group which
unusually features a four man trumpet section led by Doc Cheatham.
That all works brilliantly and the four produce some superb harmonies. Tracks
from the final CD are all from a session at the Village Gate club and have
particularly brilliant bass work by both Ahmed Abdul-Malik and on one track Ben Tucker.
These live tracks are the highlight of this release. It's all very thoughtful stuff
which makes for absorbing listening. (And I have no idea why this type has only set itself across half the page – computers! BH)
++++++++++++++++++++
John Graas – Four Classic Albums – "John Graas Octet & Quintet – French Horn Music", "John Graas – John Graas", John Graas – Jazzmantics", "John Graas West Coast All-Star Jazz Ninetet – also with Rundfunk Symphony Orchestra – Premiere in Jazz". Avid Jazz double CD ref AMSC1242.
Born in Dubuque, Iowa in 1917 John Graas had only lived to see his 45th year when he succumbed to a heart attack. But during that short period this fine music scholar and virtuoso French Horn player made a major attempt to have his instrument accepted into the jazz field. He worked with many stars and innovators of that "West Coast" school like Shorty Rogers, Jimmy Guiffre, Bob Cooper, Bud Shank, Russ Freeman, Buddy Collette and many more. Both with small and larger groups he experimented using jazz standards like "Midnight Sun" and "Walking Shoes" and even went out on a limb getting the Rudfunk Symphony Orchestra to debut his Jazz Symphony. Through all this output he created some fine sounds but to my mind totally without jazz feeling or emotion. It's all super stuff – very listenable – very musical but far too cool for hot jazz loving ears.
++++++++++++++++++++
Bobby Jaspar – Three Classic Albums Plus – EP etc – Avid Jazz AMSC1237
Belgian-born Jaspar was an adequate hard bop saxophonist and flute player but in an era that had as its stars men like John Coltrane he failed to make the top rank. It is however fascinating to hear him here in his excellent prime with company like brilliant French guitarist Sacha Distel, pianist George Wallington, Coltrane, trumpet man Idrees Sulieman, trombonist Billy Byers and most fascinating of all Chet Baker. This is a worthwhile double CD release of a fascinating vignette of jazz history.
+++++++++++++++++++++
Ray Charles – Four Classic Albums – "The Genius Hits the Road", "The Genius Sings the Blues", "The Genius After Hours", "Ray Charles – Genius + Soul = Jazz". Avid Jazz ref AMSC1233.
Despite being in the music business for some years – admittedly more to the jazz side of things – I'd always sort of dismissed Ray Charles as a more pop artist than jazz. Wrong! This collection proves I was wide of the mark. OK – so we have some of his great hits here – songs like "Georgia on my mind" but a majority of the tracks here are pure jazz and blues. That's hardly surprising because like Nat King Cole Charles started life as a purely jazz and blues pianist – the singing came later – much later. On the first CD the second LP included for example is of Ray virtually alone with the blues – and boy can he play the blues – he's superb. Full of soul and wonderfully uncomplicated. A great joy. Elsewhere he has a big band which at various times features many of the stars from the Duke Ellington and Count Basie bands – men like Frank Foster, Clark Terry, Al Grey, Freddy Green, Sonny Payne and with many arrangements too by the wonderful Ralph Burns. What a superb release – bags of variety – fabulous big band jazz and blues – a great joy – once more Avid score top marks. Put this on intending to hear just one or two tracks and before you know it you've reached two dozen! Beware – it's addictive. Brilliant.
++++++++++++++++++++
Stan Getz – Four Classic Albums – Stan Getz Plays; Diz and Getz; The Brothers; Cal Tjader – Stan Getz Sextet. Avid Jazz AMSC1234.
There are many stories about Stan Getz but most concern his character, his behaviour and attitude to people. Ronnie Scott for example had Getz at his London club for a season and told audiences afterwards that he now had a back problem "after leaning over backwards to please Stan Getz". Fellow tenor player Zoot Sims said of him – "he's a nice bunch of guys" – alluding to Getz multiple personalities – some difficult to get on with. But whatever people said there was a constant – Getz superb talent. His lyrical tone, his softness of phrase which made him the logical successor to Lester Young. Despite the difficulties, club owners and concert promoters worldwide hired Getz and this enabled him to reach one of the largest audiences of any jazz man at that time. And the four LPs squeezed on to two CDs here are as good a sample of what the man was at in the 1950s. On the first – with his own quintet – he's unhurried, lyrical and as hot as you could wish for. On the second – with Dizzy Gillespie – he's fine but Diz at times is a waste of space playing only what to my ears is musical scribble – a waste of a great talent. When on a few tracks the high priest of be-bop does decide to play his instrument "normally" he's revealed as a great talent with a wonderful tone and fund of ideas. Pity he spent so much of his life playing stuff that only other musicians and the birds appreciated.
On the first of the LPs squeezed onto the second CD there's an attempted recreation of the exciting "Four Brothers" tenor sax section from the most famous Woody Herman "Herd". With Al Cohn, Zoot Sims, Allen Eager and Brew Moore making it an actual five on some tracks it's an exciting experiment. George Wallington's piano helps as do the contributions of Art Blakey, Kay Winding, Gene Ramey, Percy Heath and others. There are eight fascinating tracks from this line-up. The final seven tracks are from a Cal Tjader – Getz collaboration which features some super standards like "For all we know" and "I've grown accustomed to her face", with a bunch of often Latin-tinged originals reminiscent of Getz later happy flirtation with the Bossa Nova genre.
This double CD set from Avid makes for great listening – it's superb value.
++++++++++++++++++++
Johnny Dankworth – Three Classic Albums Plus – The Vintage Years; England's Ambassador of Jazz; Collaboration; The Criminal – original sound track. Avid Jazz AMSC1236.
During the period of the recordings on these two CDs – 1958 to 1960 – the
Johnny Dankworth big band was probably the finest big jazz band in Europe.
And if you judge it by the first tracks eleven tracks here – all from the "Vintage
Years" LP of mostly classics like "Don't Get Around Much Anymore" and
"How High the Moon" – then there's no doubt it was one of the finest in the
world. They're sensational. Crisp and full-toned, swinging like crazy and with
brilliant soloists like tenor man Danny Moss and the leader of course on
elegant alto. I'd buy this set for those opening tracks alone but there's much
more. Stravinsky's "Ebony Concerto" and the intriguing "Improvisation for Jazz
Band and Symphony Orchestra" by Dankworth andf Matyas Seiber are
highlights of the second album on the first CD and then you have CD two!
This has loads of Dankworth and collaborator Dave Lindup's own pieces
written especially for the band before this second CD climaxes with brilliantly
exciting tracks from an EP that the band recorded as the soundtrack to the
thriller movie "The Criminal". This is a very fine set from Avid – excellent value
classic British jazz that is all too often overlooked. Yes.
+++++++++++++++++++++
Roy Eldridge "Little Jazz Giant" 3 x CD boxed set – Avid Gold Remasters ref AMBX137.
This remarkable set of three CDs traces Eldridge' history from his first recordings with the Delta Four in 1935 to his work with Oscar Peterson in 1952. And – as you can read elsewhere in this Avid records section, Eldridge was a remarkably talented musician whose swing era based very hot style formed the bridge between traditional jazz and swing and modern jazz and bebop. He had a wonderful tone, superb multi-range skill and great musicianship fused with a wonderful fund of improvisational ideas. In other words Eldridge was one of the great jazz trumpeters.
This set of superbly remastered (thank Dave Bennett) recordings follows his career from his quartet beginnings through his remarkable association with big bandleader Artie Shaw where he made some superb sides with Shaw's full orchestra and small group "The Gramercy Five", and on to a selection of his many small group recordings both in the USA and Europe. Eldridge also had his own star-studded big(ish!) band for a while in the 1940s. Their tracks here show the leader's classic ability to move himself and his music from one era to another whilst always sounding "modern". Eldridge critics however will be eager to put you off this set by telling you that he was capable on occasions of being a tasteless exhibitionist playing seemingly endless pyrotechnic shrieks in the stratosphere. That's true – but I didn't find much of that in this collection – you might find them among Jazz at the Philharmonic concert recordings but that's another topic altogether. This set is a classic and worthy of inclusion in your collection.
++++++++++++++++++
Buddy Collette – Four Classic Albums – Calm Cool & Collette; Marx Makes Broadway; Nice Day Buddy Collette; The Polyhedric Buddy Collette. Avid Jazz AMSC1186. The first of the four albums included here has Collette on flute, tenor and alto with a quartet running in super cool style through a bunch of standards and originals. It's all interesting but not much more. The second of the four was originally issued under pianist Dick Marx' name and is in fact his super smooth Octet playing a bunch of Broadway show tunes. Interestingly Collette again here plays excellent flute and along for the ride unusually are two guitarists – Howard Roberts and Irving Ashby. It's pleasingly bland stuff – nice modern jazz aural wallpaper. Much the same can be said for the first ten tracks of the second CD here which are by various small Collette led groups distinguished by the superb bass of Leroy Vinnegar and the educated drumming of Shelly Manne. All the titles are standards like "There will never be another you" and "Moten Swing" and it all makes for relaxed undemanding listening. Tracks eleven to eighteen however are very different. In 1961 Buddy played at the San Remo jazz festival and following that accepted a local club season. Cutting a long story short – during these gigs he met and played with a bunch of local guys and two dynamic African drummers – these exciting and quite different tracks are the result. With Collette on a variety of reeds these often dynamic tracks are by far the best of this release. Worth hearing especially for the international fusion – USA – Italy – Africa.
+++++++++++++++++++++
Red Callender – Four Classic Albums – Callender Speaks Low; Swingin' Suite; Lowest; King Cole Trio (includes Lester Young). Avid Jazz AMSC1194.
The first album included here "Speaks Low" finds Callender not only playing string bass but also tuba – i.e. brass bass! He does this well on a series of tracks that epitomise "West Coast" jazz in the 1950s – gentle cool sounds using the newly "discovered" modern jazz chord inversions. Buddy Collette on flute and clarinet is a standout. The second album on the first CD features the Callender Octet running through a dozen of the man's own compositions – gentle swinging pieces with great instrumental warmth in the arrangements. Featured soloist Collette, trumpeter William Green and trombonist John Ewing are excellent as is (of course!) Callender. On CD two the first eleven tracks are a super collection of larger group tracks exploring modern-ish arrangements of standards like "Of thee I sing" and "Tea for two" and featuring Callender on both string and brass bass with stellar company including Buddy Collette, Gerald Wilson and Gerald Wiggins. The fourth album included here is worth the purchase price alone – it features the earliest known Nat King Cole Trio from the days when he was "just" a cabaret pianist (before one of his bar owner employers asked on a quiet business night "can you sing?") and his bass player was Red Callender and his soloist was Lester Young. Recorded in 1942 this is classic swing jazz from the golden age – wonderful – well done Avid.
+++++++++++++++++++
Jerome Richardson – Four Classic Albums – Flues & Reeds; Roamin' with Richardson; Midnight Oil; Going to the Movies. Avid Jazz double CD AMSC1195.
Jerome Richardson was a mainly West Coast reed player – he played them all but majored on tenor and in later life Soprano sax. Sadly from our point of view he had neither a distinctive tone nor was he a major composer – just a good man you could call on to play anything. He spent most of his playing life in Studio bands and the odd short-term big band. But he didn't make an impact on the national or world jazz scenes. He's a good competent soloist – that's it. He's in good company on the four albums included here – men like Frank Wess, Ernie Wilkins, Hank Jones Jimmy Cleveland, Joe Benjamin, Kenny Burrell and Les Spann are among the line ups. And all the tracks here are highly listenable middle of the road jazz – nice but bland.
++++++++++++++++++++
Roy Eldridge – Three Classic Albums Plus – Roy & Diz; Swing Goes Dixie; Little Jazz; Coleman Hawkins & Roy Eldridge (7 of the 8 tracks) – Avid Jazz AMSC1024.
Louis Armstrong is generally accepted to have been the "king" of jazz trumpet
up until the modern jazz era. Then – it is the critic's opinion (one I agree with)
– Roy Eldridge came out of the swing era to form the stylistic link to be-bop
where I think most agree that Dizzy Gillespie took over the crown. Personally I
think that Chet Baker may have had more to "say" within that idiom. Whatever
– this very fine double CD production confirms Eldridge (known as "Little
Jazz") as Louis' stylistic successor but on the tracks where he's partnered by
Dizzy it is clear that the hero of the boppers doesn't come anywhere near
rivalling Little Jazz. Eldridge has a finer tone, a much more generous fund of
excellent improvisational ideas and far better taste. Dizzy by way of
comparison has only his amazing technique and ability to explore the
stratosphere to offer. He's nowhere – on this showing and many others – near
to being a creative rival. The second album offered within this set sees
Eldridge with the wonderful rhythm section of Oscar Peterson, Herb Ellis, Ray
Brown and for some strange reason drummer Buddy Rich who – to my mind –
is frequently far too loud and busy. On this occasion however he fails to spoil
the session which is a wonderful showcase for Eldridge's great talents –
lyricism – invention – heat – excitement. If ever proof were needed that he
was indeed a jazz "great" this is it.
Next we find our hero in a Dixieland setting with the excellent Eddie Barefield
on clarinet, the swing era's Benny Moreton on trombone, brilliant pianist Dick
Wellstood, Walter Page on powerful bass and a sometimes too busy Jo Jones
on drums. The tracks from this group are excellent. There's a little
showboating but that's not surprising in that much of this little band's work in
the 1950s (this dates from 1956) was in New York bars where if you didn't
give the boozing crowd what it wanted you didn't work! For all that it's a great
set with some lovely solos and here you can hear Little Jazz at his toneful and
innovative best. The fourth album included in this collection sees Eldridge with
Coleman Hawkins and three of the MJQ as his rhythm section (Lewis, Heath
and Kay) in an excerpt from a 1956 Jazz at the Philharmonic concert. It's
brilliant, particularly so because neither of the horn men had previously played
with this rhythm section on record. What amazing value Avid offer. This album
is yet another "must" for any serious jazz collection.
PS – just why this particular review had to "double space" – i.e. increase the space between the lines – is a complete mystery – computers have minds of their own. BH.
++++++++++++++++++++
Duke Pearson – Four Classic Albums – Tender Feelin's; Profile; Byrd in Flight; Hush – Avid Jazz Double Album AMSC1198.
Duke Pearson had a more gentle and reflective approach to his jazz when compared to several of his heavy handed contemporaries. His was (he passed in 1980) a more thoughtful creator of very personal jazz within which you could almost feel him exploring the extremities of each song rather than bludgeoning it to death. He had a successful solo and composing career, evidenced by the two trio albums here, but also a role within the hard bop world where at Blue Note records he was an A&R man for some years. Despite being a staff-man at Blue Note he also recorded for Atlantic with his big band co-led by good friend Donald Byrd. And it is with the brilliantly toned and inventive Byrd that we find him on two of the four albums included here – Byrd in Flight and Hush. Also taking part in the excitements – believe me both sets contain fireworks – are Hank Mobley and Jackie McLean among others. This is a well thought-out double CD with a nice balance of content and plenty of contrastingly mooded hard and soft bop to listen to. Good value – good listening.
++++++++++++++++++++

Tiny Grimes – Three Classic Albums Plus – Avid Jazz
Hands up whose heard of Tiny Grimes. Well, before I'd looked into the history of early bebop I for one would have have kept my head or hands well below the parapet. Shame, I hear you say. And Charley Parker would have agreed as it was guitarist Tiny Grimes who led a small group including the emerging genius into the Savoy recording studio in 1944 to put down some of Parker's earliest recordings and set him on his illustrious career.
Playing a four string guitar Tiny Grimes began playing with Art Tatum in the early'40's and continued with a wide range of musicians both on records and the club scene until his death in 1989.. This excellent Avid collection concentrates on four albums recorded between 1958 and 1962 – Callin' The Blues, Blues Groove, five of the six tracks from Tiny In Swingville and Big Time Guitar.
Blues Groove is a fine mixture of blues and standards and includes a hard blowing Coleman Hawkins, flautist Musa Kaleem with Grimes on the front line. When asked why he continued playing just a four string guitar Grimes said that he could do as much with four strings as most guitarists can do with six. I hope John McLaughlin didn't hear that.
Tiny In Swingville from 1959 sees Tiny Grimes in the Prestige studios with multi-reedsman Jerome Richardson, Ray Bryant, piano, Wendell Marshall, bass and Art Taylor on drums. This as an altogether more laid back occasion and allows the group to explore the blues material in a way that gives Grimes, Bryant and Richardson a great opportunity to show how satisfying the blues can be when the music is allowed to speak for itself. Perfect for late-night listening with a good woman, or man or whisky at your side.
For Callin' The Blues Tiny Grimes is joined by trombonist J. C. Higginbotham, Eddie 'Lockjaw' Davies on tenor saxophone, Ray Bryant, piano, Wendell Marshall on bass and Osie Johnson, drums. This is an unusual front line but to my mind isn't as successful as the previous album. Higginbotham is a fine trombone player with an illustrious history of playing with the likes of Louis Armstrong, Fletcher Henderson and Henry 'Red Allen but here I feel the music has got into his soul and he sounds not just blue but weary too. On the other hand Grimes and Davies propel things along nicely and the leader allows plenty of time to explore his own compositions Blue Tiny and Grime's Times. Very different is Big Time Guitar from 1962. Here Tiny Grimes weaves his way through through 12 much shorter pieces in the company of Ed Swanton or L.S.Williams on organ and Kelly Martin or E.Crawford on drums often introducing a rock and roll feel to the jazz that he pursued for the rest of his career. However, Grimes never forgets his debt to the blues and he and the band always manage to keep a link between the origins of jazz and the new direction Tiny Grimes was working towards. Avid are brilliant at pulling gems out of the archive and this four album collection is no exception. Dave Puddy
++++++++++++++++++++
John Coltrane – Four Classic Albums – Avid Jazz on 2 CDs
Its always good to be reminded of John Coltrane's earlier years and this new Avid collection brings together the albums Blue Trane, Coltrane Plays The Blues, Africa Brass and Ole Coltrane dating from 1957 to 1961. These were formative years for the saxophonist and all the albums proceed the creation of his classic quartet that first appeared the following year. Nevertheless these Avids contain plenty of material that demonstrates Coltrane developing his eventual unique and formidable style in the company of musicians who provide varying levels of support.
On Blue Trane Coltrane apparently chose his own line up to include Lee Morgan on trumpet, Curtis Fuller, trombone, Kenny Drew on piano, Paul Chambers, bass and Philly Joe Jones on drums. Interestingly this was Coltrane's third and final outing on Blue Note records and one he reputedly described as one of his favourite albums. Its a delight hearing the saxophonist putting himself forward with these early forceful solos that were to become his trademark. The first track, Blue Trane, to my mind contains the best example of what was to come. Morgan is no wilting violet either and the rhythm section cope easily with the leader's demands. Maybe the most reserved member is trombonist Curtis Fuller who only really shines on the third track, Locomotion.
The other album on CD1 is Africa Brass and here we are four years on in new Coltrane territory and with a new label – Impulse. Nineteen other musicians are included on the album and these include Eric Dolphy, Freddie Hubbard, McCoy Tyner and Elvin Jones – the last two being part of the later classic quartet. Half the album is taken up with one track – Africa – and the music is extraordinary. The instrumentation includes tuba, French horns, two basses, euphonium and baritone saxophone. African rhythms and vocals are at work throughout the piece and Coltrane's keening tenor and soprano saxophone playing is a revelation. The final two tracks – Greensleeves and Blues Minor – have a more traditional feel (as if Coltrane could ever be described as traditional) and there is a greater sense of the quartet format that was to become his trademark. Particularly interesting is hearing Coltrane and Dolphy sparing against each other.
CD2 opens with the 1960 Coltrane Plays The Blues and here Coltrane plays alongside McCoy Tyner, Steve Davies and Elvin Jones. Swap Davies for Jimmy Garrison and you've finally reached that classic quartet. This a beautiful blues drenched album which is interesting for the way Coltrane mixes soprano and tenor saxes and leaves out Tyner on piano for three tracks. Blues To Bechet contains a wonderful extended soprano solo that demonstrates Coltrane's influence and debt towards the great jazz tradition that people do not often associate with his work.
Ole Coltrane features the saxophonist with Freddy Hubbard, Eric Dolphy (who for contractual reasons is listed as one George Lane), McCoy Tyner, Art Davies, Reggie Workman and Elvin Jones and much of the album is taken up with the extended title track. The influence by and on Eric Dolphy has been a long debated question and on Ole you have the chance to hear Dolphy on alto sax and flute alongside the leader's tenor and soprano.
Altogether these four albums offer a fascinating insight into the early playing of one of jazz's greatest and innovating musicians. Well done, yet again, to Avid for bringing it to our attention. Dave Puddy
++++++++++++++++++++
Don Bagley – Four Classic Albums – Avid Jazz AMSC1231 Don Bagley – born 1927 – had extensive formal training as a bassist and by age eighteen was playing with top professionals Shorty Sherock and Wingy Manone. From 1950 to 1953 he was with Stan Kenton even though that band's regular bassist was the ace Eddie Safranski. With Kenton two special features "A study for bass" and "Bags" were written for him by Bill Russo and Bill Holman but strangely they're not included here! From there on he led his own small groups and played with many top West Coast jazzers including Maynard Ferguson and Dexter Gordon. For a time in the 1950s he worked in Europe with Zoot Sims, Ake Persson and others. Back in the States he was with Les Brown, Kenton and many others and recorded three albums under his own name – they are here together with tracks from an album by the Kenton Orchestra. On the tracks with Kenton here Bagley is no more prominent than any sideman would be but from what one can hear he was adequate. The next album included "Basically Bagley" sees him with pianist Jimmy Rowles and drummer Shelly Manne who is far too busy on snare for my ears. Otherwise these tracks are excellent with our bassist well to the fore providing good listening. The third and fourth albums have our man with Phil Woods on alto in one and Tommy Loy and Paul Horn on French horn and clarinet and flute on another. On these Bagley can be heard more prominentaly and he acquits himself well showing a good imagination without ever being too busy. Frankly I didn't expect to enjoy this album but did – it flows and swings and is quite refreshing without ever being over exciting. In other words this is jazz "easy listening".
https://youtu.be/az6MYFJPuvI?list=PLja6VOwlK6_iis_Dm9Vu2f-WUWxynUt26
++++++++++++++++++++
Les Paul – the Jazzman – Avid Jazz double album AMSC940
Life has never been easy for jazz guitarists. Very few have found it possible to make a living in their own right with trios or similar small groups but a few like Barney Kessell. Kenny Burrell, Wes Montgomery, Charlie Byrd, Tal Farlow, Laurindo Almeida, Django Reinhardt, Eddie Lang and Charlie Christian earned such good reputations that they became "name" attractions. There were others of course. But many were confined to the ranks of big and medium-sized bands, happy to make jazz on the terms of their bandleaders like the case of Freddy Green with Count Basie or Eddie Condon with any of his small groups or Charlie Christian with Benny Goodman even though Christian did have a major influence on the early form of modern jazz. And then came Lester William Polfuss (June 1915 – August 2009) – the man known as Les Paul who brought a whole new dimension to the guitar not only in jazz but in Country & Western and popular music, and that's not giving credit for the ways in which he revolutionised recording techniques.. But you can find a good biography of the man on Wikipedia – here we're concerned with two fine CDs of Paul's music recorded between 1944 and 1947 – his jazz age. Later of course – mainly with his wife Mary Ford – he made top ten hits with multi-tracking on titles like "How High the Moon" – you can find it on YouTube. Here though we find him firstly with the amazing early Jazz at the Philharmonic "pick-up" all-star band with J.J.Johnson, Nat king Cole ("just" a pianist and occasional singer at that time!), Illinois Jacquet, Shorty Sherock and others. Then there are excellent trio tracks – one with Art Tatum – and various other small groups like the piano-led Eddie Heywood Sextet which had Vic Dickenson, Oscar Pettiford and Sid Catlett. There are also tracks with Paul featured within the Willie Smith Orchestra. But it's mainly in small settings that we hear the guy's superb style and creativity – we get for example the chance to hear him with Harry "Sweets" Edison, Lionel Hampton, Barney Kessell and many others. His solo style was influenced by Django but his individual ideas were unique – quite correct for the man who co-invented the solid bodied guitar and vocal multi tracking. This man was a genius – he's well worth a listen and these two CDs should be part of any jazz history library.
++++++++++++++++++++
Freddy King and Albert King – Four Classic Albums on a double CD– Avid Roots AMSC1229
Blues enthusiasts and students will know what type of music I mean when I say that these four albums comprise tracks that were originally – as far as I can tell – recorded as singles for the black music market. This is urban blues at its least commercialised – at its most simple. Down and dirty room rent party music. It's simple uncomplicated, uncommercial stuff and the inspiration for so much that has populated the white rock and roll era of the Stones and others. These guys are not stars – except locally in places like Chicago's south side and St. Louis – you'd hear them on the same bills as people like Jimmy Reed and Jackie Wilson. So go on – get the beers in – turn the lights low and play this – it's where urban blues is at – great moody stuff.
++++++++++++++++++++
Walt Dickerson – Four Classic Albums – Avid Jazz AMSC1183
Vibraphonist Dickerson never gained major fame preferring to follow his own distinctive path which he refused to explain insisting – so it seems – that it was up to the listener to decide what it was he was hearing rather than have the musician explain it to him! Born in 1928 he mainly played in California but did work a little in New York where he recorded four albums for the Prestige label – the four here appear to be them. He worked mainly with pianist Andrew Hill and also a little with the controversial Sun Ra. He's a fine creator and improvises well but the tracks here lack drama – they're cool – intricate at times but fail to excite. That means for me (BH) they're fine for the background to a jazz dinner but not much more. Unlike the vibes work of the great Milt Jackson who was a great swinger, Dickerson doesn't light any fires.
++++++++++++++++++++
Don Elliott – Four Classic Albums – Avid Jazz double CD.
Don Elliott was a very talented multi instrumentalist, composer, vocalist and the recording engineer who pioneered the multi-tracking system. He became known initially for his superb mellophone playing but proved equally adept on trumpet and almost every other brass instrument plus the vibraphone, the piano – almost all the instruments. As a composer he wrote the music for the Robert Redford film "The Happy Hooker" and the scores for several Broadway shows. In other words the guy was (he died in 1984) a near musical genius. That's proved with ease on the four albums that make up this first class collection and we also find that he had a fine voice as he sings on some tracks – well too. All four sets here are super jazz with tons of variety in the choice of material. Playing with Elliott on the various albums are a host of world-class jazzmen including guitarists Joe Puma and Mundell Lowe, bassist Milt Hinton, reedman Hal McKusick, pianist Dick Hyman and drummer Don Lamond. I hadn't expected to enjoy these CDs imagining that they'd be a boring procession of tracks proving what a genius instrumentalist Elliott was. I couldn't have been more wrong – this is a super collection of very fine jazz tracks that's great fun to listen to – yes – right to the end. The first CD here is 82.30 minutes and the second 78.54 – super value.
++++++++++++++++++++

Curtis Counce – Four Classic Albums – i.e. – Teddy Charles Quartet & Quintet – Collaboration West; Curtis Counce Group – You Get More Bounce With Curtis Counce; Curtis Counce Quartet – Explore the Future; Curtis Counce Group – Carl's Blues. Avid Jazz double CD.
No sooner had the jazz world absorbed the new jazz emerging from New York's 52nd street clubs in the late 1940s and early 1950s – music created by Thelonius Monk, John Lewis, Charlie Parker, Dizzy Gillespie et al, than there emerged a similar West Coast scene. This movement, generally more cool and structurally adventurous in its musical approach was centred around film studio musicians like Shorty Rogers, Shelly Manne and Art Pepper. And among this bunch was bassist Curtis Counce who created his own group often featuring hard bop tenor man Harold Land. Other collaborators in his four albums include trumpeters Jack Sheldon and Shorty Rogers, pianist Carl Perkins and saxist Jimmy Guiffre. Two of the four albums here are excellent straight-ahead explorations of standard chord sequences like "Mean to Me", "Too Close for Comfort", "Love Walked In" and "I Can't get Started" interspersed with workouts on originals members of the groups had penned. Two albums are however way-out sound explorations which must have been great for the guys to play but leave me cold. Hot modern jazz I love – the coolest leave me cold. PS – did you know that Shorty Rogers real name was Milton Rajonsky?
++++++++++++++++++++
George Wallington – Four Classic Albums – Avid Jazz double CD
Pianist George Wallington began his career in the 1940's playing alongside such bop giants as Dizzy Gillespie and Charlie Parker before leading his own groups in New York between 1953 and 1960. This excellent Avid collection demonstrates Wallington's mastery of the piano both as performer and composer, though his most well known compositions, "Lemon Drop" and "Godchild" are not included here.
The collection opens with the 1955 album 'George Wallington Quintet at the Bohemia.' – a New York jazz club started at the instigation of Charlie Parker – and features the pianist playing alongside such future stars of bebop such as saxophonist Jackie McLean, trumpeter Donald Byrd, Paul Chambers on bass and drummer Art Taylor. An impressive line-up and one that delivers all you would expect from such musicians. Wallington play both the up-beat tempo of classic bebop but also shows a quieter and more reflective style that reminded me of John Lewis at his contemplative best.
'Jazz For The Carriage Trade sees Teddy Kotick on bass and McLean replaced by the prolific Phil Woods on alto sax and the album contains some wonderful interplay between Woods and Byrd. This is a relaxed and perhaps more introspective set with Wallington's presence being felt on all the tracks. The group's interpretation of the Gershwin standard "Our Love Is Here to Stay" is one of the delights of the album.
Jazz At Hotchkiss recorded in 1957 is based on a concert given by the Wallington Quintet a few weeks earlier at the prestigious boys prep school at Lakeville, Connecticut.. Lucky young men indeed to have some of the finest jazz musicians of the time troop out to entertain them one fine autumn evening. But I'm sure this sort of thing goes on all the time in our own prep and private schools…….. No matter. Wallington again is on fine form, including on one his own compositions, Before Dawn. Woods and Byrd give class demonstrations of how sax and trumpet players can both solo and magically interplay with each other whilst Knobby Totah on bass and drummer Nick Stabulas provide A grade support. Top marks all round.
Recorded six months earlier, The Prestidigitator, (it means juggler or conjurer) finds Wallington in the company of J.R. Montrose on tenor sax, Jerry Lloyd, bass trumpet, Teddy Kotick on double bass and Nick Stabulas, drums, all musicians now largely forgotten yet whom the pianist leader held in considerable esteem at the time. For me the most intriguing aspect of this album is the inclusion of three tracks composed by the pianist Mose Allison. Wallington had met Mose that year in New York and had been so impressed by his playing that he helped him get a recording contract and the tracks here are the first time they were played and recorded by anyone other than Allison.
The Prestidigitator was the last album George Wallington made before he stopped playing and moved to Florida where he worked in the family air conditioning business – a decision he explained on the pressures of endless touring. It was a sudden end to a career by a talented and popular musician and someone whom, for a short period, was very much part of one of jazz's most exciting and innovative period. Dave Puddy
++++++++++++++++++
"Classic Box Set – Louis Armstrong – Satchmo: A Musical Autobiography Parts 1 & 2". Avid Jazz.
Whilst playing the CD "Drum Face" and listening to the track where Louis Armstrong is chatting to his one-time drummer Zutty Singleton – the mini-review is elsewhere on this site – I decided to look at a Mosaic Records set of biographical tracks Louis Armstrong that I've had for many years. Sadly I've never played all the six CDs in the set right through knowing that I would "one day"…… Within that set I thought the tracks that Milt Gabler (founder of Commodore records) had recorded with Louis talking and playing through his biography had been included. But – now I find that the vocal introductions and reminiscences by Louis had for some reason been deleted. Dismayed and feeling cheated I checked through my Armstrong CDs – thirty of them – and came across two on the Avid jazz label titled "Classic Box Set – Louis Armstrong – Satchmo: A Musical Autobiography Parts 1 & 2". And on them – guess what – there are the historic tracks recorded for Decca by Milt Gabler in late 1956 and early 1957 with Louis lovingly recalling "King" Joe Oliver and his early days as a boy in New Orleans, the Hot Fives and Sevens and much more. Those great tracks don't quite fill the two CDs so Avid have also included the tracks from Louis LPs "Satchmo plays King Oliver" and "Louis and the Good Book" – all super tracks. And I'd forgotten that I had them!
I can't recommend these two CDs highly enough. They are wonderful, unrepeatable jazz history and worth their weight in gold and great listening – super stuff from the maestro. In the UK they sell for around £5 each which is a gift. Grab them fast before they get deleted.
+++++++++++++++++
Toots Thielemans – Four Classic Albums. Avid Jazz
Here's your starter for ten: Which jazz musician appeared on numerous records as whistler, guitarist and harmonica player? Well, yes, the last gives it away – Toots Thielemans is the answer and this four LP compilation of music of the late 1950's and early 1960's from Avid allows Thielemans to demonstrate his skill and talent in all three areas.
"Man Bites Harmonica" puts Toots on harmonica and guitar in the company of Pepper Adams on baritone sax, Kenny Drew on drums, Wilber Ware on bass and Art Taylor, drums. Thielemans always acknowledged Parker and Coltrane as major influences and this 1957 record has distinct links with the bebop of the period. Adams' baritone creates a moody and often nocturnal feel to the music and Thielemans' harmonica fits in perfectly with this atmosphere.
Altogether different is the second disc, "Blues Pour Flirter" – recorded in Paris in 1961. No harmonica, no whistling, just Toots on guitar in a quartet setting with piano, bass and drums playing a mixture of classic standards including Willow Weep For Me, Satin Doll and Honeysuckle Rose together with Thielemans' own compositions. Given Toots' reputation for making the harmonica virtually his own and a unique jazz instrument, his guitar playing is surprisingly impressive with a style reminiscent of Django Reinhardt. Altogether a highly listenable and very French disc and one that demonstrates another side of Toots' playing that is certainly new to me.
The final couple of records – "Toots Thielemans" and "The Romantic Sounds Of Toots Thielemans" – date from 1961 and reveal yet another side of the Belgian jazz musician and one far removed from the boppish early records. Whistling, harmonica and guitar all feature on the former, whilst Toots is accompanied by a full blown orchestra on the latter. Both these discs drift towards what today would considered easy listening but the obvious genius and creativity of Thielemans brings them well beyond simple listening.
Theilemans had a long, varied and highly regarded career – he continued performing till he was 92 in 2014, dying a couple of year's later – and a considerable part of his reputation was based on numerous film scores he wrote including "The Pawnbroker" and "Midnight Cowboy". He mixed with some of the greatest jazz musicians of his time and was often sought out in order to give a highly distinctive sound to a record. I found this four disc collection a fascinating introduction to the music of Toots Thielemans and it certainly makes me want to explore more of his discography. Again, well done Avid. Dave Puddy
++++++++++++++++++++

Ralph Burns – Four Classic Albums Plus – Avid Jazz double album.
Back in the day – as the current saying goes – Ralph Burns was an upcoming talented pianist, arranger and composer. His association with bandleader Woody Herman produced a series of emerging modern jazz big band classics like "Summer Sequence". Here he demonstrates his undoubted prowess as a pianist in tracks from the LP "Spring Sequence" and then with the quaintly titled "Quiet Herd" we hear his arranging skills in a wide variety of tracks which range from Bernstein's "Tonight" to Coleman and Leigh's "Witchcraft". None of them are outright jazz. The second CD here has a small group section featuring Burns piano and Jimmy Raney's brilliantly inventive guitar. The final section of the second CD is given over to Burns Orchestra's exploration of the music from the opera Porgy and Bess but titled "In Modern Jazz". Sadly the title over-eggs the content which is lightweight and very complex with no real substance to it. There are good solo contributions from Al Cohn, Frank Rehak and Jimmy Cleveland but for me (BH) that's about it. Still if you're a fan of the technique of arranging then this might be just brilliant.
++++++++++++++++++
Modern Jazz Quartet – Four 1959 – 1962 Classic Albums including – European Concert 1 & 2; The Modern Jazz Quartet & Guests – Third Stream Music; The MJQ – Lonely Woman. Avid Records double album.
Out of the much derided chaotic and drug ridden revolution that saw the birth bebop in the late 1950s came a counter-revolution. Four of the founders of the new music formed a new band in 1952, appeared looking sartorially very elegant in tuxedos and announced themselves as the Modern Jazz Quartet. Astounded at the almost classical formal garb and understated aims of the band, the jazz world awaited their first concert appearances and album before it could get to grips with what was happening. The collective opinion was that the four had gone mad. No-one expected them to be able to earn a living with what we now knew was quiet, studied "chamber" jazz of a type that was completely new. Their club dates would be deserted the pundits claimed. Their concerts would be cancelled because of poor ticket sales. They would have to return to being sidemen – pianist John Lewis had been just that on early Dizzy Gillespie – Charlie Parker recordings – vibraphonist Milt Jackson was also an early Gillespie alumni. But the pundits were all proved wrong. The group's new, quiet and studied and yet hot and exciting music found an eager audience. Lewis' compositions veered towards the classical – he was a great believer in the theory that the works of J.S. Bach were near to jazz – whilst Milt Jackson's ideas were hotter closer to the blues. The combination of the two proved both creative and infectious. The brilliant rhythm section of Connie Kay on drums and Percy Heath on bass both found the new more staid approach to the music actually freed them up to better express themselves. In other words the MJQ – as they rapidly became known – were an enormous success. Their albums sold well and their concerts and clubs dates were often sold out. They were much in demand and continued for many years until failing health and creative differences served to end their career as the MJQ. But – we have their recordings to remember them by and none are finer than in particular the first disc here which has a complete concert from their sell-out Scandinavian tour of 1960. Included are several of the group's most popular compositions like "Django" and "La Ronde" and on the second of the two CDs here the band are joined by a selection of other musicians that they had worked with like guitarist Jim Hall and saxophonist Jimmy Guiffre. Then we hear the group alone with John Lewis' suite "Lonely Woman" which is fascinating. These two CDs contain some of the finest modern jazz recorded and deserve to be in every collection. There is a clip of the band in our video section.
++++++++++++++++++

Lightnin' Hopkins – Four Classic Albums – Avid records double CD.
Born in 1911 Sam John "Lightnin'" Hopkins was an American country blues singer but also a guitarist, songwriter and sometimes a pianist. His style was primitive both as a singer and guitarist but this rawness allowed his deep feelings and heartfelt sentiments to shine through. His work is sometimes hard to listen to. There are no frills, no fancy chord changes and his voice is often harsh and unsophisticated. He told his stories like it was and maybe it's for that reason that in his obituary the New York Times said that his work was "perhaps the greatest single influence on rock guitar players". Writer Robert "Mack" McCormick said that Hopkins is "the embodiment of the jazz and poetry spirit, representing the ancient form in the single creator whose words and music are one act". Certainly this man's work is unique – raw – strong – unadulterated – totally original. At an early age he was strongly influenced by fellow bluesman Blind lemon Jefferson and said of their first encounter that the blues were "in him". Jefferson never allowed anyone else to play with him and the two often appeared together at church gatherings. It took until 1946 for Lightnin' (a name given to him by Aladdin Records to try to help sell his early records) to begun to make a name through recordings, but from then on he made a steady living although thankfully his modest successes didn't make him change his style. The tracks here are never to my mind (BH) "easy listening" – but they are very real. There's a video clip of Lightnin' playing and singing "Mojo Hand" (from one of the albums here) in our Video section – you'll see what I mean there.
++++++++++++++++++
Lonnie Johnson – Four Classic Albums. Avid's collection of four Lonnie Johnson albums onto two CDs is beautifully engineered and restored but the music on the albums doesn't do justice to Johnson's real blues talent. All the tracks here were recorded in the electric guitar era and Johnson's delivery is far too smooth and gentle for the blues idiom. We know that Lonnie could sing real down home and dirty blues – what else made Lonnie Donegan appropriate his name? And we also know Johnson was a fine musician even appearing in Louis Armstrong's late Hot Five sides at one time. But this release is too sophisticated by far and belies his roots.
+++++++++++++++++
Herb Geller – Four Classic Albums Avid Jazz
If you find the full-on bebop of Charlie Parker or Dizzy Gillespie a touch hard to take, but still enjoy the improvisatory thrill of the music then this recent release from Avid of four Herb Geller albums from the 1950's might be right up your street. Originally from Los Angeles, alto saxophonist Geller started his career playing in the bands of Claude Thornhill and Billy May in New York. Here he came into contact with Parker, Benny Carter and Johnny Hodges, all of whom where highly influential. In 1952 Geller returned to the West Coast where he remained until 1958 and it is from these years that all but one of the Avid albums here were recorded. 'Herb Geller – Plays' and ,Herb Geller – Sextet ' from 1955 represent some of his earliest work as leader and arranger. Whilst very much a bebop player, Geller has a softer and more lyrical approach and this together with his skilful arranging are shown clearly on these discs that typify the classic west coast jazz of the period. The third album – 'Herb Geller – Fire in the West' from 1957 does very much what it says on the tin. Supported by top flight musicians Haroaald Land, Kenny Dorham, Lou Levy, Ray Brown and Lawrence Marable, Geller's playing reaches new heights. The arrangements are more adventurous, the presence of saxophonist Harold Land pushes Geller to another level and the trumpet of Kenny Dorham is a delight. The final albumis something of a oddity. 'Herb Geller and his All Stars – Plays Selections from Gypsy.' This musical opened in New York in 1959 and it was here that Geller had moved to following the tragically early death of his wife, the pianist Lorraine Geller. His arrangements capture the spirit of the show and the presence of singer Barbara Long, Thad Jones on trumpet and a young Scott La Faro on bass make this a jazz album which stands alone in its own right and not simply as a musical soundtrack.
Geller continued making records until shortly before his death in 2013. For much of his career He lived in Germany where he was a main figure in the big band of the NDR in Hamburg. He was highly honoured by Germany – including a knighthood – and Avid are to be congratulated for bringing out this collection that provides an enjoyable introduction to a saxophonist who deserves greater recognition. Dave Puddy.
"B.B. King – Four Classic Albums". These four superb albums represent BB's middle period if you like – post radio show product plugger – with blues between the plugs and prior to his making it in the big time. But these are classic tracks – many are BB compositions and show him growing into the star he was to become. They are atmospheric, very sincere and very down home, full of feeling and great guitar from the man himself and from his band who really knew how to get down. This album is a blues "must" – brilliant stuff.
Saxophonist Earl Bostic had an enormous top ten (and the rest!) hit in the 1950s with his unique instrumental versions of numbers like "Flamingo", "Harlem nocturne" and sweet "Lorraine" and subsequently became a big hit artist. And all that was from a jazz musician who had at one time been known for "cutting" jazz giants like Charlie Parker in after hours jam sessions. But Bostic had adopted two things that turned his career round –he'd begun using a very hard reed which gave his horn a unique tone – and he'd gone over to a smooth version of a rhythm and blues style that brought him tom a larger audience than there was for pure jazz. Despite being a popular success Bostic never forsook his roots and was always game if there was a jam session in the vicinity of one of his more "pop" gigs.
"Jackie Davis – five classic albums" – and that's on two full-length CDs as are all Avid label releases. And the subtitle could be – "of classic Hammond organ jazz" because that's what you get here. Excellent playing from Mr. Davis with a small rhythm section on most tracks and on eleven he has the added attraction of no fewer than nine trombones superbly arranged and conducted by the great Gerald Wilson – plus of course a star studded rhythm section including Joe Comfort and Milt Holland. It's very listenable stuff with many classic tunes mixed with a few punchy originals – fine value – excellent music.
Here's an
Avid label "oldie" that you may have missed. It's a quite remarkable ten CD set charting the remarkable career of pianist, vocalist and above all songwriter Hoagy Carmichael. Titled "Hoagy Carmichael In person 1925 to 1955" it features not only his unique singing voice but also those of Bing Crosby, Kay Starr, Louis Armstrong, Frank Sinatra, Sarah Vaughan and the instruments of Glenn Miller, Bix Beiderbecke, Benny Goodman and many more. Hoagy wrote Stardust, Old Rockin' Chair, Lazy River and several hundred more. This is a superb totally classic beautifully restored and annotated set that bears many repeated listenings.
"Billy Taylor – Four classic albums" – more great bargains from Avid by the way of four 12" LPs concentrated onto two very high quality CDs. And the great thing about Taylor's playing is that he doesn't try to dazzle us with 500 notes per minute but allows melody and subtle variation to be the keynote of his explorations. I suppose you could say that these tracks are "easy listening" but that puts this collection in danger of being relegated to "muzak or supermarket background rubbish" and it's certainly not that. No – these tracks are intelligent and often exciting jazz excursions – and very enjoyable too.
"Sidney Bechet – Four classic Albums" – From the age of about seven in his home town of New Orleans in the early days of the last century Sidney Bechet was beginning to be recognised as a rare musical genius – a prodigy. His discovery by local top men, some of whom played in the classical opera house orchestra, was the forerunner of a career that stretched over half a century and across half the world too. He was even the star soloist in an orchestra that appeared in London as early as the 1920s. But his world was jazz of course and such was his towering genius of an ability to improvise endlessly on almost any melody – it was the world of small groups of course because he dominated any musicians he played with. It's not going too far to say that he was the great genius of a solo performer that jazz has ever seen. He's without doubt the equal of Louis Armstrong, Charlie Parker, Lester Young, Sonny Rollins – all of them. And these fine tracks prove it – recorded in France during the latter part of his career in the 1950s and 1960s when he made that country his home – these tracks prove my case. They are fabulous examples of a towering jazz talent.
Oscar Pettiford Six Classic Albums on Avid Jazz
For a bassist whose played alongside Ellington, Monk, Rollins, Davies, Gillespie and Hawkins Oscar Pettiford should be more widely known and appreciated and this wonderful Avid collection is a great place to hear Pettiford's work from the early and mid 1950's.
Pettiford's career started in the 1940's and he was one of the first bass players who helped develop the emerging bebop style of jazz. An accident in 1950 when he broke his arm made playing the double bass impossible and as a result Pettiford adapted the cello to become a jazz instrument. Even after he managed to return to the bass he continued to play and record the cello as a favoured second instrument.
This Avid collection includes Pettiford leading 4,5 and 6 piece bands plus his own orchestra and comes with original album notes. The remastering quality is up to Avid's usual high standard and altogether this is yet another of the record label's superb bargains. Dave Puddy
Sauter-Finegan Orchestra –Four Classic Albums (Avid Jazz series) – well – Avid say this is jazz but many enthusiasts would take issue with that statement. Certainly the tracks here are good big band swing with jazz overtones but pure jazz – surely not? Both Sauter and Finegan were accepted 1950s big band arrangers when they had the big band idea and in no time a major record contract ensured them long term work and concert exposure for the band – sorry – orchestra. The arrangements are very unusual employing a wide variety of instruments not often found in swing bands – like the kazoo and the sound of a beaten human chest! And their innovation paid off. The orchestra had huge hits with tracks like "Doodletown Fifers" and "Nina Never Knew". Eventually however the novelty wore off and Eddie Sauter and Bill Finegan went their separate ways – here though on two very fine CDs is their legacy – a brilliant one which still makes for great listening.
Paul Bley – Four Classic Albums on 2 CDs – Avid Jazz series. A magnificent aggressively modern pianist, who died only earlier this year (2016), he was widely respected and in his day played with Charlie Parker, Chet Baker, Ben Webster and almost anyone who was anyone at the time. Here for example on some tracks he's partnered with Charlie Mingus and Art Blakey and on others with Percy Heath. With his "Jimmy Guiffre 3-Fusion" set (included here) he was of course with the great reedman. But the point I most want to make is that despite his modernism you could always understand where he was going – could follow melody or improvisation. His was a language that spoke to all of us and that made it the more enjoyable. The world is full of modernist piano tinklers – few had Bley's ability to communicate and we're going to miss him. His work was most rewarding to listen to. Bravo Avid for bringing these albums back to us.
Jimmy Reed – Four Classic Avid Roots albums series
Born in 1925 urban bluesman Jimmy Reed had a major effect on later big stars like Elvis Presley, Eric Clapton and the Rolling Stones. I can remember in the offices of the pop paper Record Mirror where I (BH) worked new Reed records were brought in from the States and held up as great examples of what the new electric blues should sound like. And Stones originator Brian Jones was an office regular so you can see the connection. What attracted the attention to his music was the slow lazy, smokey tempos so redolent of bars and the jitney joints where the music thrived. We'd never heard anything like it but soon Reed had a few hits like "Baby what you want me to do" and "Bright lights big city" and his reputation went into orbit. Here then are gems of tracks from his early career – they're simple laid-back urban tales and a lovely relaxed uncomplicated feel to them. Great original blues.
Herbie Nichols – Avid Jazz – Four Classic Albums
These four have rather odd titles – there are Herbie Nichols – The prophetic Herbie Nichols Vols 1 & 2, the Herbie Nichols Trio and Herbie Nichols – Love, Gloom, Cash and Love. And none of that helps me interpret what he was trying to put down here. There again you have to have sympathy for the guy. Of West Indian origin he pitches up in New York hoping to make his mark and attempts to cut into the scene at Mintons the hotbed of early bop innovation and cutting contests between the young bloods of the new music. Herbie didn't like it and frankly didn't make it. He had to beg labels to record him but eventually did get some minor recognition – the albums here are four examples. His style is original but not distinctive – he seems undecided about himself – showing an affinity for Monk-ish chords and progressions at some points and at others sounding remarkably like Errol Garner. Overall you get the feeling of a man suffering from many influences – Bud Powell, Dodo Marmarosa and the two previously mentioned – but not having at this point found his own identity. Fascinating though for all that.
+++++++++++++++++++++++++++++++++++++++++++++
Joan Baez – Avid Roots series – Three classic albums plus
This double CD set of sixty six tracks is of work very early in Baez' career. At this time she was the toast of Greenwich Village' café society along with Bob Dylan and other emerging folkies. The attraction of Baez was not so much that her work focussed on social comment as did Pete Seeger and at times Dylan but oddly enough on the pure quality of her bell-like voice. Indeed – asked to sing at a Civil Rights rally she was backstage when the organisers discovered that the star speaker Doctor Martin Luther King had fallen asleep, They asked Baez to go and sing gently to him in the hope that he would awake in time to address the vast waiting audience. She did, he stirred and muttered "I hear the voice of an angel" – turned over and went to sleep again. On these two CDs Baez sings a vast collection of conventional folk songs like "House of the rising sun" and "Pretty Boy Floyd" but her renditions lack conviction. OK she sings them well enough but to my mind she lacks conviction – there's rarely a message in them whereas in recent years she really "preaches" the message of the songs.
++++++++++++++++++
Shelly Manne – Three Classic Albums Avid Jazz
The career of highly regarded drummer Shelly Manne spanned five decades from the 1940's through to his death in 1984. . Never wanting to be pigeon-holed into any particular style of jazz, Manne was equally at home playing alongside Stan Kenton, Dizzy Gillespie, Stan Getz, Ornette Coleman and even the British singer Tom Waites. Manne's style of playing has been described as swinging, precise, clear and multi layered and he happily played Dixieland, be-bop and avant-guard jazz as well as accompanying singers such as Ella Fitzgerald, Sarah Vaughan and Frank Sinatra. He performed on soundtracks for numerous films at a time when when jazz began to feature more prominently in cinema and television and was a long-time collaborator with composer Henry Mancini. This Avid collection focuses on Manne's work in film – notably in soundtracks from 'Peter Gunn', 'Bells Are Ringing' and Li'l Abner' – and they all date from the late 1950's. Renowned as a sympathetic accompanist on drums these discs showcase Manne alongside Andre Previn, Russ Freeman and Victor Feldman and at their best these recordings are wonderful examples of West Coast cool jazz of the period. Dave Puddy.
+++++++++++++++++
Jimmy Giuffre – Four Classic Albums Avid Jazz
These four albums – Jimmy Giuffre, Tangents in Jazz, The Jimmy Giuffre 3 and Historic Concert at Music Inn – chart the early recordings of clarinettist and saxophonist Jimmy Giuffre in the mid 1950's and an intriguing and varied collection they are. Giuffre began his career as an arranger for Woody Herman and soon progressed to become a member of Howard Rumsey's Lighthouse All Stars in California where for a number years Giuffre's music was synonymous with what became known as West Coast Jazz.
The first album, recorded over three sessions, includes mostly pieces composed by Giuffre and features musicians such as Bud Shank, Shorty Rogers, Shelly Manne and Russ Freeman and already Giuffre's interest in creating different moods, instrumental combinations and levels of improvisation is apparent.. Tangents in Jazz continues this theme and Giuffre is now establishing a reputation as a player wanting to create his own distinctive sound and style of jazz. The best known of the albums – The Jimmy Giuffre 3 – includes his most famous composition, The Train and the River, and features Jim Hall on guitar and Ralph Pena on bass where Giuffre made a conscious decision not to include drums. For my money this Avid collection is worth the money for this delightful album alone. The Historic Jazz Concert at Music Inn was recorded as an impromptu event at the end of a jazz summer school attended by a wide range of jazz musicians including Pee Wee Russell, Rex Stewart, Herbie Manne, Percy Heath and Oscar Pettiford. The result is four wonderfully extended numbers including Duke Ellington's In A Mellotone and the classic Body And Soul. Jimmy Giuffre went on to explore various genres of jazz including making a number of ground-breaking free and totally improvised records with Paul Bley and Steve Swallow. However, that is another story, but Giuffre's journey to that destination begins with this fascinating Avid collection. Dave Puddy
+++++++++++++++++
It may seem odd to find reviews of three blatantly Christmas albums in these columns – but there's a reason. We all – well maybe most! – of us celebrate Christmas and some I know from experience will find among their family members those who ask "can't we have some Christmas music?". Well – here's your way out – three albums packed with all the traditional songs and performed for the most part by artists you will find acceptable. The first of the three features seasonal songs by Ella Fitzgerald, Peggy Lee, Charles Brown, Stan Kenton and Sidney Bechet. Of the five Ella is the most convincing because any song sung by Ella immediately becomes "her" song and for the most part you'll never forget her version – it usually becomes classic. Then there's the wonderful intimate sounding Peggy Lee and Sidney Bechet – superb. On the Bing Crosby, Sinatra, Dean Martin and Nat King Cole fifty one track extravaganza you can't really argue with the most played version of "White Christmas" (Bing), Sinatra's "I'll be home for Christmas", Dean Martin's "Baby, it's cold outside" or Nat King Cole's "Joy to the world" – another great collection. And the third double CD in this collection? It has Elvis, Bobby Darin, Bobby Vee, the Four Seasons and the Everly Brothers – all favourites with Mums and Grannies everywhere. So there you have it – our excuse – sorry – reason – for including people like Elvis in these pages. Happy Christmas – now you can put some Louis and the all stars on the turntable.
++++++++++++++++++
During the recent Olympic Games the world was exposed to the samba and bossa-nova music of Brazil on a scale previously unheard of. Not known to most of us during the games however was the fact that samba was declared the official music of the country by the President as early as 1930s. Indeed the sleeve to this excellent double album reports that as early as 1917 a local hit was a samba titled "Pelo Telefone" – no one week wonder then the new music! In more recent times however the samba's supremacy has been threatened locally by the Bossa Nova (literally "New Friend") which started life locally as a 1950s-1950s hybrid of samba and jazz. This new double CD album from Avid couples the music of from four classic Bossa Nova LPs from that era. They feature albums by Joao Gilberto, Walter Wanderley, Sergio Mendes and lastly Gilberto with Wanderley and Antonio Carlos Jobim. It's all very easy listening excellent latin-tinged-jazz, highly suitable as background music to a dinner party or an evening of seduction lubricated by the occasional tequila!
++++++++++++++++++