Peter King, Britain's greatest jazz saxophonist and world-class model aircraft builder – obituary
From the Daily Telegraph 02/09/20 –
He was also internationally recognised as a builder of model aircraft and in some parts was known chiefly as 'the free-flight guy'.
Peter King, who has died aged 80, was the finest alto saxophonist that British jazz has so far produced, and among the finest in the world at the height of his career. For technique and ingenuity he was unsurpassed, but it was the expressiveness and passion of his playing which set him apart.
Peter John King was born at Kingston-upon-Thames on August 11 1940, the son of a Unilever advertising executive. As a teenager he listened avidly to the nightly Jazz Hour broadcast on the American Forces Network.
His ambition was to work in aerodynamics, but a nervous breakdown caused him to leave school before he could take any exams. Instead, he became an apprentice cartographer at the Directorate of Overseas Surveys.King at home in 1985 CREDIT: Brian O'Connor/Images of Jazz/Heritage Images via Getty
He took up the clarinet first, followed by the saxophone, teaching himself by laboriously copying from records, those of Charlie Parker in particular. His first public performance was with an amateur band in the back room of a local pub.
That was in 1957. Little more than two years later, on October 10 1959, 19-year-old Peter King was introduced as a rising star by Ronnie Scott, on the opening night of his club.
King went on to join John Dankworth's new orchestra, followed by two years with a quartet at Annie's Room, the Covent Garden club owned by the singer Annie Ross, as well as big bands assembled from time to time by Tubby Hayes, Harry South and Stan Tracey.
In 1969 he toured in Britain as a member of Ray Charles's band and played a prominent part in Quincy Jones's soundtrack music for the film The Italian Job.
This was all prestigious work, but mostly out of the limelight. There were, for instance, no recordings under his own name in the 1960s or 1970s. This was a time in which he became addicted to both heroin and cocaine, and was even homeless for a while.King played saxophone on the Quincy Jones soundtrack to the 1969 film The Italian Job
He looked back on these as wasted years, yet somehow he managed to keep going, his brilliance being recognised by widening circles in jazz and popular music. In those years he recorded with, among others, Georgie Fame, Jon Hendricks, Alexis Korner and Zoot Sims.
It was not until 1982 that King, now free of his dependence on drugs, recorded an album of his own, with a band he had chosen himself. Appropriately, the title was New Beginning, and it was followed by eight more in the course of the decade.
These recordings reveal the progress of a fascinating evolution in his style, as the primary influence of Parker was gradually overlaid by the effect of later developments introduced by John Coltrane and others, although there was no mistaking the distinctive Peter King sound.East 34th Street (1983)
Probably the best of the series is East 34th Street (Spotlite, 1983), by what was then his regular quartet, including the superb pianist John Horler. However, "best" is too simple a word for anything concerning Peter King, whose talents came as part of a fragile personality, complete with numerous phobias and obsessions.
More characteristic is the album Tamburello (Miles Music 1994),which takes in two of his obsessions, namely Formula One motor racing and the music of Bela Bartok. It includes a four-part meditation prompted by the death of Ayrton Senna and an improvisation on a theme from Bartok's second violin concerto, together with some jazz pieces and a version of Dido's Lament by Purcell. It is all magnificently played and much of it rivetingly beautiful.
It also sits strangely alongside his work as a high-level session musician with popular stars such as the Nice, Everything but the Girl, Keith Emerson, and even Kiri Te Kanawa. At other times he played in theatre pits, sat for days on end reading or listening to classical music, or followed his first ambition, aerodynamics.Tamburello (1995): rivetingly beautiful, it took in two King obsessions, Formula One motor racing and the music of Bela Bartok
As a designer and builder of model aircraft, King's skill was internationally recognised. Not only had he won trophies for his models, becoming British champion in his class of free-flight modelling in 1997, he contributed technical papers to symposiums on model aerodynamics, bringing him further awards and recognition.
It was rumoured that there were people scattered around the world who knew him only as the "free-flight guy".
In 2005, King was named BBC Musician of the Year for Janus, a work combining his own jazz quartet and the Lyric string quartet. Once again inspired by Bartok, it was introduced at the Appleby Jazz Festival and broadcast live by Radio 3.
api=1&origin=https%3A%2F%2Fwww.telegraph.co.uk&widgetid=1
For several years King worked with the writer Julian Barry on a full-length opera, Zyklon. Its main character is Fritz Haber, the Jewish scientist who had assisted in developing the gas which would later be the means of his own people's destruction in the Holocaust. The work received a platform production at the City University of New York in 2004.
In 2008 King was awarded the honorary degree of Doctor of Letters by the University of Roehampton, in recognition of his "diverse accomplishments". In 2011, he published his autobiography, Flying High (Northway Publications).
Peter King was married twice. His first marriage ended in divorce; his second wife predeceased him. He had no children.
Peter King, born August 11 1940, died August 23 2020
++++++++++++++++++++++++++++++++++++++++++++++++++++++++++++++
Annie Ross
Obit from the New Y0ork Post 23-07-020
Annie Ross, an internationally acclaimed jazz singer and actress, died Tuesday of emphysema and heart disease. She was 89.
Born Annabelle Allan Short on July 25, 1930, in London, Ross was the daughter of Scottish vaudevillians, and already had experience singing, acting and with life on the road by age 4, when her family moved to America.
"My mum and dad wanted me to be a star," Ross once said. "They used to call me the Scottish Shirley Temple."
Ross grew up in Hollywood, first appearing in a 1937 short film and notably playing Judy Garland's kid sister in the 1943 flick "Presenting Lily Mars." She went on to play roles in two 1980s films — "Superman III," and "Throw Momma From the Train" — as well as the 1993 Robert Altman comedy-drama "Short Cuts."
She's better known, though, for her jazz world credentials and rocky personal life.
In 1957, Ross and the singers Dave Lambert and Jon Hendricks formed a trio who became innovators of multitrack recordings with their massively popular vocal album "Sing a Song of Basie." The group went on to win a Grammy Award in 1960 for their album "High Flying" — and is often described as "the greatest jazz vocal group that ever was," the Washington Post reports.
Ross was also a songwriter, and she wrote the lyrics to the song "Twisted" in 1952. releasing it when she was just 22 years old. The jazz vocalese track, which was released again by Lambert, Hendricks & Ross on their 1960 self-titled album, has been covered by artists including Joni Mitchell and Bette Midler.
By 1962, Ross' heroin addiction and troubled relationship with comedian Lenny Bruce had consumed her life, and she left the group.
Ross was briefly married to actor Sean Lynch, and together they ran a London cabaret. Lynch died in a car wreck, and Ross declared bankruptcy. She then went on to reunite with Hendricks in the '80s, periodically performing with him through the end of the 20th century as she also scrounged together other entertainment gigs.
In 2006, "Twisted: The Annie Ross Story," a play about her life, named for the lyrics she wrote to a bebop tune at age 22, premiered in London.
According to her former manager, Jim Coleman, Ross died at home in Manhattan. She is survived by her son, Kenny Clarke Jr.
____________________________________________________________________________
Bucky Pizzarelli gave so generously of his sound, his melodic intelligence, his wit, his swing. We could be forgiven for thinking we would always have him. Here are two versions of TRES PALABRAS from the Atlanta Jazz Party, memorable in their quiet simple intensity.
2012, solo: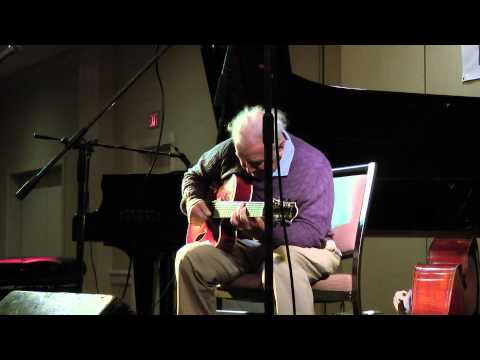 2014, accompanying and supporting Rebecca Kilgore, the two of them sending messages of love and loss to an absolutely hushed room: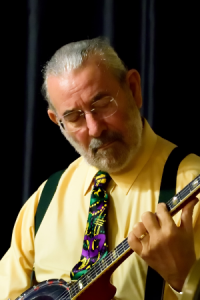 We're sad to report the passing of ace banjoist Louis Lince.
LOUIS LINCE (banjo/guitar) started playing in Stockport in 1957. Moving south to Hertfordshire in 1958, he played in the Colne Valley Six and the Memphis Jazz Band in the early '60s. He played in the early '70s with Mac's (the late Gordon Mackay) New Orleans band. He was a founder member of the Dave Bailey Trio and played in the Ken Colyer All-star bands that toured East Anglia from 1977-83. Louis played with the Cambridge-based Savoy Jazzmen for eight years.
He formed his own New Orleans band in 1984, and has been leading it in various guises since then. Louis became a full time musician in 1986. He played in the city of New Orleans on many occasions and visited there on a regular basis. He recorded with Tuba Fats and the late Linda Young in 1995. His influences include John St.Cyr, Manny Sayles and Bud Scott. The blues playing of Buddy Guy and Jimi Hendrix have also played a part in the development of his unique style. He relocated back to Stockport in 2002, where he continued to lead his New Orleans Irregulars and Louisiana Yard Dogs.
This obit is from – Jazznorthwest
www.jazznorthwest.co.uk/llince.htm – to whom we're very grateful.
++++++++++++++++++++++++++++++++++++++++++++++++++++++++++++++
Dick Williams – "My mate…….."
(This article appeared first in Just Jazz magazine)
by Brian Harvey
It was one of those gloomy, misty, damp Friday evenings that Wales seems to do so well, I often wonder if the Bards invented them to inspire sagas of doom? Sister in law Shirley with my wife Rachael, fed up with me getting in the way of organising the furniture and unpacking, said "Why don't you go down the road to the pub, they have jazz on Friday nights". We'd just moved into a Pembroke Dock terrace house intended as a stop gap temporary home whilst we looked for our ideal rural retirement retreat.
There was no band playing in the pub so disappointed but, equipped with the mandatory pint, I settled to see what was happening. I'd been encouraged by the sight of instruments unpacked from their cases and placed near a group of guys, heads together and deep in conversation. A perhaps dubiously encouraging sign was that one of them was brandishing sheets of music and had even erected a music stand.
Most eyes, other than those of the musos and myself were not intent on their beer however but on a TV screen fixed above the bar. On it was a rugby match –a passionate one to judge by the cries of the crowd in the ground and similarly encouraging exhortations from the audience in the pub. Eventually the game finished, the TV was switched off, the band organised themselves and began to play. I was delighted for not only were they playing, but playing brilliantly – well for a wet Friday in Pembroke Dock it was brilliant. These guys could not only play their instruments, they were good, very good. The music itself was a gentle middle of the road Dixieland played on melodies which the audience would have recognised. The guy who'd been brandishing the sheet music earlier played a sophisticated unobtrusive cornet and mellophone lead with super phrasing reminiscent of Bix and Max Kaminsky. He wasn't the leader but stylistically and in talent he surely was.
An interval came and I made myself known to the band, explaining that I was fresh to the area and thrilled to find that there was jazz only a hundred yards from my new home. The cornet man introduced himself as Dick and explained the earlier delay in starting to play – "Oh we can't start until the rugby's finished" said – "It's the weekly "Scrum Five" BBC programme and watching it is almost a religious experience here."
Indeed now I've been in Wales some sixteen years I know that in Wales Rugby is not just a game – it IS a religion!
That session with the band was the first of many happy evenings I had with them and Dick, realising my passion and by now knowing of my many years in the music business, began to invite me to other gigs they were playing. We got to know each other really well and I discovered that Dick was a film industry animator who'd worked at Disney – indeed he was the much celebrated Oscar winning creator of much of the film "Who framed Roger Rabbit". He didn't talk much about what he was actually involved in but did share his vitriol for much of what went on in Hollywood where he always said that he was "screwed". And that was why he had left.
He was fascinated to hear of my friendship with John Frankenheimer – maker of "Grand Prix", "Birdman of Alcatraz" and other Hollywood successes. He agreed that I was right however to have decided not to write the screenplay for a motor racing film titled "Endurance" – my reason being that I didn't think I could cope with all that the work involved.
Whilst at Disney he sat in with the Firehouse Five band which featured fellow animator Ward Kimball – they shared taste for the work of Bix. But Dick had enough of Hollywood and moved on. At some time then he found himself in New York and Eddie Condon thought enough of his work to make him a loose fit member of the Condon band for a while. Dick became a close friend of Max Kaminsky who gently tutored him particularly about the styles in which various types of jazz "standards" should be played. Another of Dick's heroes was Pee Wee Russell and he would spend hours besides stages where Pee Wee was playing sketching him until the man himself pleaded with him to stop
Dick emigrated to the UK and lived in London for eight years leading an excellent little band at the Brittania Hotel in Grosvenor square. He also worked on animation of TV commercials and his band – named for the occasion "Dick's Six" – broadcast in 1961 in the "Jazz Parade" series. They recorded a CD for Metro Jazz Records but that is now hyper rare.
Somehow then he ended up in the small Pembrokeshire town of Kilgettty where he was living when we met. He never really opened up about all of his current work at that time but did confess that what he was really working on was a film that he had already been some twenty years in the making. And he was doing it all by hand – every frame. He thought that if he could complete it – it would be a blockbuster hit. At each gig I attended I would ask him how much he's completed that week and his usual answer was – "Oh maybe 30 seconds". In recent years his blanket secrecy about the subject has slipped a little but I'll not reveal it here – maybe others will.
Dick was very fond of arranging music for the groups he played in. He had quite avante garde "modern" sounding ideas often using off-beat harmonies but still within the Dixieland idiom. He played for a while in a Bristol club where I found him happy to be with musicians who shared his vision. By that time he'd moved home to Bristol to enable his daughter to study there. So the days of me hearing him with locals groups were gone but he did play at my 80th birthday garden party a few years back but confessed on the day "my lip is shot – I do apologise but I was playing for hours last night at the Brecon jazz festival". His lip was indeed petty poor but when it did work Dick's playing was still gentle, inventive and almost poetic – very Bixian. Musically he was unique.
We discussed film animation then and subsequently on the telephone. Dick confessed that he'd had to hire some help to progress his dream film and later I heard that he'd linked up with the "Wallis and Gromit" studios of Ardman who specialise in electronic animation. But he was unapologetic when we talked – he'd realised that that his traditional methods were just too time consuming.
I didn't hear him play again, we did think of inviting him to my most recent party in August but considering our ages – we're the same – decided not to.
Did I tell you that some years ago Dick gave me a copy of his wonderful book "The Animator's Survival" guide – the book that is serving as a universal teaching guide for young animators world-wide, I gave him a copy of my biography of Kid Howard. Dick's book is now also a highly praised DVD and is recognised as the finest work yet on the subject.
Whilst via You Tube we can watch Dick teaching animation in clips from his video – I just wish you all could hear his educated elegant cornet work as a parallel memento. He was one of the finest musicians to grace our jazz scene and yet so little known. A gentleman too.
Maybe you will hear him if you can find a copy of that hyper rare "Dick's Six London 1995" CD.
++++++++++++++++++++++++++++++++++++++++++++++++++++++++++++++++
Harold Mabern
From the Daily Telegraph to whom we offer our thanks.
Harold Mabern, who has died aged 83, was a jazz pianist whose outstanding qualities were fully appreciated only when he had reached middle age. A superb ensemble player and inspiring accompanist, he played with many of America's finest musicians and singers before becoming a bandleader in his own right.
Harold Mabern Jnr was born on March 20 1936 in Memphis, Tennessee, the son of a timber-yard labourer. Impressed by his son's ability to pick out popular tunes from memory wherever he found a keyboard, his father saved up $60 to buy a piano.
With no money for lessons, the teenaged Mabern began teaching himself, mainly by hanging around pianists, listening and watching. Memphis was a blues town, and this early immersion in the blues influenced his style of playing throughout his subsequent career.
At Manassas High School in the early 1950s, Mabern found himself surrounded by other keen would-be jazz musicians, including future notables such as the saxophonists George Coleman, Frank Strozier and Charles Lloyd.
In this mutually encouraging atmosphere his technique and individual style developed rapidly and, on graduating, he and Strozier headed for Chicago to join a band with a rising local reputation, calling itself MJT+3.
Mabern recalled practising up to 12 hours a day during this time, and his playing attracted the notice of Chicago's ever-changing jazz scene. He was a big man, with hands to match, and played what used to called "two-handed piano", combining firmly marked rhythm, full chords and graceful melodic lines.
In November 1959 Mabern decided to try his luck in New York. On his first night there he was standing outside Birdland, the city's then most famous jazz venue, when he was greeted by the saxophonist Cannonball Adderley: "Hey, Big Hands! Looking for a gig? Come with me!"Before the evening was much older he found himself on the bandstand, accompanying the trumpeter Harry "Sweets" Edison.
This was the beginning of the period in which Harold Mabern became known as the jazz world's Mr Reliable. A brief extract from the list of jazz greats who relied on his pair of large, safe hands would include: Lionel Hampton, Sarah Vaughan, Miles Davis, Sonny Rollins, Betty Carter, J J Johnson, Milt Jackson, Hank Mobley and Wes Montgomery.
One date that Mabern wished he could forget was February 19 1972, when he was playing with the trumpeter Lee Morgan at Slugs nightclub. In the early hours of the morning, Morgan was shot dead on the bandstand by a jealous lover.
Although Mabern recorded prolifically under the leadership of others, albums of his own were sparse at first. A Few Miles From Memphis, his debut, was released in 1968. It was followed by a few more, but he was in such demand that he did not have the time to promote them.
It was not until 1989, when his album Straight Street, recorded for the Japanese label DIW, met with great success in Japan, that he began what amounted to his second career.
Leading his own trio, and sometimes larger groups, he now toured extensively, recording first for DIW and later for Venus, another Japanese label. He also took part in two remarkable piano ensembles, the Piano Choir, made up of six pianists playing conventional pianos or electric keyboards, and the Contemporary Piano Ensemble, involving four players.
From 1981 until his death, Mabern taught in the music faculty at William Paterson University, in Wayne, New Jersey. Being self-taught, he always claimed that he had never stopped learning and liked to refer to his students as fellow-learners. Among them were several who later became fellow-performers, too, notably the tenor saxophonist Eric Alexander and drummer Joe Farnsworth.
Altogether, Mabern's discography lists 26 albums under his own name and 91 as a sideman, under the leadership of others. These include many sessions led by close colleagues, such as Eric Alexander and his old high school friend, George Coleman.
Harold Mabern played in Britain on several occasions, recently in 2017 and 2018 with a quartet featuring Alexander, and finally for two evenings with his trio at Ronnie Scott's club in May 2019.
He is survived by a son and a daughter. His wife predeceased him.
Harold Mabern born March 20 1936, died September 18 2019
++++++++++++++++++++++++++++++++++++++++++++++++++++++++++++++++
Bob Wilber – obituary from The Guardian to whom our thanks
Jazz clarinettist, saxophonist and composer who brought the effervescence of a long-gone era to new audiences
Bob Wilber, the American saxophonist and clarinettist, who has died at his home in Chipping Campden, Gloucestershire, aged 91, was a formidable musician who believed that the joyous spontaneity of jazzmaking should not be an excuse for an anything-goes attitude, whatever the style.
A gifted virtuoso on the soprano sax and an elegant clarinettist, Wilber worked with many of the finest musicians of traditional and mainstream jazz, including Sidney Bechet, Benny Goodman and the trombonist Jack Teagarden. He brought, in his work with the World's Greatest Jazz Band in the 1960s, and Soprano Summit in the 70s, the effervescence of a long-gone jazz era to new audiences worldwide.
Wilber also composed and arranged for film – his arrangements of Duke Ellington's music for Francis Ford Coppola's The Cotton Club, 1984, won the soundtrack album a Grammy. He expanded his campaign to make the world aware of early jazz through education, directing both George Wein's New York Jazz repertory company and the Smithsonian Jazz Repertory Ensemble in the 1970s.
Wilber recorded prolifically, as a leader and as a sideman in groups led by Louis Armstrong and swing-era giants such as Goodman and Lionel Hampton.
Born in New York, he was the younger child of Allen Wilber, an academic publisher. His mother, Mary, died when he was a year old, and on his father's remarriage four years later the family moved out to the Westchester suburb of Scarsdale.
Allen Wilber was a jazz fan who planted inspiration in his three-year-old son's mind with his record of Duke Ellington's Mood Indigo on the phonograph. The boy also learned about swing bands such as Benny Goodman's and Glenn Miller's, but he preferred the earthier, bluesier music of the early New Orleans players, and Bechet's famous New Orleans Feetwarmers group most of all. Wilber attended Ellington's wartime Carnegie Hall concert with his father in 1943, and in his autobiography, Music Was Not Enough, recalled he admired the orchestra's immaculate presentation and dress almost as much as its music.
Wilber learned piano at first, and began studying the clarinet from the age of 13. A shy child, he soon discovered his clarinet could be a passport when his contemporaries started dubbing him "Kid Wilber", and he began jamming regularly with fellow enthusiasts.
Despite wishing a more orthodox life for him, Wilber's father and stepmother did not obstruct his passion for jazz, and let him travel to the city for Sunday jam sessions at Jimmy Ryan's club in the Bronx. Wilber recalled later that the commute to Ryan's 52nd Street from quiet Scarsdale felt like Dorothy's journey into a Technicolor world in The Wizard of Oz.
On his high-school graduation in 1945, Wilber respected his parents' wishes that he should study at a formal institution, but dropped out of the Eastman School of Music, Rochester, in upstate New York, after one term, playing increasingly regularly at Jimmy Ryan's with friends who shared his traditionalist enthusiasms. They included the fine boogie and Dixieland pianist Dick Wellstood – and he was introduced by a fellow-musician, Mezz Mezzrow, to Bechet.
A young Bob Wilber with Sidney Bechet, who helped secure his reputation. Photograph: Alamy
The 17-year-old Wilber took a day job as a stock clerk and hung out on 52nd Street at night, and became one of Bechet's favourite pupils. Three years later, Bechet sent Wilber and his young Wildcats group to the 1948 Nice jazz festival to represent his music on the same bill as Louis Armstrong's All-Stars, securing Wilber's reputation as a standard-bearer of the emerging "trad-jazz" movement, mirrored in Britain by Ken Colyer, Humphrey Lyttelton and Chris Barber.
While still in his 20s, Wilber worked with a raft of veterans including the cornetists Muggsy Spanier and Wild Bill Davison, the Armstrong drummer Baby Dodds, and the influential stride-piano master James P Johnson.
During the Korean war he was drafted into the US army, and between 1952 and 1954 played in an army band, adding the tenor saxophone to his resources. After his discharge, he took lessons with the pianist Lennie Tristano and Tristano's saxophone protege Lee Konitz, to investigate how a modern jazz map might be drawn that could be understood by travellers from both bebop and Dixieland/swing.
Wilber and a sextet of like-minded participants formed a cooperative called The Six in the mid-1950s, a hybrid of Dixieland and bop. Later in the 1950s, Wilber worked with Bechet again, with the Bix Beiderbecke-influenced cornetist Bobby Hackett in 1957, and with Goodman, touring and recording in 1958-59. He also worked with the Chicago jazz legend Eddie Condon.
He adopted a curved-bell soprano saxophone in the 1960s, which he felt gave him a richer low-register tone, and in 1968 became a founder member of the World's Greatest Jazz Band, a globetrotting ensemble devoted to Dixieland and led by the trumpeter Yank Lawson and bassist Bob Haggart.
Wilber engaged WGJB members, including Lawson and the tenorist Bud Freeman, for his own 1969 tribute to a personal idol when he recorded The Music of Hoagy Carmichael. For much of the 1970s he teamed up with his fellow classical/jazz virtuoso Kenny Davern in a new group, the entertaining and widely popular Soprano Summit. Wilber was active in the New York Jazz repertory company, which toured the USSR in 1975.
After his divorce from the actor Shirley Rickards, Wilber married the English jazz and cabaret singer Joanne "Pug" Horton in 1976. They and a Scandinavian group recorded a fine Wilber-arranged tribute to his clarinet inspiration Goodman (with Swingin' for the King in 1979) and from 1980 to 1984 the couple collaborated on a new Bechet tribute, Bechet Legacy. In 1984 Wilber and Horton founded the Bodeswell label to record their own work.
Wilber's autobiography, published in 1987, made plain the difficulties his youthful shyness had caused him but also how rejuvenated he felt, personally and musically, from midlife onwards.
His score in 1991 for the Italian-made Beiderbecke drama Bix was one of the film's outstanding features.
He recorded extensively into the 1990s with the cream of younger mainstream players, including the saxophonist Harry Allen and guitarist Bucky Pizzarelli, vividly recovering some neglected Coleman Hawkins originals on his 1994 Hawkins tribute, Bean.
He shone as principal soloist with France's Tuxedo Big Band in 1999, and in 2002 in immaculate remakes of Fletcher Henderson scores for the 1930s Goodman orchestra. In 2008 he travelled worldwide to perform concerts marking his 80th birthday. In 2009 he played at the Lincoln Center concert in honour of Goodman's centennial.
Wilber is survived by Joanne and by his daughter, Elizabeth, from his first marriage.
Robert Sage Wilber, jazz musician, born 15 March 1928; died 4 August 2019
Jim Cullum Jr – This biog is taken from Wikipedia to whom we are grateful – but you can find more at the site of the excellent jazz publication – https://syncopatedtimes.com/
Jim Cullum Jr. (September 20, 1941 – August 11, 2019) was an American jazz cornetist known for his contributions to Dixielandjazz. His father was Jim Cullum Sr., a clarinetist who led the Happy Jazz Band until 1973. Jim Cullum Jr. led the Jim Cullum Jazz Band as its successor. His band mates included Evan Christopher, Allan Vaché, and John Sheridan.
With his father, Cullum established the San Antonio jazz club The Landing in 1963.[1] He had broadcast performances from the club on the Public Radio International series Riverwalk Jazz since 1989. Cullum performed at Carnegie Hall, The Kennedy Centre, and Austin City Limits.[2] He recorded for Jazzology, Columbia, Audiophile, Stomp Off, and his own label, Riverwalk.
From 1993 until 2005, Cullum and his band were on the faculty of the Stanford Jazz Workshop at Stanford University in California.[3] In 2011, Stanford University Librariesacquired Cullum's "Riverwalk Jazz" archives, comprising over 400 radio show programs. In January 2013, Stanford's Archive of Recorded Sound made the recordings available to listen to on its web site.
He remained active even after the radio show and his longstanding residency at The Landing ended in 2012. In his final years, he appeared in weekly performances at the Cookhouse Restaurant in San Antonio and scheduled many other appearances with his band. His last public performance was just two days before his death.[4]
Jim was a big help to me (writes BH) when I had my radio shows – he was a fine musician and an all-round good guy. We're going to miss him.
++++++++++++++++++++
Duncan Lamont – Born July 4, 1931; Died: July 2, 2019
This appreciation is from the Herald, Scotland to whom we are very grateful.
Duncan Lamont, who has died at the age of 87, was a songwriter, composer, arranger, bandleader and saxophonist who swapped the shipyards of Greenock for the jazz clubs of Soho in the 1950s, and forged a unique career which continued up until his death just hours after he played in a special concert of his music at London's famous 606 Club.
A particularly generous and modest man who was held in high esteem by his fellow musicians, Lamont was especially well loved by singers who appreciated his gift for producing songs which told stories or painted vivid scenes. A prolific songwriter, who still aimed to produce a song a day well into his eighties, he wrote numbers which were recorded by some of the most revered names in jazz, among them Cleo Laine (who ended her Carnegie Hall show with his Not You Again) and Blossom Dearie, herself a gifted songwriter.
Lamont also penned orchestral suites, such as The Young Person's Guide to the Jazz Orchestra and The Sherlock Holmes Suite, in collaboration with his great admirer Spike Milligan. He also wrote music for TV, most famously the children's classic Mr Benn and the cop show The Sweeney.
For more than two decades, he was also the featured saxophone soloist in British bands accompanying such illustrious visiting stars as Frank Sinatra, Tony Bennett, Peggy Lee and Bing Crosby, or being led by such greats as Count Basie, Benny Goodman and Henry Mancini. For 11 years, Lamont led a band himself to raise money for cancer research.
Duncan Lamont was born in Greenock in 1931. His father worked in the torpedo factory in the shipyards, and the family was very musical. In a BBC interview last year, he recalled: "My family talked about music all the time." His father and one sister played accordion; another sister was a champion dancer, and at the age of seven, Duncan took up trumpet, chosen because "it was the cheapest instrument I could get – it cost 30 shillings".
Lamont began to play gigs with local dance bands, and was soon leading the life of a musician rather than that of a school boy. "I'd be up till about five in the morning, so my mother often didn't send me to school at all." A crippling lack of self-confidence plagued Lamont in his early years – even after he and some friends came second in a Melody Maker contest and he was offered a job with a top London jazz band.
"Being invited to join Kenny Graham's Afro Cubists was like being offered a Hollywood contract," he recalled, "but I turned it down because I was too frightened." He went back to work at the shipyards but received regular telegrams from Graham imploring him to change his mind, until one day, he did just that. "I always felt there must be something better than the shipyards, but I felt I was doomed to work there."
Lamont soon added flute and clarinet playing to his skill set and rose through the ranks of session musicians to the point where he was regularly called upon to play, often as a featured soloist, with American stars when they toured or recorded over here. Marlene Dietrich and Sammy Davis Jr were two of his favourites, while Fred Astaire inspired Lamont to write a song. The thank-you letter he received from the debonair song and dance man became a treasured possession.
Despite having a diary that many freelance musicians could only dream of, Lamont found some of these high-profile gigs daunting and seems to have suffered from what's now labelled "imposter syndrome". He later said: "I coped but I didn't want to do it through drink or drugs so I tried yoga. And within a week it transformed me. I became like a different person, more relaxed, more outgoing."
Perhaps it was yoga that emboldened Lamont when, after 19 seasons of playing for Frank Sinatra, he – along with the rest of the band – was offered a significantly reduced fee for the usual amount of work. Finding that everyone else had accepted the pay cut, Lamont took the gig but when he realised that his old black evening suit needed replaced, he decided that Sinatra wasn't paying him enough to justify a shopping trip, so he opted to make a silent but visual protest – by wearing a brown evening suit. When Sinatra's fixer got in touch with him the following year it was to ask if he had any idea why had been told never to book Lamont again..
Other 20th Century music greats – among them the arranger/composer Gil Evans – were won over by his talents as a composer. Sammy Cahn, who wrote many of Sinatra's favourite lyrics, wrote an article on Duncan Lamont, and said: "It makes me very happy that people are still writing songs like I Told You So." That song – written from a woman's point of view – was recorded by a string of diverse singers, including Natalie Cole and Cleo Laine, and featured on Tomorrow's Standards, an award-winning CD of Lamont's songs, released in 1994.
British singer Tina May, who appeared at the birthday show at the 606 Club last week and who is going ahead with a planned CD of Lamont's songs later this year, says: ""Duncan had an uncanny sensitivity and witty insight when writing songs. I find his lyrics and his melodies very catchy and a joy to sing. Each song is a little vignette and they are sometimes quite challenging. A consummate jazz player, Duncan was a song writer with an exceptional sense of groove, melody, sophistication and internal rhyming structures – which created the feeling of a very well crafted 'standard'."
Lamont, who was predeceased by his wife Bridget, is survived by his sons Duncan Lamont Jr and Ross, and four grandchildren.
ALISON KERR
+++++++++++++++++++++++++++++
The brilliant soprano saxist and clarinettist Bob Wilber has died – follow this link for an excellent appreciation – https://syncopatedtimes.com/jazz-revival-clarinetist-bob-wilber-has-died/
++++++++++++++++++++++++++++++++++++++++++
We mourn the passing of Dr. John……..
++++++++++++++++++++++++++
We are sad to report the death of pianist-jazz innovator Jacques Loussier – here is the intro to his Wikipedia entry – Jacques Loussier (26 October 1934 – 5 March 2019) was a French pianist and composer well known for his jazz interpretations, arranged for trio, of many of the works of Johann Sebastian Bach, such as the Goldberg Variations. The Jacques Loussier Trio, founded in 1959, played more than 3,000 concerts and sold more than 7 million recordings—mostly in the Bach series. Loussier composed film scores and a number of classical pieces, including a Mass, a ballet, and violin concertos. Loussier's style is described as third stream, a synthesis of jazz and classical music, with an emphasis on improvisation.[1]
++++++++++++++++++++++++++++++++++++++++++++++++++++++++++++++++
André George Previn, born Andreas Ludwig Priwin; April 6, 1929 – February 28, 2019) was a German-American pianist, composer, arranger, and conductor. Here is Wikipedia's biog of Previn who – as you can see from the date above – died recently.
His career was three-pronged. Starting by arranging and composing Hollywood film scores for Metro-Goldwyn-Mayer, Previn was involved in the music for over 50 films over his entire career. He won four Academy Awards for his film work and ten Grammy Awardsfor his recordings (and one more for his Lifetime Achievement). He was also the music director of the Houston Symphony Orchestra, the Pittsburgh Symphony Orchestra, the Los Angeles Philharmonic, and the Oslo Philharmonic, as well as the principal conductor of the London Symphony Orchestra and the Royal Philharmonic Orchestra. In jazz, Previn was a pianist-interpreter and arranger of songs from the Great American Songbook, was piano-accompanist to singers of jazz standards, and was trio pianist. All along the way, his efforts were recorded; much of the way, they garnered acclaim and awards.
++++++++++++++++++++++++++++++++++++++++++++++++++++++++++++++++
Trombonist, record producer, record company proprietor, author and all-round good guy Big Bill Bissonnette died earlier this week and we mourn his passing. He was a huge help to me with my radio show years ago and we became good but friends who never actually met. Here's what Wikipedia says about Bill –
Big Bill Bissonnette (February 5, 1937- June 26, 2018)[1] was a jazz trombonist, drummer, and music producer.
He was a strong advocate of New Orleans jazz as played by veteran African-American musicians. In the 1960s, he led his own group, the Easy Riders Jazz Band, formed his own label, Jazz Crusade,[2] and organized northern tours for Kid Thomas Valentine, George Lewis, and Jim Robinson. He produced over 100 recorded jazz sessions for Jazz Crusade and appeared as trombonist or drummer on over 50 recording sessions of New Orleans jazz.
He studied drums with the legendary Sammy Penn. On his drumset sits the wooden ratchet used by Baby Dodds on his famous drum instruction recordings. He used a slapstick made for him by Kid Thomas Valentine and one of Jim Robinson's mouthpieces sits on a shelf in his living room.
The Easy Riders Jazz Band was one of the most acclaimed revival bands of the 1960s. Bissonnette brought Sammy Rimington to America. During his career, he worked with Alvin Alcorn, Red Allen, Jimmy Archey, Polo Barnes, Albert Burbank, Alex Bigard, Don Ewell, Pops Foster, George Guesnon, Edmond Hall, Pat Hawes, Bob Helm, Tuba Fats Lacen, George Lewis, Fred Lonzo, Alcide Pavageau, Sammy Penn, George Probert, Jim Robinson, Kid Sheik, Zutty Singleton, Victoria Spivey, Gregg Stafford, Michael White, and Kid Thomas Valentine.
Bissonnette came in first place as "New Young Artist" in the 1965 Jazzology Jazz Poll. Over 30 years later he placed No. 5 among all jazz trombonists in the same poll.
After a period out of music, he published his memoir, The Jazz Crusade, in 1992, reactivated his label, and began to play again. He spent much of the 1990s documenting the British jazz scene with his Best of the Brits album series. Bissonnette retired in 2006.
++++++++++++++++++++
May 2018 update
Tony Pringle, 81, May 4th, in Massachusetts from complications of heart disease. This obit is from – https://syncopatedtimes.com/tag/tony-pringle-obituary/ – to whom our thanks.
"He was the best musical import America ever received from Liverpool. In 1957, while still training for his day job in telecommunications, he formed The Druids Jazz Band. They became the house band at The Cavern, a basement jazz club in Liverpool. The Cavern was friendly to skiffle bands, so they also hosted the Beatles while they were still The Quarrymen. He moved to the US in 1967 and within two weeks was part of the Exit Jazz Band with Stan Vincent, Stan McDonald, and Gil Roberts.
In 1969 he joined The Black Eagle Jazz Band, led by Tommy Sancton. Initially he played trumpet but soon switched to cornet. The Black Eagles separated after a final performance at the 1971 New Orleans Jazz and Heritage Festival. Soon after a group of former Eagles began appearing as the Boston Bayou Jazz Band. With some additions they would become The New Black Eagles Jazz Band. The original lineup was Tony Pringle, Pam Pameijer, Peter Bullis, Eli Newberger, Stan Vincent, Stan MacDonald, Bob Pilsbury and Norm Stowell. On September 30, 1971 the NBEJB played their first show under that name on the Peter Stuyvesant, a ship moored beside the Pier Four Restaurant in Boston Harbor. They quickly began a regular appearance at Yeadon's Sticky Wicket Pub and a legend was born.
In the decades to follow The New Black Eagle Jazz Band became one of the best known and most respected Dixieland bands in the country. Especially around the North East. They recorded albums on their own Black Eagle Label and others. Pringle's playing, influenced by Bunk Johnson, Kid Howard, and others, gave the band a catchy old time feel.
Despite a strong public association with the Sticky Wicket, and other regular pub gigs, the NBEJB has played all over the world at festivals and concert halls. The have appeared in settings where they were the only offering that wasn't classical music. The band has been part of PBS documentaries and played with historic figures of jazz.
Pringle's contribution as a guide for the band, on stage and off, cannot be overstated. They have had only limited lineup changes in almost 50 years. Pringle's friend Ron L'Herault said in a remembrance:
"From the first moment I heard Tony play, I knew I was in the presence of a great horn player. And as I listened to the New Black Eagle Jazz Band more and more, I came to realize that he was an equally gifted leader of the band.
He could build incredible excitement without increasing volume, altering tempo or changing key. By the time he piloted the band to the out chorus, the audience, me included were about ready to burst with joy. I've never
heard anyone else do what he did…"
++++++++++++++++++++
We're sad to report the death of the very fine bassist Bill Reid who at one time played with the bands of Ken Colyer, Terry Lightfoot and Alex Welsh. A charming guy who was excellent company, Bill moved on from the band business and into club promotion and management being one of the first to book the Beatles. You can read Bill's very finely detailed Daily Telegraph obituary at this address – https://www.telegraph.co.uk/obituaries/2018/04/13/bill-reid-jazz-musician-pop-promoter-countryman-obituary/?WT.mc_id=tmg_share_em
+++++++++++++++++++++++++++
Pianist Cecil Payne died on April 5th this year – here is his Wikipedia entry……
Cecil Percival Taylor (March 15, 1929[1][2] – April 5, 2018)[3][4][5][6] was an American pianist and poet.[7][8] Taylor was classically trained, and is generally acknowledged as having been one of the pioneers of free jazz. His music is characterized by an extremely energetic, physical approach, resulting in complex improvised sounds which frequently involve tone clusters and intricate polyrhythms. His piano technique has been likened to percussion—referring to the number of keys on a standard piano, Val Wilmer used the phrase "eighty-eight tuned drums" to describe Taylor's pianism.[9] He has also been described as "like Art Tatum with contemporary-classical leanings".[10]
+++++++++++++++++++++++++++